Boris: Send Ukraine tanks now to speed up its inevitable victory, boot out the Russians and end this economic pain
24 January 2023, 10:05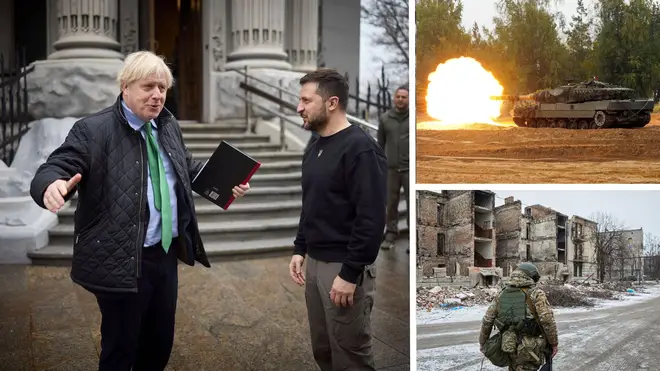 Boris Johnson has called on the West to give Ukraine tanks to ensure they will win the war against Vladimir Putin and drive out the Russian occupiers.
The ex-Prime Minister – something of a hero in Ukraine due to his early support for Kyiv in the war – has asked what countries are doing with their armour given they are not at war.
Rubbishing claims of "escalation" leading to the use of a tactical nuclear weapon by saying Putin would lose all support from Africa, the Middle East and Asia, as well as his own people, Mr Johnson said now is the time to accelerate Kyiv's "inevitable" victory.
That would stop the global economic pain wreaked by the invasion and send a message around the world that regimes cannot just take territory by force, he said.
His comments come as Ukraine, the UK and others try to tempt countries like Germany into sending tanks to fight off Russia's largely inferior armour in the hope it will prevent Putin from mounting any fresh attacks and allow Ukraine to liberate its territory.
Writing in the Daily Mail, he said: "They can, and will, drive Putin out of the whole of Ukraine. This is now a war of independence, and history teaches us that wars of independence only end one way. The question is when.
Read more: Boris Johnson visits President Zelensky in Ukraine as Labour calls for 'urgent investigation' into BBC claims
"The sooner we can help the Ukrainians to their inevitable victory, the sooner their suffering will be over, and the sooner the whole world, including Russia, can begin to recover from Putin's catastrophe.
"That requires all of us in the West, all the friends of Ukraine, to double and treble our support."
Read more: Ukraine no longer a 'hybrid war' says Russian Foreign Minister Lavrov
Britain has deployed a squadron of 14 Challenger 2s – not something that will change the course of war, but a properly trained crew should overmatch most of their opponents in Russian tanks.
The gesture is thought to be a ploy to convince other nations to send tanks, including Germany and its Leopard 2s, which are in service both there and across European nations that could be sent to Kyiv's military.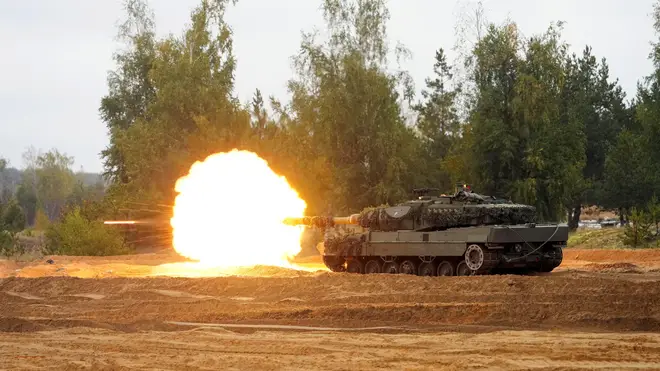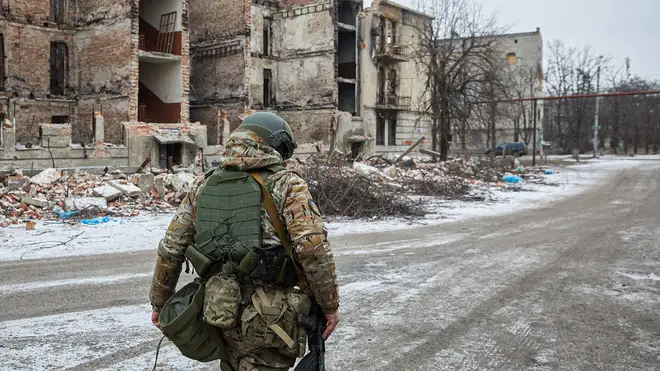 Germany is expected to make a decision on whether they can be sent into the war - crewed by Ukrainians - in the coming days.
The war has largely frozen over the winter but it is widely expected major campaigns will begin again in the spring.
"So let us help them win, not next year or the year after, but this year, 2023; and don't talk to me, finally, about expense," Mr Johnson, who has been visiting President Zelenskyy in Kyiv and defending himself against claims about the BBC chairman Richard Sharp and a loan, said.
"If you want to minimise the world's economic pain, if you want to avoid the enormous cost – in blood and treasure – of letting this tragedy stretch on, then let's together do the obvious thing.
"Let's give the Ukrainians all they need to win now."