Ukraine carried to Eurovision victory: Surge of support lifts war-torn country to top spot
15 May 2022, 00:04 | Updated: 15 May 2022, 01:14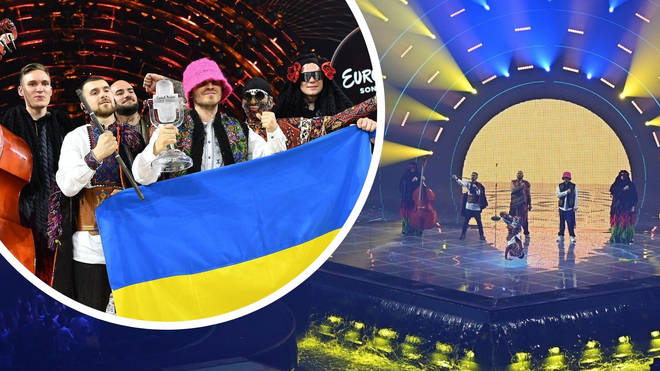 Ukraine has made history and won the Eurovision Song Contest in a huge show of support from the rest of the continent following Russia's invasion of the country.
Performing their folk-rap song Stefania, Kalush Orchestra stormed up the leader board with 631 points.
The act have been the frontrunners since Russia's invasion - which prompted organisers to ban the country from competing.
The country joined the contest in 2003 and its three wins make it one of the most successful of the newer competitor countries - having triumphed in 2004 and 2016.
Receiving the coveted trophy, Kalush Orchestra said: "Thank you for supporting Ukraine. This victory is for every Ukrainian. Slava Ukraini."
See the full list of results below
With Ukraine still fighting Russian forces, it is unclear where next year's contest will be held, with the event hosted by the winning country.
When it was suggested on Twitter that if Ukraine cannot host it, the UK should offer to, Defence Secretary Ben Wallace replied: "One way or the other it will be in Ukraine!"
Kalush Orchestra reiterated their thanks after receiving the trophy, saying: "Thank you everyone. Thank you everyone who has supported us.
"Thank you everyone that voted for us.
"Thank you everyone who is supporting Ukraine.
"It's big thank you from us to you Europe."
During their performance, which combined rap and Ukrainian folklore, the group were dressed in elaborate outfits, including long multi-coloured fringed ensembles.
Read more: Russia accuses West of 'total hybrid war' despite threatening to nuke UK in seconds
Read more: Dramatic Call of Duty-style footage from Ukraine tank shows destruction of Russian forces
Kalush Orchestra were followed by the United Kingdom in second place with Sam Ryder's Space Man.
The 32-year-old TikTok star won over the audience, dazzling in a one piece suit encrusted with beads and pearls.
He was the 22nd act to perform during the grand final in Turin, Italy, playing a guitar mid-show in front of a crowd of 7,000 fans at the Pala Olympica arena who sang along.
It marked the first time in 20 years that the UK has placed in the top three.
The singer was top after the national jury vote with 283 points, but there was a huge surge of support for Ukraine in the public vote.
Ryder found fame covering songs on TikTok during lockdown, amassing 12 million followers and catching the attention of global stars including Justin Bieber and Alicia Keys.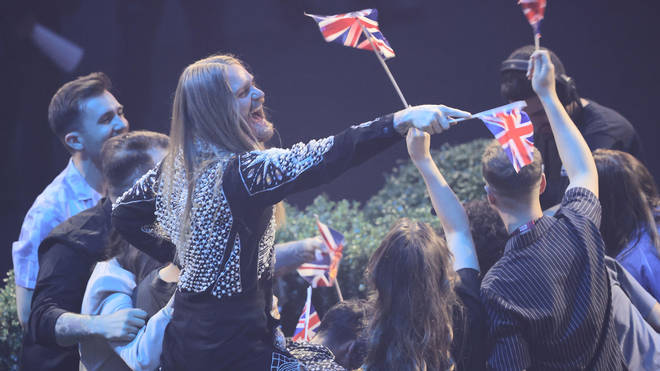 Prime Minister Boris Johnson tweeted: "Congratulations to Ukraine for winning the @Eurovision Song Contest 2022.
"It is a clear reflection of not just your talent, but of the unwavering support for your fight for freedom. Incredibly proud of @SamRyderMusic and how he brilliantly represented the UK tonight."
Paul Hourican, head of music operations EU for TikTok, said: "From Sam's very first TikTok, to his fantastic result at Eurovison, we've been fans every step of the way.
"Our community always knew his star power, his artistic talent and his phenomenal voice, and we're delighted that the world has seen it too.
"Congratulations to Sam and all his team on his superb result and of course Ukraine as very worthy winners."
The final results
1. Ukraine - 631
2. United Kingdom - 466
3. Spain - 459
4. Sweden - 438
5. Serbia - 312
6. Italy - 268
7. Moldova - 253
8. Greece - 215
9. Portugal - 207
10. Norway - 182
11. Netherlands - 171
12. Poland - 151
13. Estonia -141
14. Lithuania - 128
15. Australia - 125
16. Azerbaijan - 106
17. Switzerland - 78
18. Romania - 65
19. Belgium - 64
20. Armenia - 61
21. Finland - 38
22. Czech Republic - 38
23. Iceland - 20
24. France - 17
25. Germany - 6