University Challenge viewers criticise 'anti-Semitic' blue octopus mascot as show is hit by backlash
21 November 2023, 09:36 | Updated: 21 November 2023, 14:51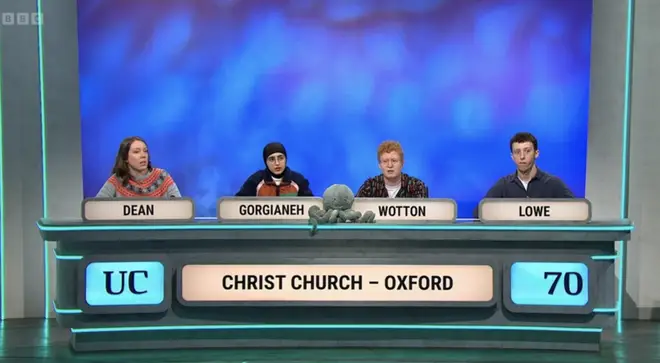 Viewers have criticised University Challenge after a team appeared on the show displaying a blue octopus as their mascot.
People watching the popular quiz say the BBC has 'serious questions to answer' after Christ Church Oxford appeared with the large cuddly stuffed toy.
Viewers further pointed out that one of the contestants on the show, Melika Gorgianeh, appeared to be wearing the colours of the Palestinian flag. However others said the colours of her clothing was a coincidence and were not in the correct colours of the flag.
The Nazis used a blue octopus in some cartoons as an offensive anti-Semitic trope.
One person posted a screenshot from the show and wrote: "University challenged? Perhaps the BBC can explain? If this is deliberate then what does everyone reckon to reporting a hate crime?"
Another said: "Looks innocent enough…until you realise that Gorgianeh is dressed in Palestinian colours while openly displaying an anti-Semitic image in the octopus."
Read more: Israel and Hamas 'close to truce,' says terror group's leader Ismail Haniyeh as hostage deal imminent
Read more: 'Only death will stop us': Eco-protesters say they won't quit as it's revealed one in 10 had already been arrested
A third wrote: "This is disgraceful from the BBC.How on earth was Melika Gorgianeh from @ChCh_Oxford allowed to have a blue octopus, a well-known antisemitic trope, on display as a mascot on University Challenge?"
Another commented: "Anti-Semitic trope proudly on display here. Anti-Semitic propaganda during 19th/20th century often used octopus imagery to represent Jewish influence & control. I struggle to believe in the current climate this is a coincidence. BBC has serious questions to answer."
Other viewers were less convinced.
One said: "So now a cuddly toy octopus is automatically interpreted as anti-semitic? Does this mean the production of cuddly toy octopuses should be banned? Wtf is wrong with people? Until the Greta pic a month ago no one thought that octopuses were an anti-semitic trope."
Another said: "Yes - the octopus HAS been used as an anti-Semitic trope, but that doesn't mean ALL octopi are antisemitic tropes."
The BBC said any suggestion of anti-Semitism is completely unfounded.
The octopus toy that featured on the programme is understood to be one of the contestants' favourite animals.
A BBC spokesperson said, "We are aware of a number of inaccurate claims being made online in relation to last night's episode of University Challenge and we utterly condemn the abuse that has been posted and shared.
"For the avoidance of doubt, this episode was filmed in March. The mascot is one of many chosen by the team during the course of the series and is one of their favourite animals.
"The jacket worn by one of the contestants was navy blue, orange, pink and green, bought from a High Street retailer. It has no connection to any flag."
Last month Greta Thunberg was forced to delete a pro-Palestine social media post after critics claimed the blue stuffed octopus in the picture could be viewed as an anti-Semitic symbol.
She posted online in October: "Today we are striking in solidarity with Palestine and Gaza. The world needs to speak up and call for an immediate ceasefire, justice and freedom for Palestinians and all civilians affected."
Ms Thunberg later deleted the original photo and replaced it with one showing the octopus cropped out. 
She wrote: "It has come to my knowledge that the stuffed animal shown in my earlier post can be interpreted as a symbol for antisemitism, which I was completely unaware of. 
"The toy in the picture is a tool often used by autistic people as a way to communicate feelings. We are of course against any type of discrimination, and condemn antisemitism in all forms and shapes. This is non-negotiable. That is why I deleted the last post."