'Only death will stop us': Eco-protesters say they won't quit as it's revealed one in 10 had already been arrested
21 November 2023, 07:27 | Updated: 21 November 2023, 08:49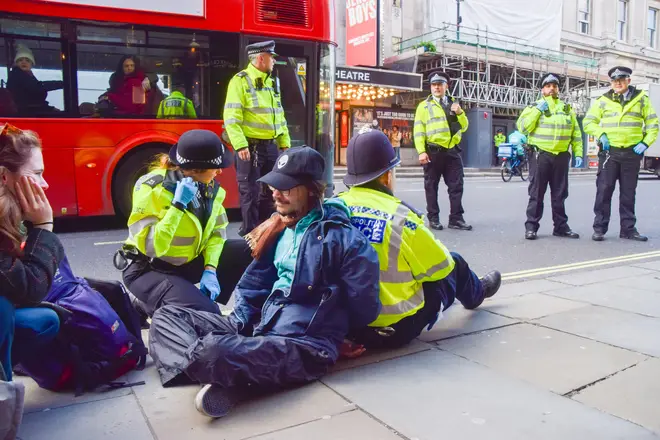 One in ten arrests made in the latest campaign of Just Stop Oil slow marching are people who've already been detained days earlier, LBC can reveal.
The activists' stunts have caused carnage on streets in the capital for the past two weeks, with hundreds of people being taken into detention by police.
But no sooner than they've been released, some on bail after being charged, protesters have returned to the streets, to go through it all over again.
Marching from Trafalgar Square to Parliament on Monday, protesters in their orange jackets were moved off the road within five minutes of stepping on to it.
Scotland Yard says 15 people were arrested - and many of them were familiar faces.
Read more: Just Stop Oil 'targets Strictly as activists plot infiltrating audience' to disrupt programme in front of millions
Read more: 'It's a life-and-death emergency': Paramedic begs Just Stop Oil activists to clear road after Waterloo Bridge shut down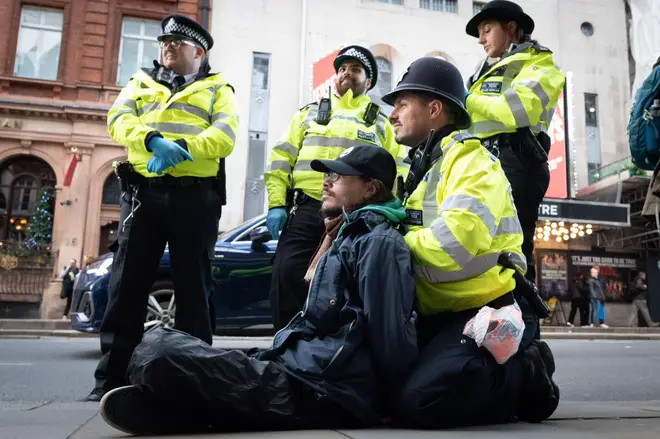 One of them told LBC: "At the moment I'm owing the courts about £15,000… of course it puts me off but what do you think puts me off more? The fact that within the decade probably a billion people are going to die from climate change.
When asked if there was any punishment that would stop them marching, the activist said: "death… and then they can wheel my coffin down the road on a bogie."
Another demonstrator said he was expecting to go to prison for his actions, meaning he won't see his two children over Christmas.
"Three weeks ago, I marched on Parliament Square and was arrested and held in a police cell for 52 hours before a court banned me from coming into London to stop me protesting.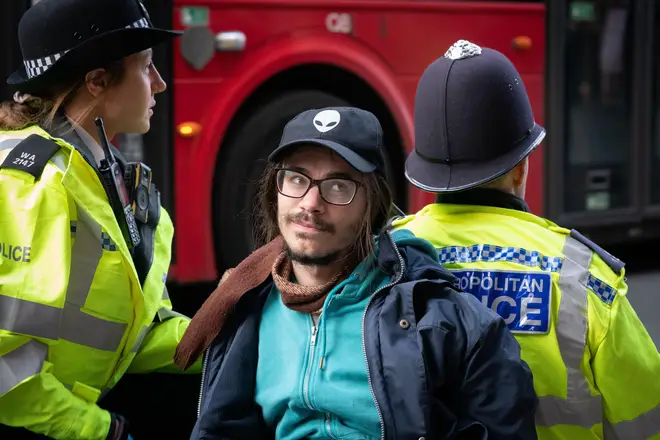 "I've had a long, long conversation with my children about [going to prison], and there were lots of hugs and tears with all my family. They haven't asked me to stop though because they understand the risk we face as well."
Between October 30 and November 14, the Metropolitan Police said that at least 66 people had been arrested more than once - some as many as three times in just two weeks.
More than 30 of them had been charged more than once.
In total, more than 530 arrests had been made in that time, with 4,500 officer shifts being used to manage the protests.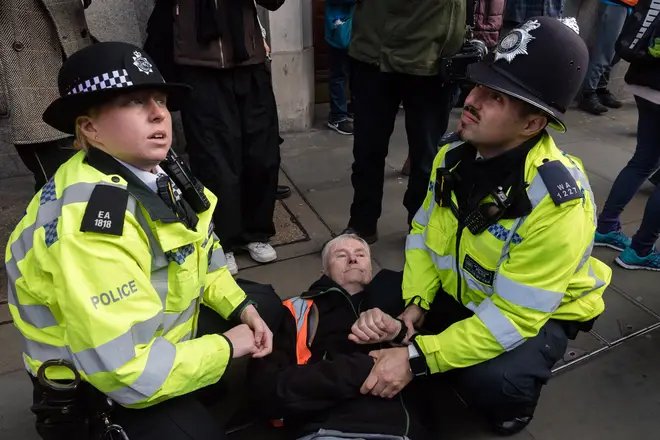 London Mayor Sadiq Khan warned the continuous cycle of slow marches is having a dangerous impact on other policing operations.
"Having spoken to the Commissioner, I was troubled to be told of the impact it's having on the ability of the police to carry out routine policing functions," he told LBC.
"Think about how across London we want to continue to bear down on violence against women and girls, continue to bear down on knife crime and gun crime. But because of these protests - the combination of Just Stop Oil and the large protests on Saturdays, there are large numbers of abstractions, officers doing 12-hour shifts, there is leave being cancelled and I'm concerned about how long this can carry on for.
"It's really important that people can realise that yes of course you have a right to protest but there are consequences when it comes to police resources."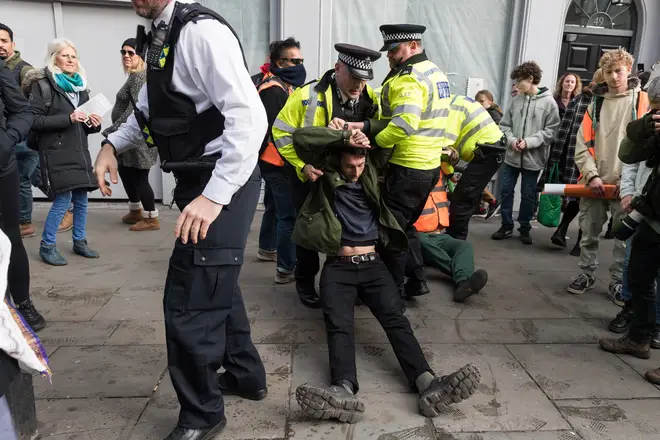 LBC witnessed on Monday a mobility van being used to transport activists in handcuffs to the cells, while groups of officers waited for more police vehicles to pick up those who had been arrested.
Commander Colin Wingrove from the Met Police said: "We want officers in our communities to be that reassuring presence. Instead, we're having to remove some of them to arrest and transport [a huge number] of activists to custody.
"Protest is a fundamental part of our democracy and something we are proud to uphold.
"However, Just Stop Oil are openly encouraging people to break the law and causing criminal damage which we will not tolerate.
"I encourage everyone who has been affected by their slow marches to report the impact on our dedicated portal.
"Officers will continue to respond swiftly to their disruption, so it causes minimum impact to Londoners, who are ultimately bearing the brunt and cost of their action."