'It's a life-and-death emergency': Paramedic begs Just Stop Oil activists to clear road after Waterloo Bridge shut down
8 November 2023, 12:59 | Updated: 8 November 2023, 13:00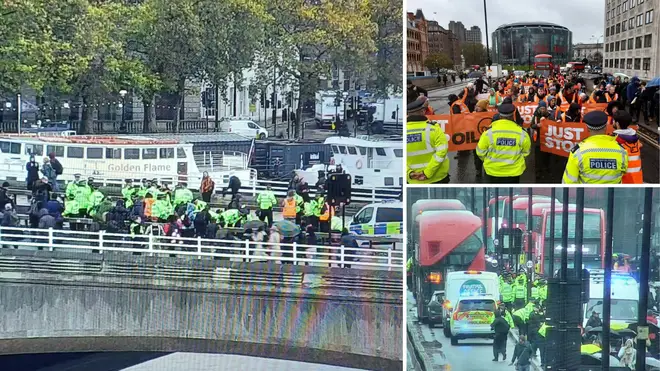 A paramedic responding to a life-and-death emergency was blocked by a Just Stop Oil protest on Waterloo Bridge this morning.
Sixty activists obstructed the road on Waterloo Bridge on Wednesday morning as they staged a 30-minute slow march - forcing the carriageway to shut in both directions.
The protest started at around 9:30am before they took their march to the road, when officers urged the group to return to the pavement to allow cars past.
An ambulance driving with a siren and blue lights on later attempted to access the road but was blocked by the group of activists who failed to clear the way.
Growing increasingly frustrated, the paramedic pleaded with protesters and officers to let him through.
"I am responding to a life-and-death emergency," he said, according to The Telegraph.
"I am going to pick up a team from Guy's hospital to save someone's life at another hospital but can't get through."
Officers said they were working as fast as possible to let the driver through as activists lay on the ground of the bridge.
At 10:22, an ambulance from London Ambulance service also tried to get through the bridge.
"An ambulance with a patient on board was delayed on Waterloo Bridge at 10.22am this morning," a London Ambulance spokesman said.
"Fortunately, the ambulance crew was able to divert to a different hospital.
"However delays can cost lives. We would ask any protesters to allow our crews to pass to ensure we are able to get timely treatment for our patients."
Read more: Police should take 'as robust a line as possible' on Just Stop Oil, says ex-Met commander
Read more: Just Stop Oil shut down Whitehall: 100 arrested as police drag protesters to the Cenotaph 'for their own safety'
This is some of the congestion which JSO are causing on Waterloo Bridge.

One of the vehicles is an ambulance on blue lights which is not able to get past.

Officers are continually telling the activists to move out the road so it can pass while making arrests. pic.twitter.com/E2kiM4Wksk

— Metropolitan Police (@metpoliceuk) November 8, 2023
The group of protesters initially gathered at Waterloo Station before putting on orange slogan vests.
Waterloo Bridge was shut off for more than an hour after the activists lay down in the centre of the carriageway - making it too unsafe for cars to drive through.
Police said they arrested an estimated 40 climate activists during the protest under the Public Order Act.
In an update this morning, the Met Police said: "All JSO activists are out of the road.
"We estimate that officers made more than 40 arrests, those numbers will be confirmed in due course."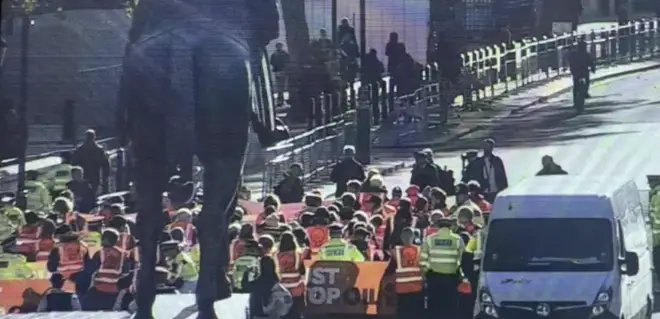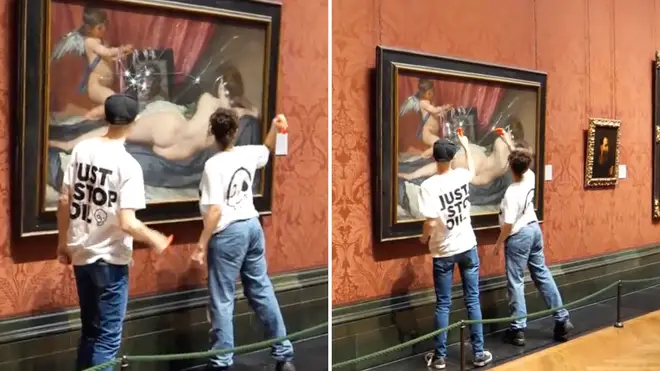 The activist group denied blocking the road on Wednesday, as they wrote on X: "Just Stop Oil will always move out of the road for emergency vehicles showing blue lights."
It comes after 44 activists from the climate group were charged following a slow march in Whitehall on Monday.
They obstructed traffic near Downing Street, and were arrested and placed on and around the Cenotaph by police, according to protesters and an officer.
Two activists were also accused of criminal damage after smashing the protective glass of a painting in the National Gallery the same day.
"We're removing officers from communities to police these demonstrations," Met officers said.
"Ultimately, it's Londoners who are bearing the brunt and cost of their actions."
Since October 30, 291 activists from the group have been arrested and a further 98 have been charged.