Police should take 'as robust a line as possible' on Just Stop Oil, says ex-Met commander
7 November 2023, 08:14 | Updated: 7 November 2023, 08:18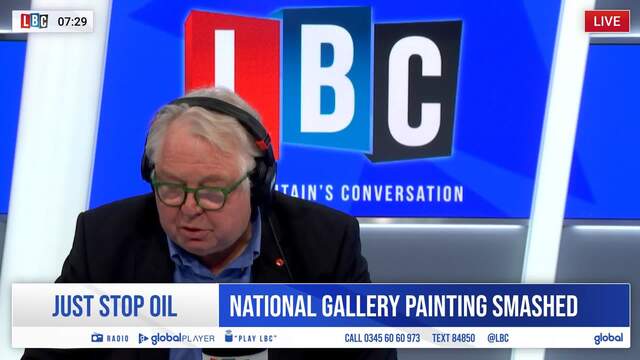 Roy Ramm: Police should take 'as robust a line as possible' on JSO
The former commander for specialist operations in the Met Police has called for tough action on Just Stop Oil's tactics, after they smashed the glass protecting a National Portrait Gallery painting and targeted the Cenotaph war memorial.
"I think the police should take as robust a line as possible", he told Nick Ferrari at Breakfast.
He called "the desecration of the Cenotaph" and the "attack" on "a painting that thousands of people admire" an "utter disgrace".
"I can understand the motivation of these people but the idea that these acts are going to achieve their objectives is just bizarre", he added.
READ MORE: Just Stop Oil shut down Whitehall: 100 arrested as police drag protesters to the Cenotaph 'for their own safety'
"The Met's attitude towards it in asking - pleading - with these people not to demonstrate on this one day...to respect something so important in British society - the Met's going to be struggling at the weekend", Roy Ramm told Nick.
This conversation also comes amid plans for a pro-Palestine protest on Remembrance Day.
READ MORE: Just Stop Oil activists smash National Gallery painting famously targeted by suffragette in 1914, as two arrested