WhatsApp, Facebook and Instagram back online after suffering six-hour outage
5 October 2021, 00:22 | Updated: 5 October 2021, 09:29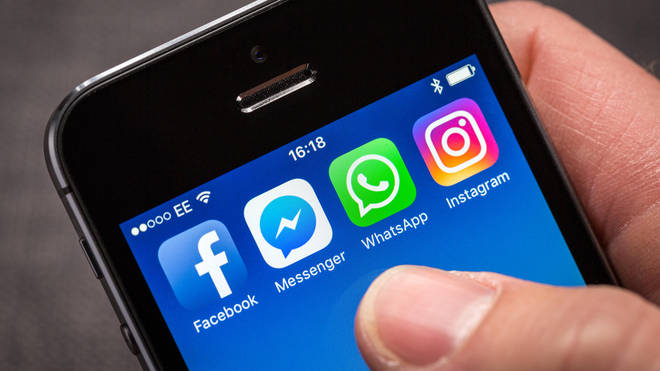 Social media services Whatsapp, Facebook and Instagram have returned back online after suffering an outage for six hours.
Facebook's three main apps experienced outages throughout Monday, with disgruntled users taking to the internet to vent their frustrations.
The major failure of the apps has been declared nothing to do with internet networks in the countries that are experiencing the outages, rather the issue is with the platforms themselves.
Outages were reported globally as tech wizards working for Mark Zuckerberg's juggernaut Silicon Valley company scrambled to address the issue.
Seems like Mark Zuckerberg went on a vacation on Monday and forgot about his Facebook, Whatsapp and Instagram apps.

— Tom Adwar (@tom_adwar) October 4, 2021
Facebook's share price plummeted 4.9 per cent amid the outage, which also came the day after a whistleblower claimed in a US interview that the company prioritises its own interests over the public good.
Billions across the globe use the platforms to keep in touch with friends, family and colleagues, but today's outage has rocked the world's modern communication systems.
Facebook released a statement on their Twitter account saying:
"We're aware that some people are having trouble accessing our apps and products.
"We're working to get things back to normal as quickly as possible, and we apologize [sic] for any inconvenience."
The tech giant later apologised for the outage.
Facebook Engineering said on Twitter: "To the huge community of people and businesses around the world who depend on us: we're sorry.
"We've been working hard to restore access to our apps and services and are happy to report they are coming back online now. Thank you for bearing with us."
Roughly 37 per cent of the world's population were affected by the outage.
Tech journalist Charles Arthur told LBC that the services could have been deactivated by a Facebook staff member accidentally.
"It's a bit like the scene in Airplane! when all the runway lights go off and the fellow says 'just playing 'round.'"
The journalist added "the fact that it's all of the Facebook services...suggests that it's something going wrong at quite a fundamental level."
Cyber security specialist Jake Moore said there is a "chance" the issue could have been related to a cyber attack.