Youtube suspends Trump's account over concerns about "ongoing potential for violence"
13 January 2021, 05:35 | Updated: 13 January 2021, 06:28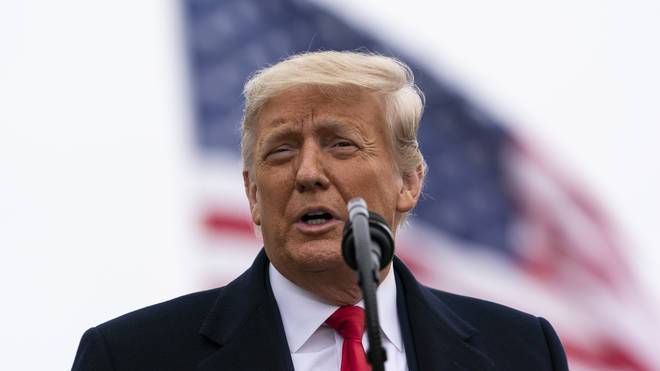 Youtube is suspending President Donald Trump's account for "a minimum of seven days" due to concerns about "the ongoing potential for violence", the video sharing website has announced.
The company announced the news in a pair of tweets early on Wednesday.
"After review, and in light of concerns about the ongoing potential for violence, we removed new content uploaded to Donald J Trump's channel for violating our policies," YouTube said in a statement on Twitter.
"It now has its 1st strike & is temporarily prevented from uploading new content for a *minimum* of 7 days.
"Given the ongoing concerns about violence, we will also be indefinitely disabling comments on President Trump's channel, as we've done to other channels where there are safety concerns found in the comments section."
The move comes after fellow social media giants Facebook and Twitter decided to remove the president's accounts in the wake of last week's attack on the US Capitol by a mob of Mr Trump's supporters.
Twitter said in a statement on its blog on Friday it had decided to take action against Mr Trump's account after a review of two of the president's tweets posted on Friday found they had violated its glorification of violence policy.
Meanwhile Facebook on Thursday suspended Mr Trump's account through to January 20, the day of President-elect Joe Biden's inauguration, and possibly indefinitely.
Some prominent political figures have expressed concern over the suspension of Mr Trump's social media accounts, with German Chancellor Angela Merkel calling it "problematic", while Health Secretary Matt Hancock said the move "raises a very important question" about social media companies "taking editorial decisions".
It comes as US Vice President Mike Pence ruled out using the 25th Amendment to remove President Donald Trump from office.
In a letter to House speaker Nancy Pelosi, Mr Pence said the mechanism should not be used "as a means of punishment or usurpation" and reserved for cases of medical or mental incapacitation.
Ms Pelosi had called on Mr Pence to secure the majority of the Cabinet and vote to declare Mr Trump unfit to serve - less than a week after the president fomented the violent insurrection at the Capitol.
As the House appears on the cusp of a bipartisan impeachment of Mr Trump, Mr Pence encouraged Congress to avoid actions to "further divide and inflame the passions of the moment" and to focus on smoothing the transition to President-elect Joe Biden's administration.
Following Mr Pence's decision not to use the 25th Amendment against the president, Ms Pelosi told her colleagues on the House floor Mr Trump must be charged because of the "seditious attack" on the Capitol.
She said: "I urge my Republican colleagues to open their eyes and to finally hold this president accountable."The story of our country, and the future of our very democracy, are at stake."