Iain Dale: John Bercow Shouldn't Get Involved In Trump Row
6 February 2017, 18:10 | Updated: 6 February 2017, 18:33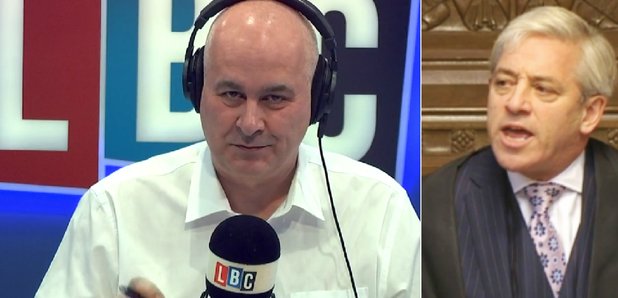 The Speaker of the House of Commons is winning plaudits for saying he doesn't want Trump to address Parliament but Iain Dale says he should have stayed neutral.
Bercow told the Commons - to loud cheers - that he was now "even more strongly opposed" to the idea of Donald Trump addressing Westminster Hall.
Bercow said: "We value our relationship with the United States.
"If a state visit takes place, that is way beyond and above the pay grade of the speaker.

"However, as far as this place is concerned, I feel very strongly that our opposition to racism and to sexism and our support for equality before the law, and an independent judiciary, are hugely important considerations in the House of Commons."
Strong words - but Iain posed the question of whether they were too strong for a man in a job that is supposed to remain out of political debates.
"The Speaker of the House of Commons is there to moderate political debates...not to take sides in political debates," said Iain.
"The fact of the matter is the invitation has already been issued by Theresa May and the Queen. It's not going to be rescinded."