Spain chemical plant explosion leaves at least one dead
14 January 2020, 21:49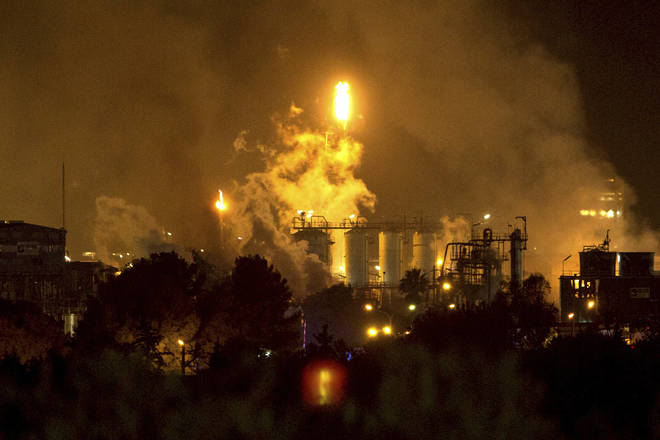 One person has died and several others are injured following a massive explosion at a chemical plant in north-eastern Spain.
Catalonian emergency services "confirmed the death of one person" and said they were treating a further eight for injuries following the explosion in the port city of Tarragona.
Among those, two had "serious burns" and one had "less serious" burns. The remaining five were described as having "slight" injuries.
Firefighters also confirmed they are searching for one person who was declared missing. They have deployed a dog from their Canine Research Group to help locate the individual.
Regional authorities have warned people nearby not to go outside.
A tweet by the emergency services for the Catalonia region described the blast at the five-storey building as a "chemical accident."
🎥 CCTV captures the explosion of a Petrochemical Plant in the Catalonian city of #Tarragona, Spain.

A large scale evacuation is underway with firefighters being drafted in from surrounding areas to tackle the blaze.

Casualty numbers are still unknown & unconfirmed. pic.twitter.com/ROYpGjoOg3

— Alex Tiffin (@RespectIsVital) January 14, 2020
They also advised residents in parts of the city, that has a population of 800,000, and in nearby towns to close their windows as a preventive measure.
Radiological, nuclear, biological and chemical equipment has been deployed, along with a medical helicopter.
Tuesday evening's explosion caused a blaze that is being tackled by 10 fire brigades.
The one person confirmed as dead was found by firefighters at the scene of a roof collapse.
Local residents uploaded videos of the blast's aftermath that showed flames and a big column of black smoke emerging from the area.
Catalonian emergency services confirmed they received 1,617 calls related to the incident.
Others told Tarragona Radio that the blast could be heard from miles away.
The port city is located around 70 miles south west of Catalonia's regional capital Barcelona.
Since 2015, Tarragona has housed a 1,200-hectare "chemical hub" - ChemMed - that was described as the largest of its kind in southern Europe.