Turkey begins military offensive against Kurds in Syria
10 October 2019, 17:21
Turkey's military launched air strikes and a ground offensive against Kurdish forces in northern Syria following the withdrawal of US troops.
The campaign was launched by Turkey's President Recep Tayyip Erdogan after US President Donald Trump effectively gave him the green light to move his military into the war-torn country.
Mr Trump had previously stated he would support the Kurds, who played a key role in the battle against Isis, saying they "fought and died with us" and America would never forget their sacrifices.
However, on Wednesday, he reversed on that promise saying Kurdish fighters did not help the US in previous wars such as the invasion of Normandy in World War Two.
He called Turkey's operation a "bad idea" and said he did not wish to involve American troops in "endless, senseless wars."
President Erdogan claimed today that 109 "terrorists" had been killed since Ankara launched the offensive and warned the EU not to call it an "invasion" or he would consider letting Syrian refugees flood Europe.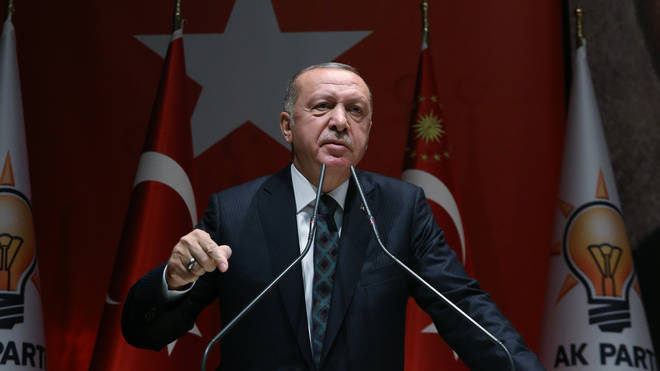 Reports on the ground do not support the Turkish leader's claim with regard to the number of casualties, however, his state's media said Syrian troops allied to Turkey had "cleared" two villages "of terror."
Mr Erdogan has justified the campaign by saying it is necessary to prevent the rise of a "terror state" along the Turkey-Syria border.
Major Youssef Hammoud, a spokesman for Turkey-backed Syrian rebels, tweeted they had "freed" their first village by reaching Yabisa near the town of Tal Abyad.
Turkish troops reportedly launched airstrikes against a convoy of vehicles that were taking civilians from the previously Isis-held city of Raqqa to a border town.
Kurdish media claimed the strikes killed three people and left several others injured, however, the British-based Syrian Observatory for Human Rights said nobody was killed but confirmed the reports of injuries.
Meanwhile, a couple of mortars fired from Syria have reportedly killed two people, including a baby, and injured two others when landing in Akcakale, a Turkish town near the border.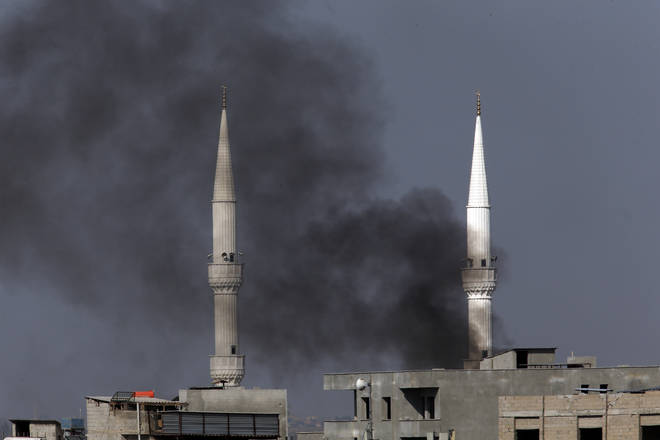 Residents in northern Syria began fleeing their homes following the bombardment from Turkish missiles with plumes of smoke being seen rising near the town of Qamishli.
The operation was condemned by a number of world leaders, including Finnish Prime Minister Antti Rinne, whose country holds the EU's rotating presidency, who called for a ceasefire in the region.
Dominic Raab, the UK's Foreign Secretary, asked Mr Erdogan to exercise "restraint" in its offensive in northern Syria.
Tens of thousands of of civilians in Syria are relocating to escape the fighting, say the UN refugee agency who urged those on all sides to adhere to international humanitarian law.
The UN High Commissioner for Refugees said hundreds of thousands of civilians in northern Syria were in harm's way and must not be targeted, along with civilian infrastructure.