Air fares could rise by £80 if King's Speech law to ban 'drip pricing' is introduced
8 November 2023, 07:51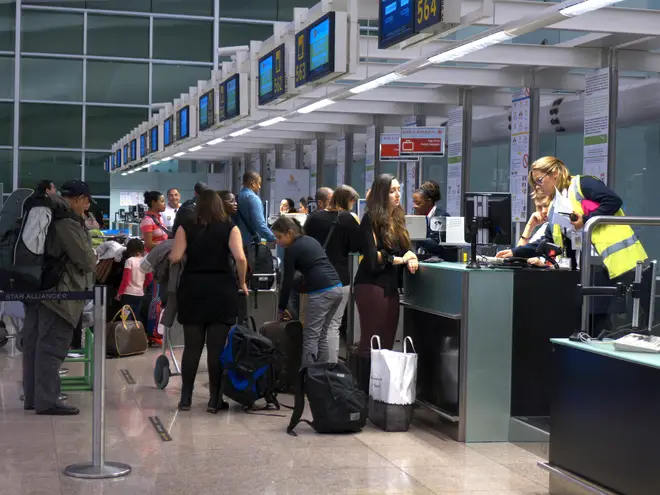 A law banning 'drip pricing,' the practice of adding charges later in the buying process, could add as much as £80 on to headline air fares.
The government has announced the ban as part of the consumers' bill announced in the King's Speech - aimed at tackling 'growing consumer harms'.
Drip pricing, where firms only advertise part of the price of a product upfront and reveal other charges later in the buying process, could be banned.
It would spell an end to airlines charging extra for luggage, seat selection, travel insurance or food and drink add-ons.
But it would mean headline fares would rise considerably, according to the government's impact assessment.
The £80 additional cost is based on a median rise for adding extra luggage (£65) and booking specific seats (£15).
Read more: Tories 'not even pretending to govern anymore', Starmer says, as he labels King's Speech a 'new low'
Read more: Ministers hand out £70 million per year to get hundreds of thousands to quit smoking after tobacco ban announced
The practice of drip pricing is most common in the aviation, retail, entertainment and communication sectors.
Examples of drip pricing have included airlines inflating a topline fare with fees for luggage space, seat choice and printing out passes.
Consumer group Which? has described drip pricing as "an underhanded way of squeezing extra cash out of consumers" and "particularly concerning during a cost-of-living crisis, when it's more important than ever for shoppers to be able to stick to a budget".
The law, included in the King's Speech, will also take action against fake reviews and confusing labels, both of which make it harder for consumers to judge a product or a service.
It will make it harder for "unscrupulous" traders to trap people in subscriptions that they no longer want, a practice that currently cheats consumers out of £1.6 billion a year.
And it includes already announced powers allowing the Competition and Markets Authority to take action against bad business practices without needing lengthy court action.
The Bill is expected to deliver a consumer benefit of £9.7 billion over 10 years from stronger laws, new rights and more competition.
Between April 2020 and April 2021, 69% of UK consumers experienced problems with items or services that caused them stress, cost them money or took up their time, and are estimated to have carried a net cost of £54.2 billion.
Rocio Concha, Which? director of policy and advocacy, said: "Our competition and consumer protections are in desperate need of an upgrade, so it's good to see the Government moving forward with the Digital Markets, Competition and Consumers Bill, which should clamp down on harmful practices like fake reviews and drip pricing, while empowering the new Digital Markets Unit (DMU) to rein in anti-competitive behaviour by the biggest tech firms.
"However, efforts to increase competition in digital markets risk being undermined if the Government bends to lobbying from tech giants.
"The Government should resist calls that would let Big Tech weaponise the legal system to frustrate decisions by the DMU, and allow the regulator to focus on improving choice and lowering prices for consumers."