Albanian people smuggler jailed after texts reveal how she managed Channel crossings, as dramatic raid footage released
19 November 2023, 17:23 | Updated: 19 November 2023, 17:25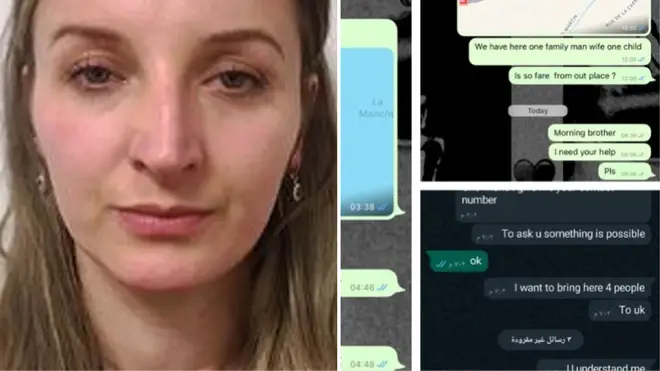 An Albanian people smuggler has been jailed for seven and a half years for her role in helping migrants cross the English Channel in small boats.
Ujeza Kurmekaj acted as a 'fixer' for Albanian people trying to make the perilous Channel crossing to the UK.
The government has vowed to "smash" the people smuggling gangs that run the small boats crossings, which have resulted in dozens of deaths in recent years.
Kurmekaj, 32, was arrested at her home in Banbury in Oxfordshire, in October last year. National Crime Agency officers found hundreds of messages on her phone that showed her involvement in the crossings.
Officers found texts she sent to contacts in France telling them who they should pick up. Messages included "family one 3 women, children 14 17 12 years old" and "we have here one family, man wife one child".
Read more: People smuggler says trafficking 'easier since Brexit' as he urges 'refugee' to make false asylum claim
Read more: Iranian kingpin who smuggled 10,000 migrants to UK in Europe-wide criminal operation is jailed for 11 years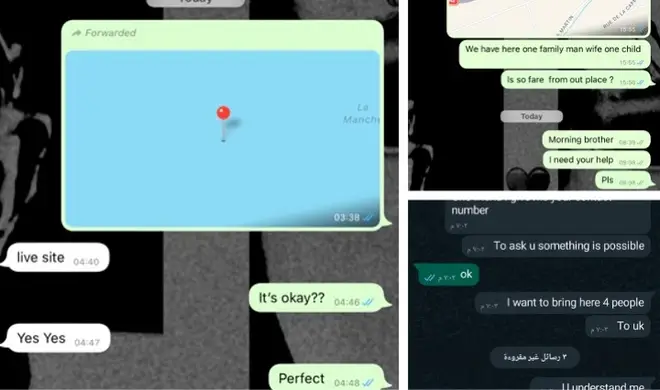 She also sent messages about crossing conditions, including 'very bad sea', as well as map location pins telling contacts where to pick migrants up or where boats were in the Channel.
Officers also found messages from people trying to arrange crossings for their families.
Kurmekaj was charged with facilitating illegal immigration in September and pleaded guilty at Oxford Crown Court on November 3.
She was sentenced at the same court on Friday and will be deported at the end of her sentence.
Officers released dramatic footage showing how they arrested her in a raid at her home.
Andy MacGill, National Crime Agency senior investigating officer, said: "Ujeza Kurmekaj played a major role as a broker, linking migrants with people smugglers who could transport them on dangerous journeys across the Channel.
"For this, she would arrange payments of hundreds of euros per person.
"Kurmekaj had little interest in the safety and security of the people she was arranging crossings for, only that she and her employers received payment.
"Disrupting and dismantling organised crime groups responsible for people smuggling is a priority for the NCA and we'll continue to target offenders involved at every step of the journey."
Albanians constitute a large minority of the migrants who come to the UK by small boats, despite the country not being considered particularly dangerous by global standards.
A Home Affairs parliamentary committee report found that in 2022, more than a quarter of the 45,755 people who crossed the Channel in small boats came from Albania. Most of these people claimed asylum.
The report added: "Albania is a safe country, it is not at war and is a candidate country to join the European Union. There is no clear basis for the UK to routinely accept thousands of asylum applications from Albanian citizens...
"However up to June 2022, 51% of asylum claims from Albania were initially accepted, a rate far higher than many comparable European nations. Nine countries, including Germany, accepted no asylum claims from Albania."