American bully XLs officially added to list of banned dogs in England and Wales
31 October 2023, 13:19 | Updated: 31 October 2023, 18:04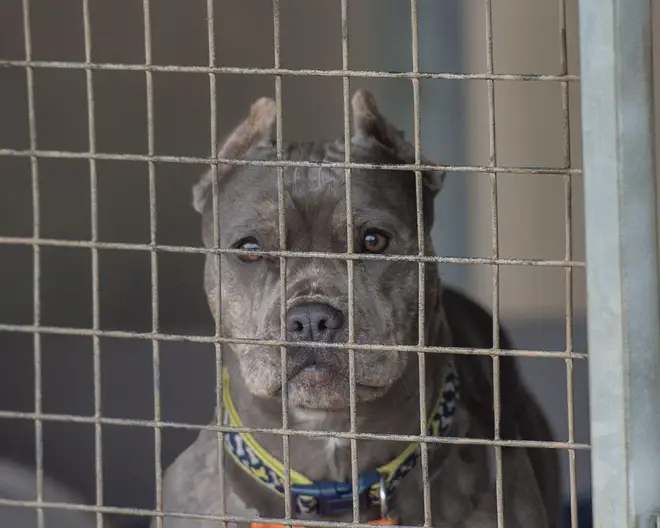 American bully XL dogs have been officially added to the list of banned breeds in England and Wales.
From 31 December 2023 breeding, selling, advertising, rehoming, abandoning and allowing an XL Bully dog to stray will be illegal, the government announced.
Also from 31 December 2023 XL Bully dogs must be muzzled and on a lead in public.
From February 1 2024 it becomes a criminal offence to own one unless it is on a list of exempted dogs.
There is a longer deadline for owners to ensure existing animals are neutered and microchipped.
There are as many as 15,000 XL Bully dogs that will be affected by the new criteria once the ban officially comes into force, according to the Environment Secretary Therese Coffey.
She told LBC: "There's been a significant increase in attacks, particularly from this breed as a proportion of dogs, and more broadly, the Dangerous Dogs Act makes it a criminal offence for people to have a dog dangerously out of control.
"There have been a lot of attacks, well-publicised, and it's important that we took this robust decision."
Read more: 'American Bully XL' to be destroyed after attacking two women in Staffordshire
Read more: 'I was no match for an XL Bully': Man 'lucky to be alive' after being 'savaged by dog for asking owner to put on lead'
If your XL bully dog is less than one year old on 31 January 2024, it must be neutered by 31 December next year.
If your dog is older than one year old on 31 January 2024, it must be neutered by 30 June.
Breeders have been told to stop mating these types of dogs from today in preparation of it being a criminal offence to sell or rehome these dogs.
The list of banned breeds:
American XL bully
Pit Bull Terrier
Japanese Tosa
Dogo Argentino
Fila Brasileiro
Environment Secretary Thérèse Coffey said: "We are taking quick and decisive action to protect the public from tragic dog attacks and today I have added the XL Bully type to the list of dogs prohibited under the Dangerous Dogs Act.  
"It will soon become a criminal offence to breed, sell, advertise, rehome or abandon an XL Bully type dog, and they must also be kept on a lead and muzzled in public.
"In due course it will also be illegal to own one of these dogs without an exemption.
"We will continue to work closely with the police, canine and veterinary experts, and animal welfare groups, as we take forward these important measures."
Owners may choose to have their dog put to sleep by a vet, with compensation provided to help with these costs, the government has announced.