Anheuser-Busch CEO breaks silence over Bud Light partnership with trans TikToker Dylan Mulvaney
15 April 2023, 13:28 | Updated: 15 April 2023, 13:46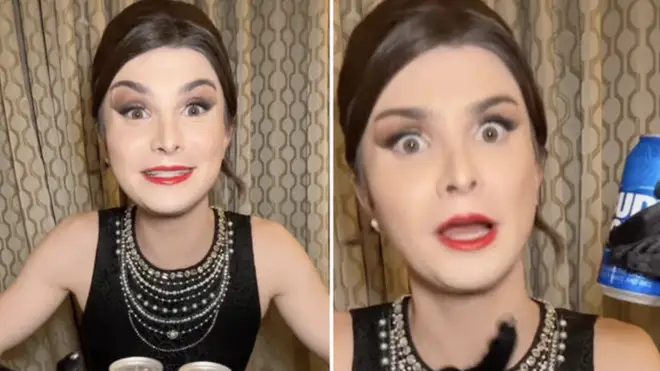 The CEO of Bud Light parent company Anheuser-Busch has broken his silence over the brand's partnership with trans TikTok star Dylan Mulvaney.
The popular American beer brand used 26-year-old Dylan Mulvaney in a series of TikTok ads - with a set of commemorative cans produced for the partnership featuring Ms Mulvaney's face.
The move prompted backlash from right-wing activists who created a social media campaign to boycott the beer.
But Anheuser-Busch said that they were trying to change the image of Bud Light and make it more attractive to younger people.
In a public statement, Mr Whitworth said: "We never intended to be part of a discussion that divides people.
"We are in the business of bringing people together over a beer."
He said he was "focused on building and protecting our remarkable history and heritage".
"Moving forward, I will continue to work tirelessly to bring great beers to consumers across our nation," he added.
Read more: Bud Light's parent company drops $6bn in market cap after Dylan Mulvaney backlash
Read more: Backlash after Bud Light uses trans woman Dylan Mulvaney to promote beer as influencer says she's 'thriving'
The $132 billion beer company saw its market value plummet by $6 billion after the campaign was launched at the beginning of the month.
Until Friday, Anheuser-Busch's only comment had been a single statement confirming the Bud Light cans showing Mulvaney's face were a personal gift and not for sale.
"Anheuser-Busch works with hundreds of influencers across our brands as one of many ways to authentically connect with audiences across various demographics," it said. 
"From time to time we produce unique commemorative cans for fans and for brand influencers, like Dylan Mulvaney. This commemorative can was a gift to celebrate a personal milestone and is not for sale to the general public."
The backlash came just days after Ms Mulvaney was caught up in a separate backlash against Nike for featuring her in a campaign to sell sports bras - despite her being biologically male.
But others backed the sportswear brand for being "inclusive".