Cabinet minister tells LBC she was pinned against wall by male MP with 'wandering hands'
29 April 2022, 08:05 | Updated: 29 April 2022, 12:56
A female cabinet minister has told LBC she was pinned against a wall by a male MP with "wandering hands" as she spoke about misogyny in Parliament.
International Trade Secretary Anne-Marie Trevelyan revealed she has been at the "sharp-end of misogyny" by some of her male colleagues, "many times over".
She told LBC's Nick Ferrari at Breakfast she was pinned against a wall by a male MP "many years ago" - and the politician involved is no longer in Parliament.
"Well, we might describe it as wandering hands, if you like, we might describe it as a number of years ago being pinned up against a wall by a male MP who is now no longer in the House, I'm pleased to say, declaring that I must want him because he was a powerful man," she told Nick.
Read more: Harman says 'misogyny is alive and well and stalking Commons' after 'sordid' Rayner story
Read more: 'They shouldn't have to put up with this crap': Minister slams misogynistic Rayner story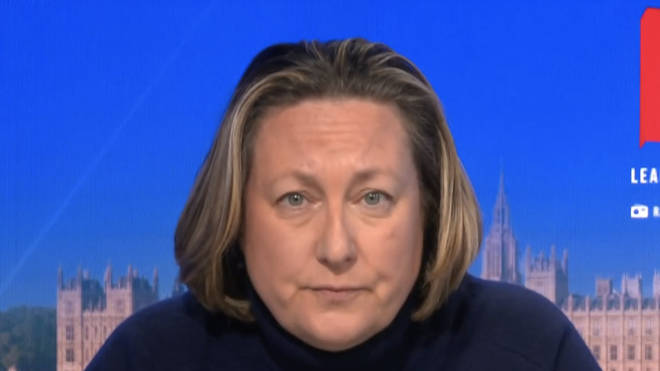 Ms Trevelyan said she has experienced "wandering hands" from "half a dozen" male colleagues during her time in Parliament, some of whom were "repeat offenders".
She added these "power abuses by a small minority" of male colleagues are "completely unacceptable".
The Tory MP for Berwick-upon-Tweed claimed that despite recent revelations in the political world, Parliament has made "real progress" in both calling out misogyny and supporting those who have experienced it.
"Those of us, as senior women, across all the political parties, absolutely stand ready to both support them and help them to deal with anyone who thinks this is okay," she said.
"It is not okay. It's not okay in any workplace, it's not okay in any kind of social environment for men to abuse their position, their power, their strength. It is not okay and we must always call it out."
Read more: Booze and stress could be reason Tory watched porn in Commons, minister suggests
Read more: Rayner wears trousers to avoid being 'judged for what she wears' in TV appearance
Ms Trevelyan told victims of misogyny to "be brave", saying "people will come to your assistance".
She said we must punish those who abuse women and "chastise them publicly" to make them understand it's not okay.
"Fundamentally, make public humiliation one of your tools, so if a bloke gropes you in a bar, or pins you up against a wall and tells you you are gorgeous and should be going to bed with him, you say very loudly i'm afraid I'm not attracted to you," she said.
She urged people to "please always come forward".
Her comments come after claims two female Conservatives witnessed a male Tory frontbencher watching porn on his phone in the Commons.
Conservative chief whip Chris Heaton-Harris has launched an investigation into the pornography reports, with Boris Johnson telling LBC the claim is "mind-boggling" as he vowed to "get the truth".
The reports have sparked outrage across the political spectrum, with Defence Minister Ben Wallace saying he would support the MP losing the whip if the claims are true.
He told LBC the MP could even face a recall petition in his constituency or be suspended from Parliament "if the Commons authorities feel it is egregious enough".
The bombshell reports were made in the wake of a sexism row in Parliament, after Angela Rayner was accused by Tory MPs of trying to put the Prime Minister "off his stride" by crossing and uncrossing her legs during PMQs, according to the Mail on Sunday.
The deputy Labour leader's actions were compared to Sharon Stone's infamous scene in the film Basic Instinct.
Responding to the claims made by Anne-Marie Trevelyan, First Minister Nicola Sturgeon told LBC it's "deeply depressing" women still face examples of behaviour like this on a daily basis.
"Women in public life attract a lot of that abuse and misogyny every single day," she said.
"I've not been subject to that physical experience that I've heard accounted today, but I, like every woman on the face of the planet have suffered sexism and misogyny."
She said it's "all women" who suffer misogyny, but not all men are misogynists.