Investigation launched after armed officers shoot dead knifeman in Derby police station car park
7 October 2022, 11:29 | Updated: 7 October 2022, 17:54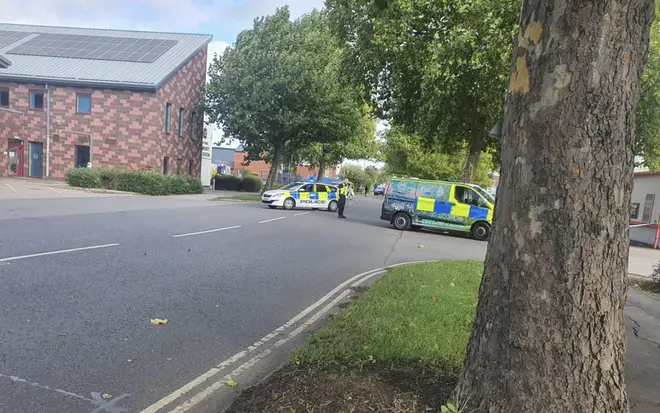 The Independent Office for Police Conduct (IOPC) has launched an investigation after armed officers shot dead a knifeman in the car park of a police station in Derby earlier today.
Witnesses reported hearing 'six gunshots' at around 10.30am around Ascot Drive, Derby.
Derbyshire Constabulary said in an earlier update this afternoon that a man armed with a knife who was spotted in the secure car park of Ascot Drive Police Station in Derby had died in hospital after being shot by police.
Aerial images show a shattered glass door at Ascot Drive police station, with medical equipment and clothes left scattered on the pavement.
Derbyshire Police said the incident took place in the grounds of the police station but not inside the building.
In a press conference on Friday evening, Deputy Chief Constable Kate Meynall confirmed the IOPC was investigating Friday morning's incident.
"At 9.55am today, the 7th October, officers reported seeing a man armed with a knife in the secure car park at Ascot Drive police station," she said.
"During the incident a window was smashed at the police station.
"Armed officers were sent to the scene and a police firearm was then discharged.
"The male's identity is currently unknown but I can confirm he is a white man and we are working to establish who he is.
"He sustained a gunshot injury and East Midlands Ambulance Service were requested to attend.
"Officers administered first aid until paramedics attended the scene, and he was taken to hospital where he was pronounced dead."
She went on: "The Independent Office for Police Conduct us now investigating the incident following a referral from Derbyshire Constabulary, and the force will be cooperating fully with the investigation."
She also confirmed no one else was injured, and the incident was not thought to be linked to counterterrorism.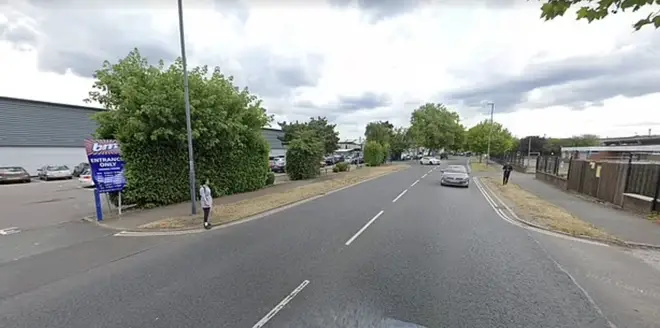 Read More: Shocking footage shows moment fearless bystanders grapple with phone muggers in Bishopsgate
Emma Smalley, 28, who was shopping in B&M at the time, said: "We heard about six massive bangs and didn't know what it was at the time. Everyone got evacuated. I've had to leave everything in there.'I just thought it was banging. I didn't know whether it was a delivery for B&M or someone in the warehouse. It was noisy.
"It's quite scary to think that if I'd been any later getting there I could've witnessed it. I've got a three-year-old with me as well."
Another witness said they heard gunshots that sounded "like a load of beer barrels falling off a lorry".
Derbyshire Police confirmed they are in attendance at the "incident" but have released no further details.
A resident who lives near the scene said: "Major incident of some sort beside fire station around corner from workshop on Ascot Drive in Derby , road closed off, half a dozen police cars and now a helicopter about 50 feet overhead, rattling unit. "Helicopter landing on road. Air ambulance. Someone has not had a good morning :("
He said a neighbour told him he heard " heard half a dozen shots just before I arrived. "Had wondered why someone was letting off fireworks. Air ambulance just left scene," he added.