Army of 10,000 foreign workers asked to save Christmas from shortages crisis
25 September 2021, 22:36 | Updated: 25 September 2021, 23:25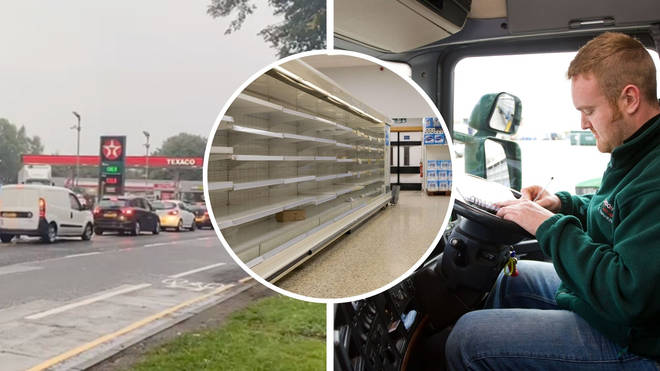 More than 10,000 foreign workers will be allowed to work as lorry drivers and within the food sector in a desperate bid to save Christmas from shortages.
A lack of HGV drivers has led to empty shelves in some supermarkets, as well as a lack of fuel at filling stations across the country, because petrol can't be transported as quickly.
The serious shortage of workers in key industries has led to fears of Christmas being affected by major supply disruption.
But Transport Secretary Grant Shapps has moved to allow thousands of overseas workers the chance to save Britain's festive season, granting them temporary visas, hoping they will keep shelves stocked with turkeys and toys and alleviate pressure on filling stations.
Retailers warned the Government had only 10 days to prevent Christmas being affected by disruption due to a shortfall of about 90,000 drivers in the freight industry.
Read more: Tesco warns Christmas panic buying could be 'far worse' than during Covid
Read more: Driver shortage: Now pharmacies complain medicine deliveries are being delayed
While some praised the move, others described it as throwing "a thimble of water on a bonfire".
Mr Shapps said: "This package of measures builds on the important work we have already done to ease this global crisis in the UK, and this Government continues to do everything we can to help the haulage and food industries contend with the HGV driver shortage.
"We are acting now but the industries must also play their part, with working conditions continuing to improve and the deserved salary increases continuing to be maintained in order for companies to retain new drivers.
"After a very difficult 18 months, I know how important this Christmas is for all of us and that's why we're taking these steps at the earliest opportunity to ensure preparations remain on track."
Previously, Andrew Woolfenden, Tesco's UK distribution and fulfilment director, warned the Government: "Our concern is that the pictures of empty shelves will get ten times worse by Christmas and then we'll get panic-buying."
Read more: Drivers pack cars with jerry cans and £30 cap introduced as panic-buyers scramble for fuel
There are growing fears the UK faces a serious challenge during the winter, as shortages, combined with soaring gas prices and the withdrawal of Universal Credit's uplift, could seriously impact households.
The temporary visa scheme will see 5,000 HGV drivers allowed in the UK to work, while 5,500 poultry workers can work until Christmas Eve.
The Food and Drink Federation and Logistics UK welcomed the plan, with the former's head Ian Wright calling the measures "pragmatic".
However, the British Chamber of Commerce president Baroness McGregor-Smith said it amounted to "throwing a thimble of water on a bonfire", and it would "not be enough to address the scale of the problem".
Friday and Saturday saw queues at petrol stations as motorists panic bought fuel. The Government insists there is no shortage of fuel overall, but the difficulties lie in having enough drivers to transport it to the pumps.
Some forecourts shut and others limited purchases to £30 as drivers were seen fighting and filling up jerry cans.
The pandemic worsened a global shortage of lorry drivers, but in the UK there has been a long running issue with the amount of HGV motorists.
This is down to the ageing workforce, low wages and poor conditions in places designated for trucks to stop.
Foreign workers "will not be the long term solution", the Department for Transport has admitted.
The Government will continue to improve HGV licence testing, with thousands more to take place over the next 12 weeks, and £10 million has been given to "skills bootcamps" to train up to 3,000 more drivers.
Local courses could train another 1,000 - but the numbers would still be below the estimated 90,000 required.