'Basic errors' that delayed terrorist's sentencing make it 'impossible' to tackle court backlogs, say frustrated lawyers
14 April 2023, 16:15 | Updated: 14 April 2023, 16:33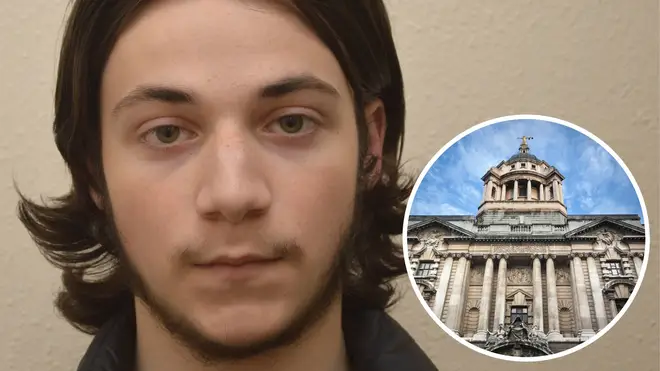 "Basic errors" that saw a terrorist's sentencing being delayed are making it "impossible" to tackle court backlogs, according to frustrated lawyers.
Convicted terrorist Matthew King, 19, was supposed to be sentenced at the Old Bailey on Friday morning, after pleading guilty to plotting a terrorist act in east London.
But staff at HMP Wandsworth, where he is being held, failed to arrange transport to get him to the Central Criminal Court, meaning his sentencing had to be rescheduled.
It will now take place on Friday 12 May – a month after the initial fixed date.
The Prisons Service apologised for the administrative error, which they described as being rare.
Lawyers have told LBC, though, that small issues, like failing to arrange transport, are causing big problems when it comes to getting cases through court.

Read more: Cannabis-smoking parents guilty of Christmas Day murder of their baby - days after he was placed back in their care
Read more: Ex-Everton player to face no further action after being arrested on suspicion of child sex offences
Tony Wyatt is a criminal barrister in London and says three times in the past year he's gone to court to find there hasn't been a prosecutor available to proceed with a court hearing.
While on other occasions he says there's been a lack of judges, defendants haven't been transported from prison in time for hearings or technology has failed to work properly, meaning last minute cancellations are becoming commonplace.
He said: "The backlog can't be tackled in its current form until the government does something about this. Just last week a lot of noise was being made about making sure prisoners are in the dock when they're sentenced – they should be in there looking the victims' families in the eye when they're sentenced.
"They're looking at things that are maybe three or four steps down the line. In terms of importance.
"Maybe make sure that defendant is brought to court first, before you talk about dragging them up, so that there can actually be a hearing."
Delays to hearings don't only have an impact on those particular cases, though, as lawyers and charities have pointed out.
Every time a hearing has to be rescheduled, it's another date that a different case in the tens of thousands being held in the backlog can't be heard in that courtroom.
Jude Lanchin, a criminal defence solicitor at Bindmans, told LBC the constant run of problems she faces with courts is 'driving her mad'.
She said: "It's technology, transportation, communication – even the heating breaking saw a trial we were at being abandoned over the Winter. It's a system that is drastically under-resourced.
"It's extremely frustrating because I, as a solicitor, pride myself in being very organised and on top of my cases, but you are thwarted at every stage by various other parties who are simply not doing what they need to do to move forward.
"A lot of my clients are people who've never been involved in the criminal justice system before and they are completely stunned by the inefficiency of it.
"These problems are preventing the backlog from being reduced because it's being held up at both ends."
On Thursday, the Justice Secretary Dominic Raab tweeted to say that good progress is being made in reducing the backlog of cases in England and Wales.
He said: "Recruiting more judges, and keeping Nightingale Courts open to increase capacity, is helping speed up the system so victims get the justice they deserve quicker."
But the Victim Support charity says some people are still waiting years to have their case heard in court – and even then, they're still facing last minute cancellations.
Alex Mayes, from the group, said: "If you think about the preparation that goes into going to court, emotionally, mentally, practically, to relive that experience to potentially run into the defendant and their supporters.
"To go through all that only to be find out that the carpet has been ripped away from under your feet and to be told to come back again in six months – however long it is – it has a real impact on victims and it's something unfortunately we're seeing increasingly often."