Boris accuses BBC of 'disappearing up its own fundament' over claims chief helped ex-PM secure £800,000 loan
23 January 2023, 11:14 | Updated: 23 January 2023, 11:46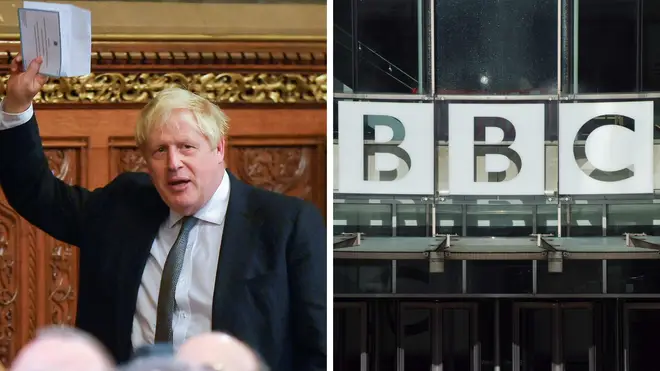 Boris Johnson has dismissed claims that BBC chairman Richard Sharp helped him secure an £800,000 loan as "absolute nonsense" and accused the broadcasting corporation of "disappearing up its own fundament".
Mr Sharp has asked for a scrutiny panel to examine potential conflicts of interest over claims he helped former prime minister Boris Johnson secure an £800,000 loan.
Mr Sharp, who was appointed as BBC chairman while Mr Johnson was prime minister, was reportedly involved in arranging a guarantor on a loan for Mr Johnson in late 2020.
In a statement reported by the BBC, Mr Sharp acknowledged "distractions such as this are not welcome" and said he had asked the nominations committee of the BBC board to look at the matter.
"We have many challenges at the BBC and I know that distractions such as this are not welcome," he said.
"Our work at the BBC is rooted in trust. Although the appointment of the BBC chairman is solely a matter for the Government ... I want to ensure that all the appropriate guidelines have been followed within the BBC since I have joined.
"The nominations committee of the BBC board has responsibility for regularly reviewing board members' conflicts of interest."
The BBC reported that Mr Sharp "has agreed with the board's senior independent director that the committee shall look at this when it next meets and, in the interests of transparency, publish the conclusions".
Speaking to Sky News, Mr Johnson said: "This is a load of complete nonsense - absolute nonsense.
"Let me just tell you, Richard Sharp is a great and wise man but he knows absolutely nothing about my personal finances - I can tell you that for 100% ding dang sure.
"This is just another example of the BBC disappearing up its own fundament."
Read More: Labour calls for probe into claim Johnson recommended friend for top BBC job soon after he helped ex-PM secure loan
Read More: Nadhim Zahawi will 'absolutely' not quit over reports he 'settled HMRC dispute while Chancellor'
The Labour Party has already called on Parliamentary Commissioner for Standards Daniel Greenberg to investigate the allegations that Tory donor Mr Sharp was involved in talks about Mr Johnson's finances in late 2020.
Mr Sharp introduced multimillionaire Canadian businessman Sam Blyth, who had proposed to act as the then-PM's guarantor for an £800,000 credit facility, to the Cabinet Secretary, according to the Sunday Times.
Mr Johnson, Mr Sharp and Mr Blyth then had dinner at the PM's country residence, Chequers, before the loan was finalised, though they denied the finances were discussed.
Mr Sharp, a former Goldman Sachs banker, was then announced as the Government's choice for the BBC role in January 2021.
A spokesperson for Mr Johnson dismissed the report as "rubbish" and insisted his financial arrangements "have been properly declared".
"Richard Sharp has never given any financial advice to Boris Johnson, nor has Mr Johnson sought any financial advice from him," the spokesman said.
Of Mr Johnson's private dinner with Mr Sharp, an old friend, and Mr Blyth, who is a distant relative, the spokesman said: "So what? Big deal."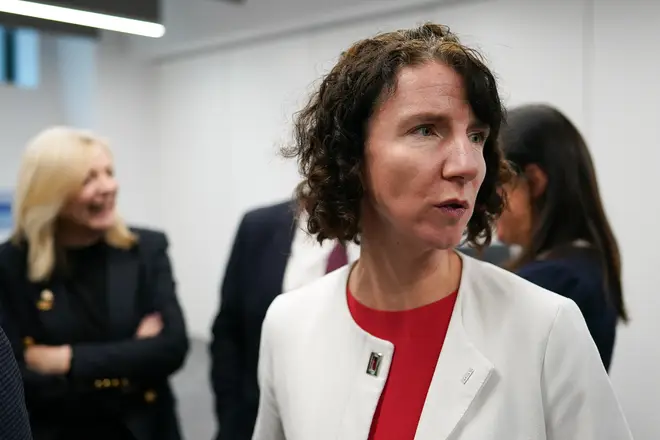 In the letter to Mr Greenberg, Labour Party chair Anneliese Dodds called for an "urgent investigation" as she cited the MPs' code of conduct that "holders of public office should not place themselves under any financial or other obligation to outside individuals or organisations that might influence them in the performance of their official duties".
She told the standards commissioner she was concerned that Mr Johnson "may have breached this section by asking for an individual to facilitate a guarantee on a loan whom he would later appoint to a senior public role".
"The lack of transparency around it, like that of the issue raised around Mr Blyth, may give the impression that this was a quid pro quo arrangement," she added.