Man hit with eight dangerous dogs charges after girl mauled in Manchester
30 March 2023, 09:30 | Updated: 30 March 2023, 09:31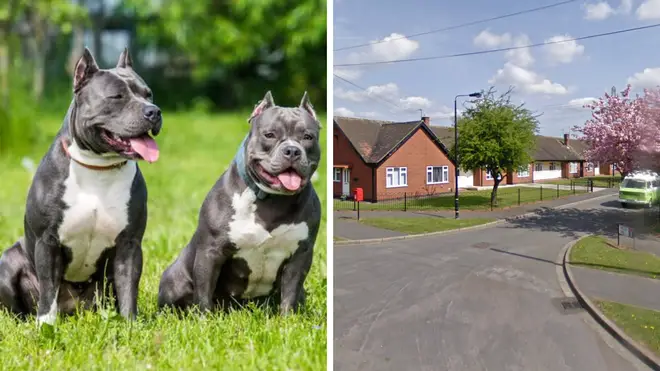 A man is accused of eight dangerous dogs charges after a girl was attacked by a pack of American bully-type breeds in Manchester.
Bernard Valentine, 35, of Ackers Lane, Carrington, has been charged with eight counts of being in charge of a dog dangerously out of control that caused injury.
Six of the charges relate to the attack on Sunday in Ackers Lane, which led to the unnamed girl being hospitalised.
Two more are connected with an incident in December when a man and his dog were injured.
Valentine has also been charged with possession of Class B drugs and was remanded in custody ahead of an appearance at Manchester and Salford Magistrates' Court on Thursday.
Read more: 17 dogs seized after girl mauled in shocking attack in Manchester, with owner 'breeding XL bully dogs in caravan'
Read more: Pictured: Girl, 4, killed by family dog in Milton Keynes attack as neighbours describe mother's 'piercing screams'
It comes after police seized 17 dogs as part of their investigation. Locals suggested that the dogs were XL American Bully breeds and that a man was breeding them in a caravan.
During the attack, the girl's mother screamed "help me - my baby" as she tried to haul the violent dogs off her daughter, a neighbour said.
It comes less than two months after four-year-old girl Alice Stones was attacked and killed in her back garden in Milton Keynes by a dog, whose breed was not made public.