Big Banks pocket an extra £6.5bn off the back of Interest Rate hikes this year
2 November 2023, 08:47 | Updated: 2 November 2023, 11:18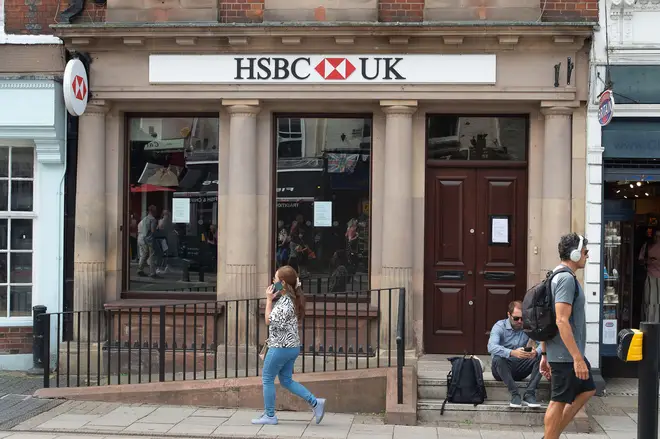 The UK's four biggest banks have collectively made an extra £6.5bn as a result of interest rate hikes, new analysis from LBC has revealed.
As part of their financial results, banks publish their 'net interest income', which is the difference between the amount they make from interest payments on products such as loans and mortgages and the sum they pay to customers saving with them.
In the first 9 months of 2023, HSBC, NatWest, Barclay's and Lloyds generated around £48.5bn in net interest income, compared to £42bn in the same period of 2022, garnering concerns from parliament's Treasury Select Committee that banks are "doing as little as they can get away with" to help savers.
Speaking to Nick Ferrari at Breakfast on LBC, the Chair of the Treasury Select Committee, Harriet Baldwin, said: "We hauled the four main banks before the committee in February this year to make exactly this point. When the Bank of England raises rates, you get a text that morning saying your mortgage is going up, but they've been very, very slow - they have really dragged their feet - in terms of passing on higher rates to their savers.
"The regulator has now made it very clear they expect to see savers get fair treatment from their banks... what we're seeing in the main four banks is that they've actually lost a lot of their savers; people have been voting with their feet and finding better rates elsewhere."
Indeed, this is reflected in the number of people who've moved their money out of the big four banks: in the first 12 months to June 2023, for example, deposits at NatWest, Lloyds, HSBC and Barclays fell by almost £80bn, largely fuelled by retail customers seeking to achieve more attractive rates of interest elsewhere.
Read more: Artificial Intelligence already working one million hours a year for police, as concerns raised over criminal 'AI race'
Read more: XL Bully dogs for sale online for as little as £25 after government announces exact date breed will be banned
Though it is expected that Threadneedle Street will maintain interest rates at 5.25% in its decision on Thursday, after a run of fourteen successive increases was halted by the Bank's most recent statement in September, households have continued to face significantly higher mortgage repayments. Amongst those worst hit are first-time buyers, with their average repayments escalating from £971 in August 2022 to £1,253 in the same month of 2023, according to Rightmove.
Despite enduring such mortgage pain, however, many banks have failed to pass on proportionate increases in the amount they pay to savers; last week, it was revealed that HSBC had seen its third quarter profits more than double on the previous year, reaching £6.4bn in the three months to September 2023, with the bank acknowledging that interest rate rises played a considerable role in their improved performance.
Earlier this year, Chancellor Jeremy Hunt criticized banks for "taking too long" in passing on the benefits of increases to the base rate, a point he raised in a meeting with senior representatives of HSBC, Barclay's and NatWest in June.
Responding to LBC's findings, a spokesperson for UK Finance, a representative body for Britain's financial institutions, said: "Savings rates have increased a lot recently and the market is highly competitive.
"Banks are commercial organisations and seek to offer the best possible value to customers while also making a profit. This allows them to invest in their business for the benefit of customers and deliver shareholders, including pension funds, a return on their investment.
"In terms of financial results, the net interest margins being reported are returning to more normal levels as we come out of the very low interest rate environment we experienced until the end of 2022."