XL Bully dogs for sale online for as little as £25 after government announces exact date breed will be banned
1 November 2023, 20:56 | Updated: 2 November 2023, 00:47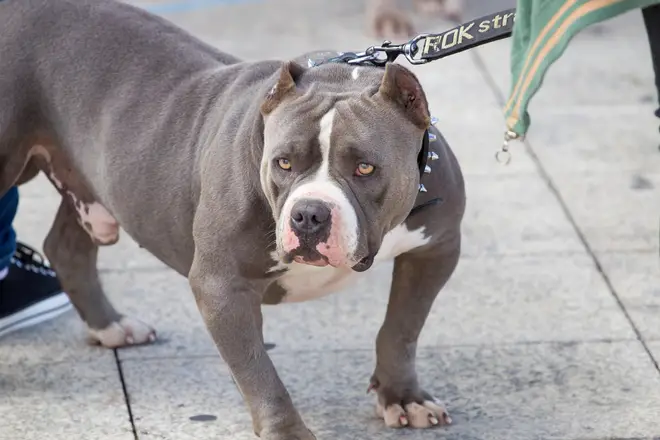 An American XL Bully dog has been put up for sale online for just £25 after the government announced the breed had been officially added to the banned list in England and Wales.
An advert seen by LBC shows that the 14-month-old male XL Bully dog was put up for sale for the small amount yesterday, which is when the Government officially announced that the breed had been officially banned.
The KC registered dog is described as being "very friendly" with a "good temperament" on the Pets4Homes online advert.
While the breed is officially on the banned list in England and Wales, it is still legal to sell the dog until the end of the year.
There are as many as 15,000 XL Bully dogs that will be affected by the new criteria once the sale and breeding ban officially comes into force, the Environment Secretary Thérèse Coffey told LBC.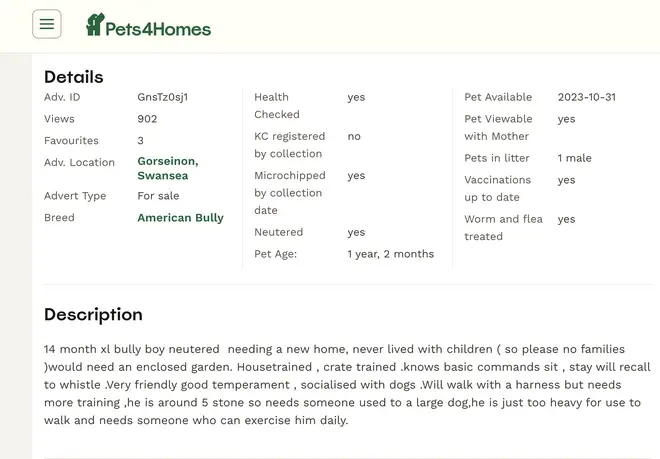 Ms Coffey told LBC: "There's been a significant increase in attacks, particularly from this breed as a proportion of dogs, and more broadly, the Dangerous Dogs Act makes it a criminal offence for people to have a dog dangerously out of control.
"There have been a lot of attacks, well-publicised, and it's important that we took this robust decision."
Read More: American bully XLs officially added to list of banned dogs in England and Wales
Read More: Man on mobility scooter attacked by 'XL Bully-type' while trying to defend his dog from being mauled
From 31 December 2023 breeding, selling, advertising, rehoming, abandoning and allowing an XL Bully dog to stray will be illegal, the government announced on Tuesday.
Also from 31 December 2023 XL Bully dogs must be muzzled and on a lead in public. From February 1 2024 it becomes a criminal offence to own one unless it is on a list of exempted dogs.
There is a longer deadline for owners to ensure existing animals are neutered and microchipped.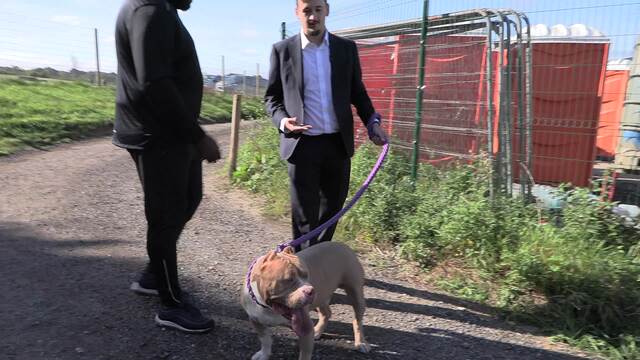 LBC's Henry Riley meets XL Bully dog Dublin
More XL Bully dogs have been put up for sale online for seemingly cheap prices in the last 24 hours, including one male dog for £75.
Other dogs have been put on the Pets4Home sites listed for free.
While it is not clear whether the listings are directly linked to the looming sale and breeding ban, there are fears the move will lead to a large proportion of XL Bully dogs being sold on the cheap or even on the black market.
Trevor Cooper, a lawyer and dog law expert, previously told The Independent: "There's a risk people will abandon dogs or take them to rescues but what are rescues supposed to do with a breed that's going to be banned?"
"We could be facing at least thousands or tens of thousands of animals affected."
Owners may also choose to have their dog put to sleep by a vet, with compensation provided to help with these costs, the government has announced.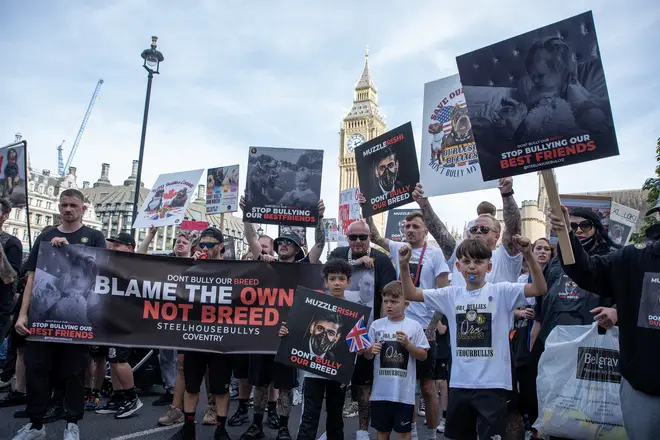 The ban on XL Bully dogs was announced back in September following a slew of dangerous dog attacks.
A man previously told LBC he was an attacked by an XL Bully and its owner after he asked for the dog to be put on its lead in public.
Ben Francis Cźyżyk says he came across a "very vicious dog" and its owner at around 11pm on Friday night in a park in Wolverhampton.
Feeling threatened, Ben asked the owner to put his dog on its lead, which he says prompted the owner to tell his dog to "attack".
"I had never met this person before and when I asked for him to leash his dog, him and his dog attacked me," Ben told LBC.
"I woke up in hospital...[by] then I believe he had fled the scene where ambulance and police attended."
He added: "This incident was very scary. I would say I'm lucky to be alive."The attack left him with 12 fractures in one eye socket and several deep bite marks on his legs.
Meanwhile, a man was arrested after a horror dog attack which saw an 11-year-old girl and two men savaged near a petrol station in the West Midlands in September.