Boris 'in peril' after MPs back fresh Partygate inquiry over whether he misled Parliament
21 April 2022, 16:40 | Updated: 22 April 2022, 08:48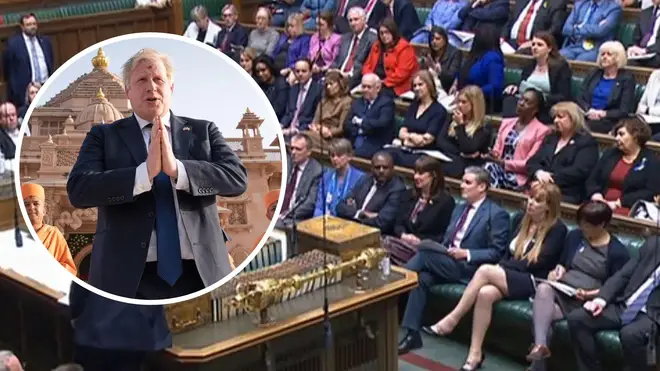 Boris Johnson will face a parliamentary investigation into whether he misled MPs about lockdown-breaking parties at No10.
The prime minister, who has been accused of lying about lockdown parties after being fined by the Metropolitan Police, insists he has "nothing to hide".
A senior Government source said Mr Johnson was "happy to face" a parliamentary inquiry after Tory MPs were granted a free vote on whether he should.
No vote was needed however, as MPs were unanimous in their decision, agreeing that a committee should look into whether the Prime Minister misled them.
Former cabinet office minister David Lidington - who effectively served as Theresa May's deputy prime minister - said Boris Johnson was facing a fight to hold on to his job.
"The Prime Minister's position looks to me as in greater peril than it has been for a very long time now," he told LBC's Tonight with Andrew Marr after Thursday's vote.
"The hopes of No10 that it would all have gone away clearly proved inaccurate."
Mr Johnson will be referred to the Parliamentary Privileges committee for the investigation, but the probe won't start until after the Met has completed its inquiry.
Read more: Boris Johnson vows to fight on to next election as Tories given free vote on Partygate
Read more: Marr: Spat between Boris and Keir is personal and visceral now - they loathe each other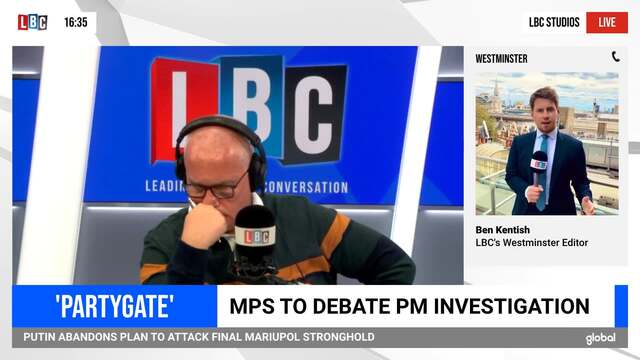 Ben Kentish brings latest on vote in Parliament on PM rule breaking
The PM touched down this morning in India, where he tried to avoid discussing partygate, instead vowing to fight the next election no matter how many times he is fined.
Asked by reporters on the plane to India whether he will fight the next election, the Prime Minister replied: "Of course."
Pressed if there were any circumstances where he could resign, he said: "Not a lot springs to mind at the moment."
Defending Mr Johnson in the debate, Cabinet Office Minister Michael Ellis said the prime minister did not mislead the Commons, but made comments about partygate revelations "in good faith".
Labour leader Sir Keir Starmer said Boris Johnson appeared to have lost the support of Conservative MPs.
Speaking to broadcasters, Sir Keir said: "I think the Prime Minister has already lost the trust of the public because he broke his own Covid rules.
Read more: Boris and Rishi say sorry over Partygate fines but insist they won't quit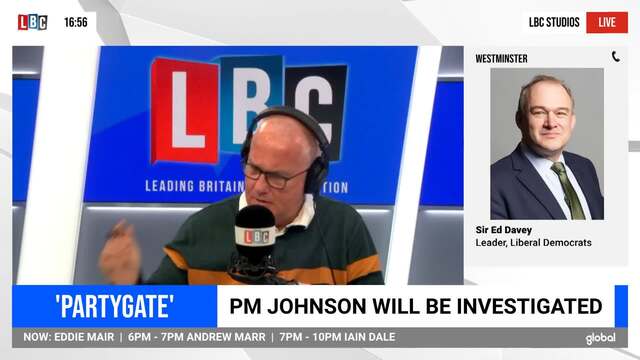 ''Tory MPs seem to be too embarrassed to back the Prime Minister.'
"I think today we saw that he lost the confidence of his own MPs. The Government had an amendment, they pulled that.
"None of his MPs wanted to vote against the Labour amendment and I think the political mood changed today.
"You could feel it in the House of Commons, with lots of MPs thinking today, 'I'm not any longer going to go on defending the indefensible'."
Labour deputy leader Angela Rayner said the "Prime Minister is leading the Conservative Party into the sewer", adding: "It's now up to members opposite to decide whether they follow him.
"It is up to members to decide whether it is a red line for the Prime Minister of this country to break the ministerial code, break the trust of the British public and get away with it."
The Prime Minister, along with his wife Carrie and Chancellor of the Exchequer Rishi Sunak, all received fines for attending a surprise birthday party for Mr Johnson at Downing Street.
It follows a birthday party on 19 June 2020, which was thrown by wife Carrie in the Cabinet room.
The fine makes Boris Johnson first sitting British prime minister to have broken the law.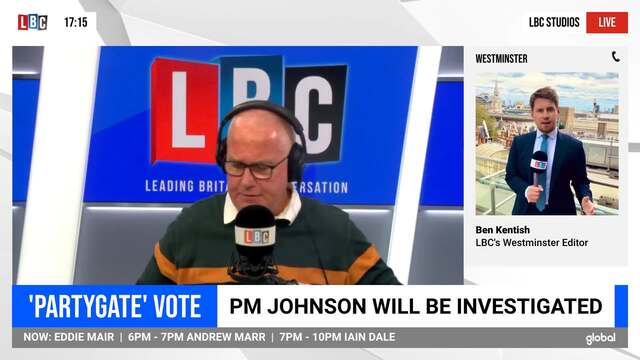 A 'big part' of the Tory party are in a 'wait and see mindset'
Mr Lidington told Andrew Marr: "Obviously if there are more fixed penalty notices on the PM and senior people around him then that is damaging… it becomes I think more and more difficult for him to continue.
"If he is exonerated by those further inquiries and if he is willing to show contrition, not just at the dispatch box but in all appearances, public and private, then I think that can make a difference.
"Some Tory MPs have been saying that what offended them is they felt that the contrition expressed at the dispatch box was not genuine."
Downing Street has indicated that it will say whether Boris Johnson or the Cabinet Secretary are fined over partygate before the local elections, despite the police not issuing further updates until after May 5.
A No10 spokesman said: "We've committed before to being transparent and to letting people know if that were the case. That hasn't changed. But specifically the announcement made today - it's clearly a matter for the Met Police, it's their investigation and it's an independent matter for them."
Asked if No10 thought making such a disclosure would render the police's silence on the matter irrelevant, the spokesman said: "We've said given the public interest that we would make people aware if the Prime Minister or if the Cabinet Secretary received a fine.
"The Prime Minister himself said yesterday in Parliament that... if he were to receive another he would be transparent and would let people know. That hasn't changed."
He said that he was not aware of any conversations between Downing Street and Scotland Yard preceding Thursday's announcement.
A Metropolitan Police spokesman said earlier: "Whilst the investigation will continue during the pre-election period, due to the restrictions around communicating before the May local elections, we will not provide further updates until after May 5."