Boris Johnson: UK working 'flat-out' to bring Afghans who helped the UK to safety
20 August 2021, 16:36 | Updated: 20 August 2021, 18:21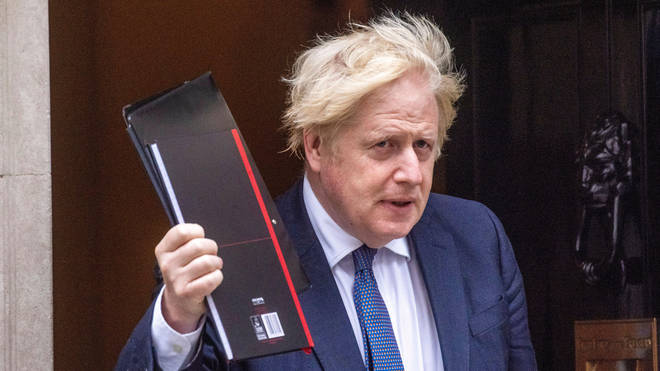 Boris Johnson has said the UK is "working tirelessly" to assist Afghans who helped or worked with Britain to leave their country after the Taliban's takeover.
The prime minister paid tribute to those people, whose jobs included risky professions like interpretation, saying "we owe them a big debt of gratitude and obligation".
Writing on Twitter, the prime minister said: "Today I met a few of the 2,272 Afghan former staff who have been resettled in the UK since June.
"They worked side-by-side with us and we stood by them and ensured their safety.
"We're working tirelessly to help those in the country to whom we owe a debt of obligation."
Read more: Raab defends not calling Afghan foreign minister while on holiday amid criticism
Read more: Reports Taliban executed nine men raises fears of return to repressive rule
We owe the brave people who worked side-by-side with us in Afghanistan a debt of gratitude.

I'm proud to see our resettlement scheme welcoming Afghans safely to our shores.

We're working to get as many people out of Afghanistan as possible in the coming days. pic.twitter.com/OKGvkBdqbx

— Boris Johnson (@BorisJohnson) August 20, 2021
In a video posted to the platform, Mr Johnson said 2,272 Afghans have been helped under the new resettlement scheme.
He said: "I'm proud that we are able to give this help to them, they have been of incredible use to our country as interpreters and in countless other ways over the last 20 years.
"We owe them a big debt of gratitude and obligation, so it's right that they should come to this country. And I can tell you that we are working flat-out at the Hamid Karzai International Airport to bring out as many more as we can, as rapidly as we can.
"And we are now starting to see some good progress in getting the eligible persons out and getting the Afghan resettlement persons out as well."
Read more: Tory MP criticised after saying Afghans should fight instead of 'queuing at the airport'
Read more: 'It's all over for us': Pregnant woman blinded by Taliban fears for Afghan women
Speaking to reporters in Downing Street after a Cobra meeting, Mr Johnson said the ongoing situation in Afghanistan "is getting slightly better and we are a seeing a stabilisation at the airport".
He added: "Yesterday we were able to get out about a thousand people, today another thousand people, and a lot of those are obviously UK-eligible persons coming back to this country, and a lot of them are people coming back under the Afghanistan resettlement and assistance programme."
The prime minister also said he would work with the Taliban if necessary to "find a solution" in the country.
He told reporters: "It's worth repeating that at the end of a 20-year cycle of engagement there is a huge record to be proud of in Afghanistan.
"It bears repeating that the UK armed forces, UK diplomats, aid workers, did help to change the lives of literally millions of people in Afghanistan, to help educate millions of women and young girls who would otherwise not have been educated, and to stop terrorism from coming to this country.
"And what I want to assure people is that our political and diplomatic efforts to find a solution for Afghanistan - working with the Taliban, of course, if necessary - will go on. And our commitment to Afghanistan is lasting."
Asked what support he will give to local authorities to help with the commitment to take 20,000 refugees, the PM said: "Some people want to come out and so we have the ARAP (Afghan Relocations and Assistance Policy) scheme, we have got the eligible persons scheme.
"But we will be doing that over the next few days and weeks, but then the longer-term ambition to help people to resettle from Afghanistan, that's a longer-term thing.
"I think people listening to this, maybe even in Kabul, in Afghanistan, should understand that they don't need to make use - to apply for that scheme - they don't need to do it in the next few days, as it were up until the end of August, there will be time for that.
"And so we want to make sure that we are ready, that we have the housing that people need and that we are able to accommodate them over the next years.
"And local councils have been stepping forward to do that, Robert Jenrick (Housing Secretary) has been supporting them, and I am very pleased with the response so far."