Belligerent Boris admits breaking the law over Partygate in fiery clash with Sir Keir
20 April 2022, 00:00 | Updated: 20 April 2022, 15:21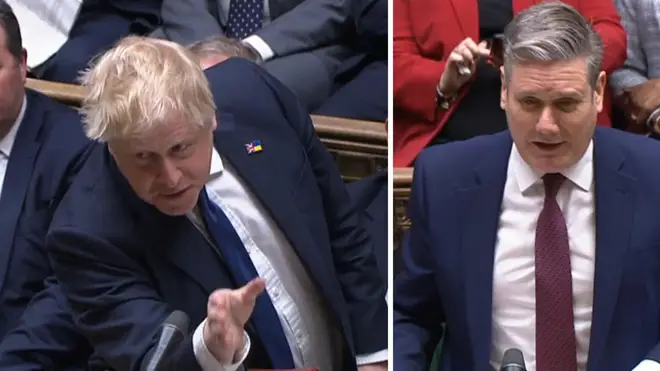 Boris Johnson told MPs today that he 'humbly accepts' what police told him after being fined over Partygate.
Sir Keir Starmer asked the PM if he accepted that he broke the law, and Boris replied: "Yes. I humbly accept what the police have said. I paid the fixed penalty notice.
"What I think the country, the whole house would really rather do is get on with the things for which we were elected."
He went on to accuse Labour of 'intellectual bankruptcy,' saying: "You could not have clearer evidence of the intellectual bankruptcy of (Labour), they have no plans for energy, they have no plans for social care and they have no plans to fix the economy."
Mr Johnson accused Sir Keir of being in a 'Doctor Who time warp' when the Labour leader highlighted senior figures close to the PM who were forced to resign after breaking the rules.
Sir Keir said in the Commons: "Allegra Stratton laughed at breaking the rules. She resigned. The Prime Minister then claimed he was furious at her behaviour and accepted her resignation.
"Professor Neil Ferguson broke the rules. He also resigned. The Prime Minister said that was the right thing to do.
"The former health secretary (Matt Hancock) broke the rules. He too resigned. The Prime Minister tried to claim he sacked him. Why does the Prime Minister think everybody else's actions have consequences except his own?"
Mr Johnson also said he was surprised by comments from the  Archbishop of Canterbury over plans to send migrants to Rwanda.
Sir Keir asked the PM if he wanted to apologise directly to the Archbishop.
"I was surprise we were attacked," says Mr Johnson. He highlighted that the policy was first proposed in 2004 by Labour's David Blunkett.
The fiery exchange came as it emerged the PM is to order MPs to block an inquiry into whether he misled Parliament over Partygate.
The embattled PM, fresh from paying his fine over one event during the coronavirus lockdown, apologised to the House of Commons on Tuesday.
He is now reportedly mobilising whips to ensure Conservative MPs block a motion calling for an investigation into his past remarks to Parliament.
That is despite Mr Johnson being set to fly to India for an official trip on Wednesday.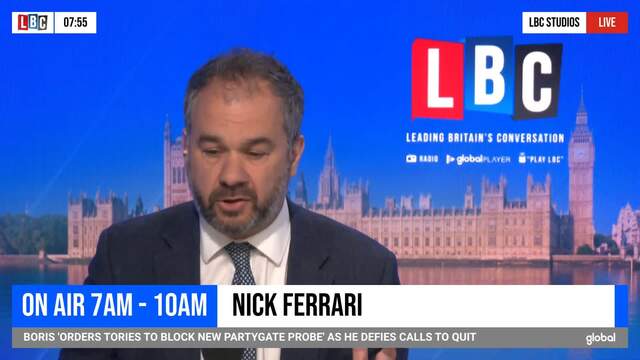 Minister says Boris Johnson issued contrite apology for partygate
He had repeatedly denied being aware of breaking any laws and insisted the rules were followed at No10 before paying his fine.
MPs will vote on Thursday over whether Mr Johnson should be referred to the Commons' privileges committee, which could insist on seeing evidence passed to Sue Gray, the civil servant investigating Partygate.
Read more: 'Untenable' for PM to have broken his own laws says Tory MP after calling for Boris to go
Read more: The Tories have made a big mistake - voters will punish them over Partygate: Marr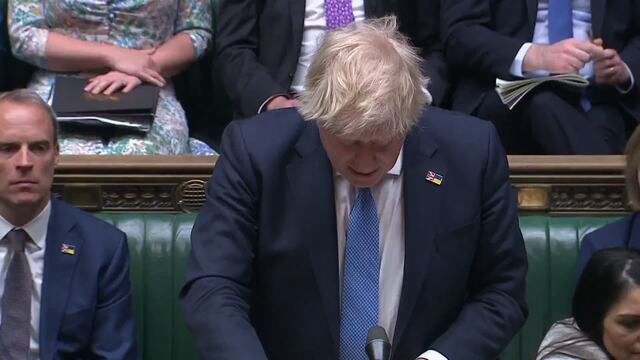 Boris Johnson reiterates he didn't know he broke the rules
The Times reports that Conservative MPs are being told to be ready to vote on Thursday even if they had previously been allowed to be absent.
It follows the Prime Minister'' apology to MPs while another Conservative called for him to quit.
Mr Johnson said in the Commons on Tuesday: "I offered the British people a full apology and take this opportunity to repeat my whole-hearted apology to the House."
He added: "It did not occur to me or subsequently that a gathering in a Cabinet Room just before a vital meeting on Covid strategy could amount to a breach of the rules."
But former chief whip Mark Harper, a Tory MP, announced he had submitted a letter of no confidence to the chair of the 1922 Committee of backbench Conservatives.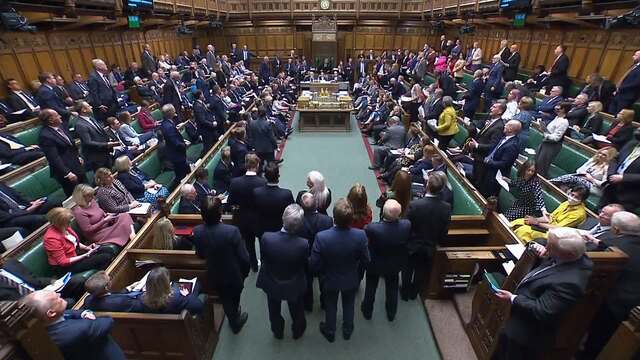 Tory MP Mark Harper takes aim at Boris Johnson
"I regret to say that we have a Prime Minister who broke the laws that he told the country they had to follow, hasn't been straightforward about it and is now going to ask the decent men and women on these benches to defend what I think is indefensible," he said.
"I'm very sorry to have to say this, but I no longer think he is worthy of the great office that he holds."
Mr Johnson said: "I must say to [him], I know the care and the sincerity with which he weighs his words and I bitterly regret what has happened.
"I bitterly regret the event in Downing Street as I have said, but I do believe that it is the job of this Government to get on with the priorities of the British people and that is what we're going to do."
Mr Harper later told LBC that he believed Mr Johnson's position was "untenable" because a Prime Minister should not break laws he has made.
Sir Keir Starmer, responding to Mr Johnson in the Commons, said: "What a joke. Even now, as the mealy-mouthed apology stumbles out of one side of his mouth, a new set of deflections and distortions pour from the other.
"But the damage is already done. The public have already made up their mind.
"They don't believe a word the Prime Minister says. They know what he is."