Brexit divorce bill could rise to £42.5 bn as EU launches fresh legal action
22 July 2022, 12:50 | Updated: 22 July 2022, 12:51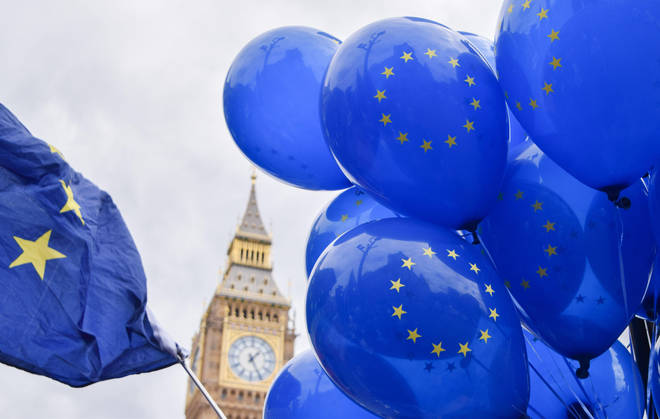 The UK's Brexit divorce bill could soar to £42.5 billion after the Treasury increased its estimate of the payments owed to the European Union by more than £5 billion.
Simon Clarke, the Chief Secretary to the Treasury, blamed rising interest rates affecting EU pension obligations for the increasing cost on Thursday.
Originally the Government estimated the bill covering spending commitments made during the 47 years of the UK's membership of the bloc would be between £35 billion and £39 billion.
The Treasury's latest estimate put the figure at £42.5 billion - up from £37.3 billion a year ago. That is a rise of £5.2 billion.
Read more: Holiday getaway chaos with 'critical incident' as Dover blames French for six-hour queues
Read more: Travel chaos: Holidaymakers face 'huge' queues on Eurostar and at UK airports
In a written ministerial statement, Mr Clarke said the rise is primarily down to the UK's obligations for EU pensions.
"The primary drivers are the latest discount rates and inflation assumptions, which are centrally set by the Government for valuing long-term liabilities," he added.
"However, given this is a multi-decade liability, the variables used in this forecast will continue to fluctuate up and down."
A Treasury spokesman added: "The unprecedented recent rise in inflation and changes in discount rates have increased our pensions liability, which is the biggest reason for the increased estimate.
"The true cost of the settlement is confirmed when payments are made, based on the value at the time. The Treasury continues to monitor and verify these payments in line with the negotiated agreement."
It comes as the European Union launched fresh legal action against the UK for failing to comply with the post-Brexit Northern Ireland Protocol.
Four new infringement procedures were triggered by the European Commission as relations further soured on Friday.
The EU argued it was forced to act because the UK has been unwilling to take part in "meaningful discussion" over the protocol since February.
It also struck out again at the controversial Northern Ireland Protocol Bill that is making its way through Parliament.
The commission accused the UK of failing to comply with customs requirements and not imposing EU rules on VAT for e-commerce.
In a statement, the European Commission said: "Despite repeated calls by the European Parliament, the 27 EU Member States and the European Commission to implement the Protocol, the UK Government has failed to do so.
"In a spirit of constructive cooperation, the commission refrained from launching certain infringement procedures for over a year to create the space to look for joint solutions with the UK.
"However, the UK's unwillingness to engage in meaningful discussion since last February and the continued passage of the Northern Ireland Protocol Bill through the UK Parliament go directly against this spirit."
The latest action comes on top of the infringement procedures launched on June 15.