'You'll glow from the inside out': TikTokers are eating 'three carrots a day' as they insist it's key to a natural tan
9 August 2023, 23:51 | Updated: 10 August 2023, 02:14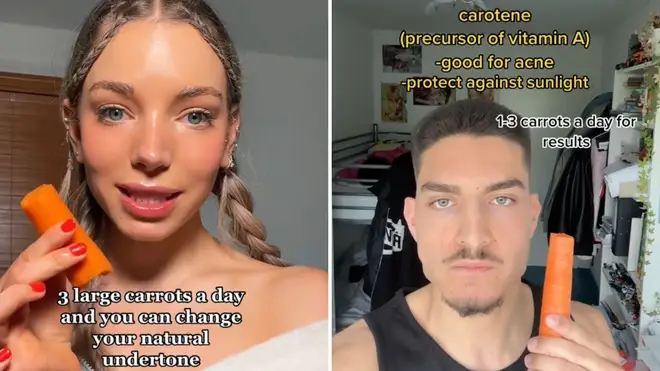 Beauty influencers are spreading the word online about the new 'miracle' tan hack of eating three carrots a day.
The latest beauty trend to hit TikTok has surprised online users as influencers have claimed the secret to getting a "natural glow" is by eating carrots.
Promoted by influencers with hundreds and thousands of followers, those online have sworn by the trend as they insist it will "change your natural undertone".
One influencer claimed the key is to eat "three large carrots a day", as she insisted she's glowing "from the inside out" after sticking to the habit for the last few years.
She posted photos of her skin "before" the carrot-induced tan and insisted she achieved her natural glow without fake tan.
In a separate post, she wrote: "Seeing girlies break because of using self tanner on their face when they could be eating three carrots a day for the same results".
While another Tiktoker said he transformed his "pale" skin by adding the vegetable to his diet.
One online user even claimed "carrot juice" is the "only thing" people need for a great tan.
Read more: Couple who ran from pub without paying for £56 meal accuse critics of 'homophobic and body-shaming witch hunt'
Read more: Jeremy Clarkson releases video of 'brazen thief stealing £80 of food and alcohol' from Diddly Squat farm shop
While the carrot tan "hack" has actually already been around for years, experts have weighed in on the trend's revival.
It seems while it's true carrots can result in an orange tinge, this is not a tan and is due to carotenemia.
Beta-carotene is high in a number of other fruits and veg, including pumpkin, apricots mangos, and sweet potatoes - all of which can hypothetically produce the same results.
And while the trend isn't inherently dangerous, the orange tinge could obscure other health conditions, such as jaundice.
"Carotenemia when linked only to diet is usually not harmful," Dr Duane Mellor, a dietitian at Aston University said.
"It is also important, if someone notices their skin is changing colour that they are screened for other conditions.
"Some individuals have genetic changes which means they are less able to convert beta-carotene to vitamin A, so need to make sure they consume enough foods rich in vitamin A such as cheese and eggs."
Dr Mellor also noted that while the carrot trend may not be dangerous, individuals shouldn't neglect other foods in their diets as this could result in deficiencies.
Dr Emma Wedgeworth, a consultant dermatologist and British Skin Foundation spokesperson, also warned against other claims made on the app amid the trend, as some claimed that the beta carotene found in the veg "protects against sunlight".
She said: "Whilst beta carotene present in carrots and other vegetables is an antioxidant, it does not provide adequate levels of protection against UV exposure.
"Relying on this for sun protection could result in burning and damage to your skin."