Sunak set to cut fuel tax as he pledges to 'stand by' families in cost of living crisis
20 March 2022, 08:29 | Updated: 20 March 2022, 23:47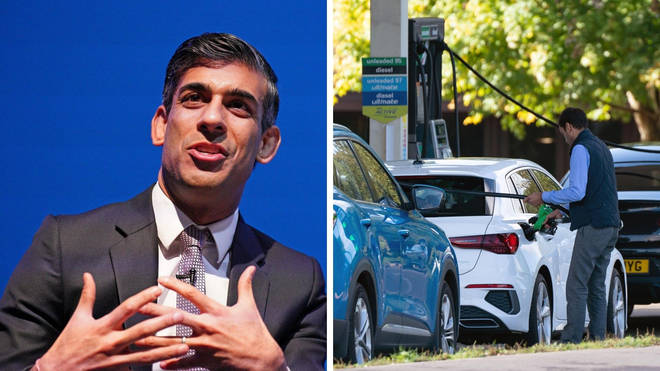 Rishi Sunak is reportedly set to cut fuel tax this week as he pledged to "stand by" struggling households facing a cost of living crisis.
The Chancellor is reportedly considering a temporary cut in fuel duty of up to 5p per litre in the wake of the Ukraine invasion.
Prices have risen by around 20p a litre in the past month alone, with average prices at a record 165.9p for petrol and 177.3p for diesel.
Mr Sunk said he is on a "mission" to cut taxes over the rest of the Government's term, ahead of his spring statement on Wednesday.
Hinting that he could be poised to slash fuel tax, the Chancellor said he recognised it was one of the "biggest bills" people face.
Asked whether he could cut fuel duty, the chancellor said he understood people's concerns.
"Obviously I can't comment on specific things, but what I would say, I understand that, I have a rural constituency, people are incredibly reliant on their cars and this is one of the biggest bills that people face, watching it go up, right, we're all seeing that, when we're filling up our cars," he said.
Read more: Outrage as Boris compares Ukraine's fight for freedom to Brits voting for Brexit
Read more: William and Kate land in Belize after cancelling village trip amid 'colonialism' backlash
Quizzed on whether he was considering a 5p cut in fuel duty, Mr Sunak said: "We're the party that has frozen fuel duty for over a decade because we recognise the importance of people being able to fill their cars up and it not be prohibitively expensive.
"We understand that and that's why we've acted for years already on this issue."
He told The Mail on Sunday his priority is to "cut people's taxes", alluding to a realignment of spending, rather than any big new allocations.
"Let's not be spending any more money - let's make sure the money we're spending is spent really well," he told the paper.
He also said he would "stand by" hard-pressed families, but warned he could not fully offset the impact of soaring prices.
Former Cabinet minister Sir John Redwood said a cut in fuel tax could be "too little too late", urging Mr Sunak to act now.
"The Chancellor needs to back off all the tax rises he was planning – the national insurance rise should not go ahead, we should cut VAT on fuel, and we should cut it on energy saving products like insulation too."
"Taking a bit off petrol and diesel is fine and welcome, but if that's all there is it will be too little, too late," he said.
"We are facing a very big cost of living squeeze – perhaps the biggest of our lifetimes – and we need to be cutting taxes now to relieve that pressure."
Despite the Chancellor saying he was on a mission to cut taxes, the Chief Secretary to the Treasury told LBC on Sunday that the country will have to "pay more to get ourselves out of the hole we are in".
Simon Clarke told Swarbrick on Sunday: "We should be worried about interest rate rises and inflation. A one per cent rise in the cost of government borrowing would cost us about £23bn a year.
"That's not just a problem for the government, it's a problem for the whole of society."We cannot lose control of public finances."I'm not trying to sugar the pill… we've been served up a really unappetising situation.
"My belief, the chancellor's belief, the Prime Minister's belief is that honesty here matters.
"We're going to have to pay more to get us out of the hole we find ourselves in."Another £800 million was predicted to come from a review of "Quangos" or arm's lengths bodies - publicly funded but not entirely Government-controlled organisations.
Mr Sunak will make his spring statement - an economic plan in response to the latest economic forecasts - on Wednesday amid spiralling cost of living and inflation issues.
With the war in Ukraine and the UK's sanctions on Russia worsening those issues, Mr Sunak warned his statement would include "challenging" projections.
It is unclear whether any changes will be made to the national insurance hike due to commence next month, which Labour says will only worsen the cost of living impacts.
Mr Sunak also told the paper he supported exploring a "safe way" to lift the ban on fracking for shale gas in the UK amid the current crisis.
It comes as the Sunday Telegraph reported the Prime Minister and Mr Sunak clashed over the latter's opposition to a push to increase the number of nuclear power plants in the UK.
Meanwhile, also on Saturday, the Treasury and Downing Street together announced a "cross-Whitehall efficiency crackdown" which it says will cut £5.5 billion worth of waste and funnel the savings into vital public services.
The Treasury said the annual NHS efficiency target would be doubled to 2.2% as part of the crackdown.
It projected the measure would free up £4.75 billion to fund NHS priority areas over the next three years.
The Treasury said the savings would be made through measures including the digitisation of services, improvements on surgical hubs and digital tools to cut time spent on admin tasks.
"The current level of waste across government is simply not acceptable - which is why we're doubling down on wasteful spending and launching an efficiency drive to make £5.5 billion worth of savings," Mr Sunak said.