Minister says Kwasi Kwarteng's views aren't worth £10,000 as he brands MPs' fake interview sting 'unedifying spectacle'
27 March 2023, 08:50 | Updated: 27 March 2023, 09:00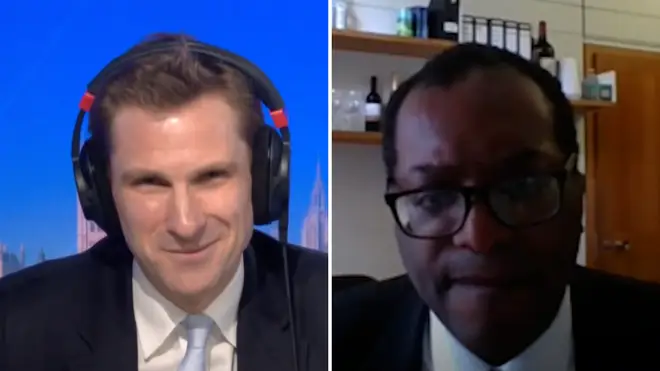 A former Treasury deputy of Kwasi Kwarteng has told LBC that he wouldn't pay the ex-Chancellor £10,000 for his views, after Mr Kwarteng was caught up in a fake interview sting.
Chris Philp, who was chief secretary to the Treasury while Mr Kwarteng held the government purse strings, told Nick Ferrari on Monday: "I don't think I'd be coughing up 10,000 pounds for the pleasure of his views."
Both Mr Kwarteng and former Health Secretary Matt Hancock told the fake company - Led By Donkeys - that they charged five-figure sums for advice, it emerged over the weekend.
Meanwhile senior backbench Tory Sir Graham Brady asked the same 'company' for £60,000 per year for some meetings. There is no accusation of wrongdoing from the MPs.
But Mr Philp, now crime and policing secretary, said on Monday: "I thought it was a pretty unedifying spectacle to be perfectly honest.
"I mean, Parliament sets these rules... there are rules around transparency. So had those interviews or those offers or whatever you want to call it been genuine, it would've all have been publicly disclosed for the media and the public to look at. So I think that's important.
Policing Minister says Kwasi Kwarteng's views aren't worth 10K
"I think secondly, Parliament has recently tightened up the rules basically prohibiting, paid lobbying, which is important as well. Beyond that, I think you have to look at a number of different situations.
"There are some MPs like Maria Caulfield, who was a nurse before becoming an MP, who does shift work as a nurse. Other people do work on family businesses or on a family farm - that kind of thing. So there are quite a few shades of grey here.
"But I found those videos, I must be honest, a pretty unedifying spectacle."
Led By Donkeys, the group that created the fake company that staged the interviews, is an anti-Brexit group that is frequently critical of the government.
When the "interviewer" asked Mr Hancock if he had a daily rate during a video call, Mr Hancock said: "I do, yes. It is 10,000 sterling."
Meanwhile Mr Kwarteng, when asked the same question, replied: "I would say as an MP, obviously I don't need to earn a king's ransom.
"But I wouldn't do anything less than for about 10,000 dollars a month."
When he was told by the fake company that they would consider offering him up to £12,000 a day, Mr Kwarteng said: "OK yes, we're not a million miles off. We can work with the number."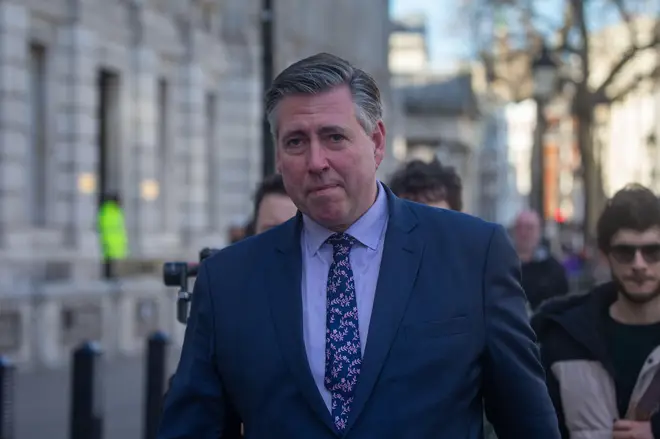 Meanwhile Led By Donkeys also released footage of senior Tory Sir Graham Brady asking for £60,000 a year in an interview for the same fake company.
The chairman of the 1922 Committee tells the 'interviewer' that he would be interested in working them for the five-figure sum.
He is told this would involve a number of board meetings a year as well as various one-off meetings.
He tells them he would usually be available for meetings, unless he was needed in extreme circumstances, like a vote of confidence in the Government.
"But in the normal course of events, yes, I would be able to plan those things and make sure that I could be free to attend," he tells the investigative reporter posing as an employee of Hanseong Consulting.
He tells her: "I don't know about a daily rate. I suppose seeing your approach and the kind of expectations you have I was thinking something like £60,000. As an annual rate."
Mr Brady, who already has five jobs outside his duties as an MP, said he "made it clear" that he would have to be "completely transparent," adding that he had received "a number of approaches regarding future opportunities" because he is stepping down as an MP.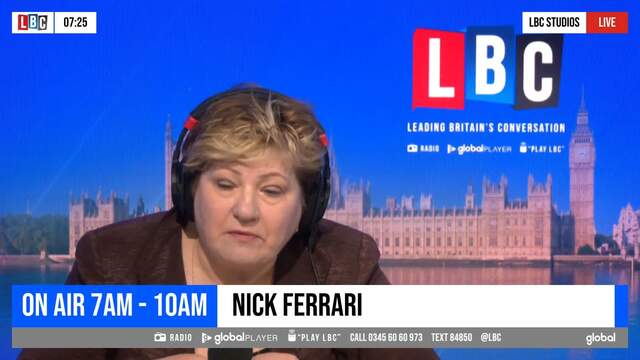 Emily Thornberry: 'It's just wrong' for MPs to seek second jobs in the way Hancock and Kwarteng did
Labour slammed the Conservative MPs, accusing them of using "their taxpayer-funded offices to line their own pockets" and called the behaviour "shameful".
Read more: Former government ministers agreed to advise fake company for £10,000
Read more: Suella Braverman accused of being 'sock puppet' for Tory right and fuelling rebellion against her own migrant plan
Emily Thornberry told LBC on Monday that Mr Kwarteng and Mr Hancock's behaviour "affects all of our standards and it undermines our very democracy."
She added: "People have to have confidence that members of Parliament's primary focus is on their job, which is being a member of Parliament".