Tier 3 looms over Greater Manchester as noon deadline approaches
19 October 2020, 22:39 | Updated: 20 October 2020, 08:05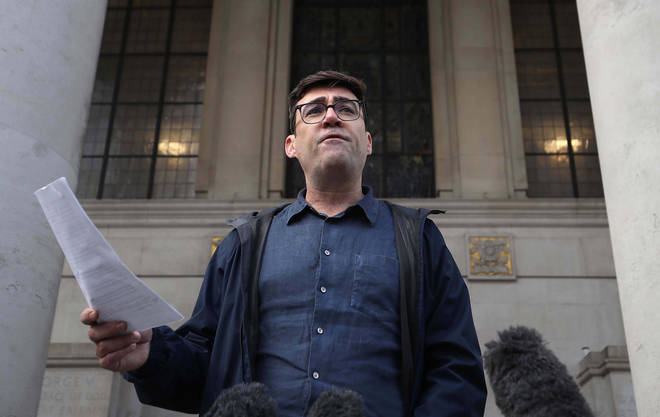 Greater Manchester leaders are hours away from hitting a last-minute deadline over Tier 3 restrictions after negotiations fell apart on Monday.
If a deal is not reached by 12pm on Tuesday, Communities Secretary Robert Jenrick said he would "refer" the case to Prime Minister Boris Johnson, who may have to intervene and impose restrictions on the region.
It follows a breakdown in negotiations between local leaders and Government officials earlier on Monday.
In a statement on Monday night, Mr Jenrick said: "The deteriorating public health situation in Greater Manchester means that we need to take action urgently.
"We have held discussions in good faith with local leaders for ten days in order to ensure that the measures put in place were tailored to the local community.
Read more: Government and Greater Manchester yet to reach agreement on lockdown measures
Read more: Greene King boss: Tier 2 restrictions 'closure in all but name' for pubs
"We have offered an extensive package of support for local people and businesses, proportionate to the approach we have taken in the Liverpool City Region and Lancashire and in addition to the wider national support.
"There are now more COVID-19 patients in Greater Manchester Hospitals than in the whole of the South West and South East combined.
"But, unfortunately, despite recognising the gravity of the situation, local leaders have been so far unwilling to take the action that is required to get this situation under control.
"I have written to local leaders this evening to make clear that if we cannot reach agreement by midday tomorrow then I must advise the Prime Minister that despite our best endeavours we've been unable to reach agreement.
"It's not too late for local leaders to work with us to take action for the sake of the people of Greater Manchester."
Greater Manchester mayor Andy Burnham said today he would not "break the law" if the Government put the region into Tier 3 coronavirus measures.
Appearing on Sky News, he was asked what he would do if further restrictions were imposed.
Mr Burnham said: "Of course we wouldn't break the law. We've never said that we would.
"We would obviously have to accept that decision, in the end it's the Government's prerogative.
"But I would say to them at this point are they sure that that is a wise thing to do?"
It is understood the talks descended into a major row with ministers accused of "spinning hospital data" to create panic designed to force local leaders into accepting the Government's terms.
Following the negotiations, Manchester Central MP Lucy Powell tweeted: "We all made clear that spinning hospital data is counter-productive and unhelpful, and causes a great deal of anxiety for people worried that the NHS won't be there for them if they need, which isn't the case in GM."
Read more: Wales to enter 'fire break' lockdown to help stop rise of Covid-19
Read more: Ireland to enter highest level of Covid-19 restrictions for six weeks
A joint statement from hospitals in Manchester later that evening slapped down reports suggesting that intensive care wards could be overwhelmed with virus patients, confirming that "extra capacity would be available".
The announcement comes amid a heated debate over which type of restrictions are needed to suppress coronavirus cases in the four nations.
The UK Government continues to argue for a regional approach to tackle the virus in England, but opposition leaders are continuing to push for a national 'circuit breaker' lockdown.
In the rest of England, it is reported that a 'reprieve' for people in the North East will soon come to an end and local leaders in the region will be expected to negotiate a deal similar to that in Lancashire and Liverpool.
Tier 3 restrictions are also expected to be looming over large parts of Yorkshire.
There are concerns the restrictions could put many pubs and bars out of business and thousands will lose their jobs as a result.
Read more: Labour MP Yasmin Qureshi hospitalised with coronavirus
There have also been warnings over a mental health crisis as a result of either Tier 3 restrictions and a national 'circuit breaker' lockdown, with many struggling to balance their lives.
Self-employed small business owner Nicky told LBC she was "petrified of losing everything" after receiving no financial support from the Government during the pandemic - she has now used all her savings and is living purely "on fear".