The saaga continues! 'We refurbished two weeks ago': Curry house hits back at widow over video promo row
25 January 2023, 10:43 | Updated: 25 January 2023, 12:37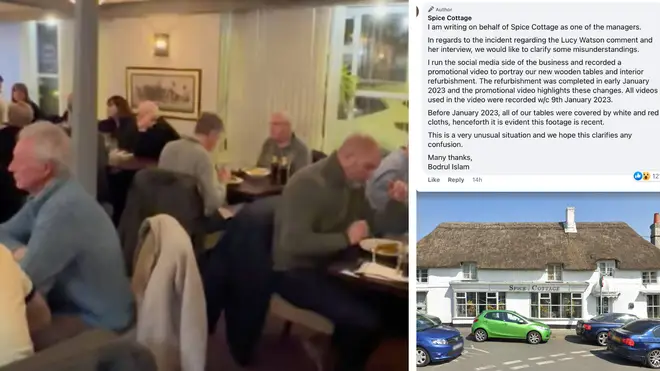 A curry house caught up in a row over its new promotional video apparently featuring a widow's late husband insists the video is not old as 'it shows off the restaurant's new refurb'.
Lucy Watson claims to have spotted her late husband in a new promotional video for Spice Cottage curry house and has said she's in 'no doubt' the man in the video is her husband.
The restaurant has acknowledged Ms Watson's comments, but insists the footage was shot in the week commencing January 9 - days after the restaurant was refurbished.
Spice Cottage's manager Bodrul Islam said: "I am writing on behalf of Spice Cottage as one of the managers.
"In regards to the incident regarding the Lucy Watson comment and her interview, we would like to clarify some misunderstandings.
"I run the social media side of the business and recorded a promotional video to portray our new wooden tables and interior refurbishment."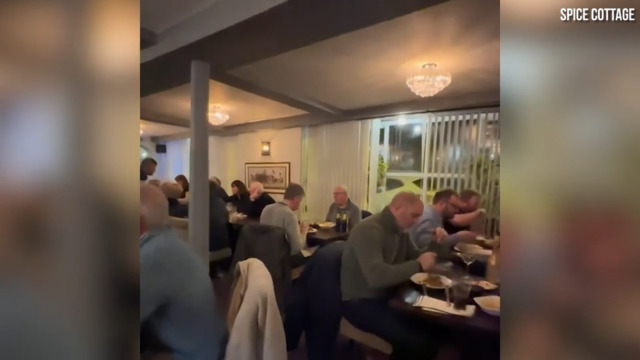 Woman claims to see her dead husband of nine years in Sussex restaurant promo video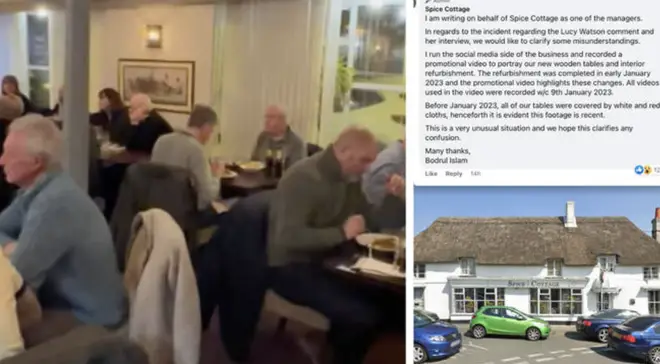 He continued: "The refurbishment was completed in early January 2023 and the promotional video highlights these changes. All videos used in the video were recorded w/c 9th January 2023.
"Before January 2023, all of our tables were covered by white and red cloths, henceforth it is evident this footage is recent."
Read More: Widow who spotted late husband in restaurant promo filmed last week insists there's 'no doubt' the man featured is him
He added: "This is a very unusual situation and we hope this clarifies any confusion."
Ms Watson said she noticed that one of the customers bore marked resemblance to her late husband - despite the fact he died nine years ago.
Enquiring as to the date the footage was shot, she wrote: "How old is the footage? My late husband and his son are on the first shot and he died in 2014??"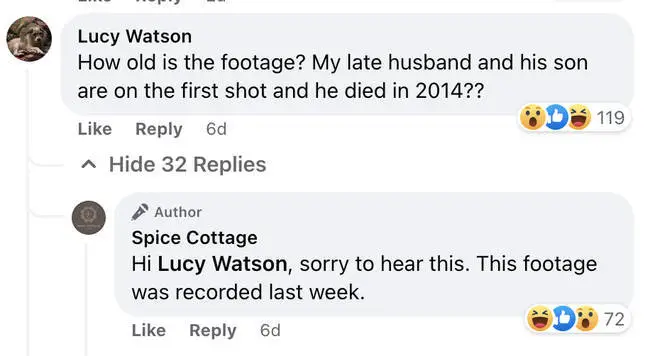 The mystery became even more engrossing when Spice Cottage replied: "Hi Lucy, sorry to hear this. This footage was recorded last week."
"The moment I saw the thing I thought "Oh my God – that's Harry," said Ms Watson.
"It was so instant. I didn't even have to think. He'd be eating a chicken korma because that's all he ever ate."
Speaking to the Daily Mail, Ms Watson dismissed "ridiculous conspiracy theories", adding that the comment made by the restaurant was obviously to defend the use of old footage in a bid "to generate customers".
"I just thought 'That's an old video'. I posted asking how old the footage was," added Ms Watson.
"I was only asking out of interest – then it all went crazy.
"It annoyed me when they sent a message back saying it was filmed last week. It can't have been."
The published footage of diners tucking into their meals for an advertisement on its Facebook page, with her apparently now deceased husband delving into a chicken korma.