Doctors to be forced to work during strikes under fresh government plans
19 September 2023, 07:45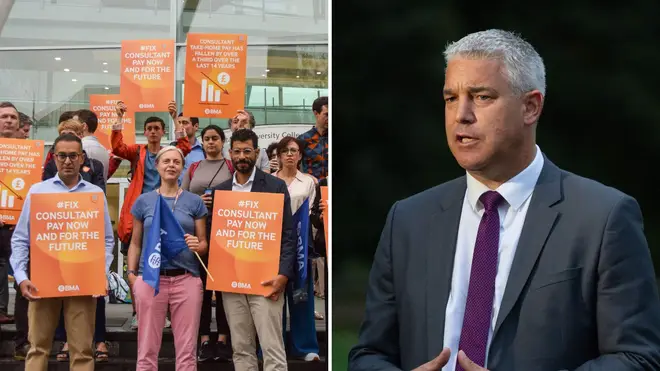 Doctors are set to be forced to work during strikes under fresh government plans to introduce minimum safe staffing levels.
Ministers are proposing the introduction of "minimum service level" regulations for those working in the NHS.
The new regulations, which are open to consultation, would mean doctors and nurses have to provide a certain level of cover after being issued with a "work notice" by employers on what is needed to maintain "necessary and safe levels of service".
It comes amid fears of NHS chaos this week as junior doctors and consultants walk out in the first joint strike in the history of the health service.
Read more: Doctors' strikes to hit patients 'unlike anything seen before', NHS officials warn
Read more: 'Absolutely breathtaking': James O'Brien reacts to Rishi Sunak blaming junior doctors for NHS waiting lists
Thousands are walking out across England in a dispute over pay, with consultants also walking out with doctors on Wednesday.
Junior doctors, who have held 19 days of strike action since March, will then continue their strike on Thursday and Friday this week.
Both consultant and junior doctor members of the British Medical Association (BMA) will again join forces for strikes on October 2, 3 and 4.
Health Secretary Steve Barclay told the Telegraph his "top priority throughout ongoing industrial action is to protect the life and health of patients".
He warned of the dangers posed by the "relentless and escalating" action of the British Medical Association (BMA).
Mr Barclay added: "In the face of ongoing and escalating strike action, we will continue to take steps to protect patient safety and ensure the health service has the staff it needs to operate safely and effectively."
Thousands of operations and appointments have already been cancelled ahead of the strikes taking place.
A Christmas Day-style service will be provided on the joint strike action days, with emergency care being the priority.