Trump blamed for 'attempted coup' as Ivanka says she did not believe election was rigged
10 June 2022, 08:00 | Updated: 10 June 2022, 09:58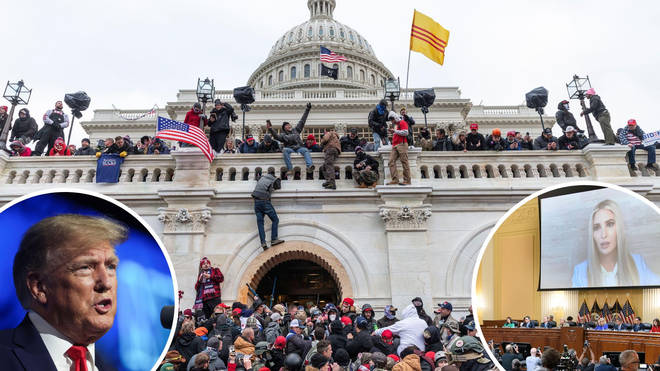 Donald Trump has been blamed for the US Capitol riots in what a congressional panel dubbed an "attempted coup".
The committee investigating the insurrection in January last year released a new 12-minute video of the deadly violence, which followed the former president's baseless claims that the election was stolen from him.
The panel heard Mr Trump had suggested his then-vice president possibly deserved to be hanged.
Previously unseen footage also shows Mr Trump's former attorney general Bill Bar, the government's top lawyer who advised on legal matters, testifying that he told Trump the claims of a rigged election were "bull****".
And Mr Trump's daughter Ivanka told the House of Representatives committee that she respected Mr Barr's view.
"So I accepted what he was saying," she said.
Among the most damning statements made during the panel's hearings over Thursday were statements from the committee's vice chairwoman, congresswoman Liz Cheney.
"President Trump summoned a violent mob," she said.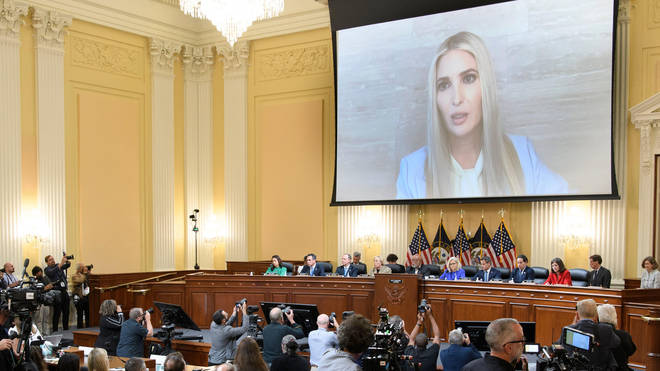 "When a president fails to take the steps necessary to preserve our union - or worse, causes a constitutional crisis - we're in a moment of maximum danger for our republic."
An audible gasp went up as she read out an account that claimed Mr Trump was told the Capitol mob was chanting for then-vice president Mike Pence to be hanged, and Mr Trump responded that maybe they were right and that he "deserves it".
Read more: Trump calls for end to gun-free school zones after 'savage and barbaric' Texas shooting
Congressman Bennie Thompson, who chaired the panel, said "democracy remains in danger" and added: "January 6 was the culmination of an attempted coup, a brazen attempt, as one rioter put it shortly after January 6, to overthrow the government. The violence was no accident."
Mr Trump has been criticised for making a speech in Washington DC shortly before protesters marched on the Capitol, which houses Congress, and ran riot, some armed with pipes, bats and bear spray. Many managed to get inside the building, where armed security barricaded rooms.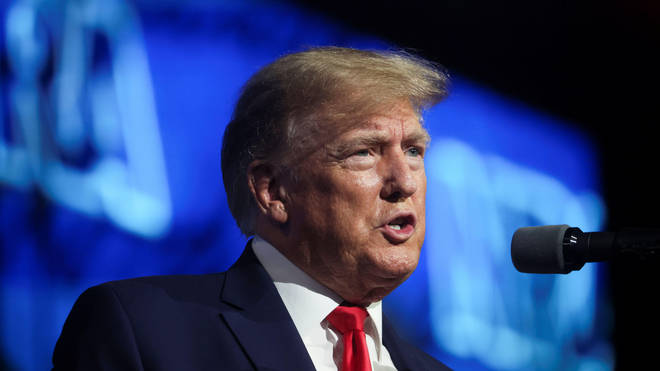 At least nine people present died during and after the riot, including a woman who was shot and killed by police.
Mr Trump wanted to get the election defeat to Joe Biden overturned, and hoped that Mr Pence would intervene.
Footage showed groups like Oath Keepers and Proud Boys getting ready to storm the Capitol.
The panel heard from Caroline Edwards, one of the officers, who was seriously hurt in the fight against the mob.
Read more: Trump asked if China had 'hurricane guns' which could harm the US, ex-aides say
Officers consoled each other as they relived their battle, which caused officer Harry Dunn to cry as bodycam footage showed the mob bludgeoning his colleagues with flagpoles and bats.
Mr Trump dismissed the investigation. At the time, on January 6, he called it the "greatest movement in the history of our country".
The hearing continues.