Hope for Alzheimer's patients as new drug donanemab slows cognitive decline 'by a third'
17 July 2023, 15:32 | Updated: 17 July 2023, 15:36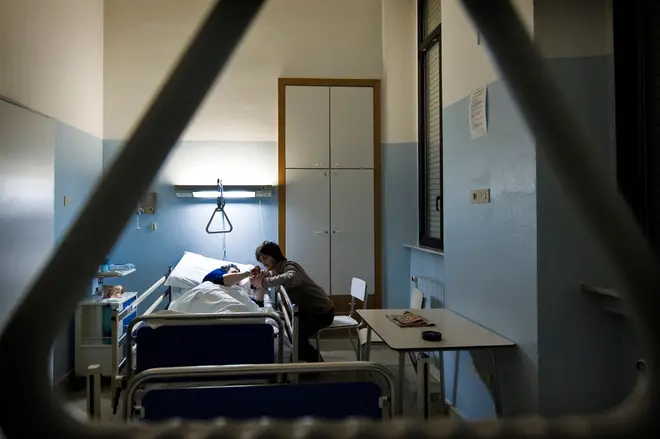 A new drug has been hailed as a "turning point in the fight against Alzheimer's" after it was found to slow the progression of the disease by up to a third.
Donanemab was found to slow "clinical decline" by up to 35%, meaning that people with disease could still go about performing day-to-day tasks including shopping, housekeeping, managing finances and taking medication.
Alzheimer's Research UK said that "we're entering a new era where Alzheimer's disease could become treatable".
And the Alzheimer's Society said that treatments like donanemab could one day mean that Alzheimer's could be likened to other long-term conditions such as asthma or diabetes.
The charity said that new treatments including donanemab - which works by removing a protein called amyloid that builds up in the brains of people with Alzheimer's - heralds a "new era" for Alzheimer's disease.
It comes as scientists published the final results of the trial - known as TRAILBLAZER ALZ-2 - examining the safety and efficacy of the drug, manufactured by Eli Lilly and Company.
Researchers examined almost 1,800 people with early-stage Alzheimer's.
Half of them received a monthly infusion of donanemab and the other half were given a dummy drug, also known as a placebo, over 18 months.
Today's full results support what we heard about donanemab in May – the drug is able to slow down the progression of Alzheimer's disease by more than 20%.

This is truly a turning point in the fight against Alzheimer's disease. #donanemab #AAIC23 pic.twitter.com/0UsTnQda6G

— Alzheimer's Society (@alzheimerssoc) July 17, 2023
The study, published in the Journal of the American Medical Association and presented to the Alzheimer's Association International Conference in Amsterdam, concluded that after 76 weeks of treatment, donanemab was able to slow clinical decline by 35.1% in people with early Alzheimer's whose brain scans showed low or medium levels of a protein called tau.
When the results were combined for people who had different levels of this protein, there was a 22.3% slowing in disease progression.
But researchers did find that among a small number of people in the study there were some serious side effects such as brain swelling.
Meanwhile three deaths in the donanemab group and one in the placebo group were considered "treatment related".
The results come after another drug - lecanemab - was found to reduce memory decline among patients with early-stage disease.
Commenting on the results, Dr Richard Oakley, associate director of research and innovation at Alzheimer's Society, said: "This is truly a turning point in the fight against Alzheimer's and science is proving that it is possible to slow down the disease.
"Treatments like donanemab are the first steps towards a future where Alzheimer's disease could be considered a long-term condition alongside diabetes or asthma - people may have to live with it, but they could have treatments that allow them to effectively manage their symptoms and continue to live fulfilled lives.
"Today's full results support what we heard about donanemab back in May, that the drug is able to slow down the progression of Alzheimer's disease by more than 20%.
"This study adds to the growing evidence that treating people as early as possible may be more beneficial, with the effects of donanemab greater in people who were at an earlier stage of the disease.
"Diagnosis will be key to the access of any new treatments.
"We can't have a situation where treatments are approved for use in the UK but people aren't diagnosed early or accurately enough to be eligible.
"We need early, and accurate, diagnoses available for everyone and the NHS ready to roll out treatments such as donanemab and lecanemab if and when they are approved in the UK."
He added: "It's also important to note that side effects did occur, although serious side effects only occurred in 1.6% of people receiving the drug.
"Regulators will need to balance these side effects against the benefits of the drug.
"We should also note that the majority of people who took part in this trial were white - it's crucial that in future trials we see more diversity to prove that new drug treatments have similar effects for everyone living with Alzheimer's disease.
"Just as we've seen a transformation in cancer treatment in recent decades, we're really hopeful we're on the same path for dementia."
Sir John Hardy, professor of neuroscience and group leader at the UK Dementia Research Institute, UCL, added: "The successful outcome of the Eli Lilly's anti-amyloid antibody donanemab is great news for Alzheimer's disease and confirms the positive and similar outcome for Eisai's lecanemab trial late last year.
"The results are very similar, and that in itself is reassuring.
"Disease progression is slowed about 30%, but it too has occasionally serious complications which require monitoring.
"Scientists now need to work to understand what we need to do to stop the disease rather than just slow it, but the major immediate task will be to organise NHS Alzheimer provision to be able to use these therapies."