Liz Truss calls for 'more action' from France as families face 11-hour queues in Dover
23 July 2022, 09:41 | Updated: 23 July 2022, 23:00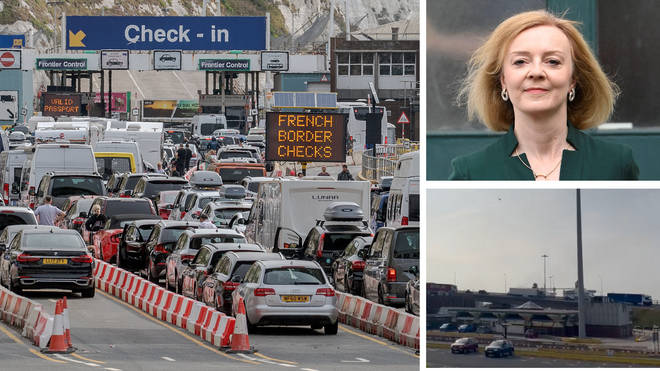 Liz Truss has called on "more action" from France to tackle hours-long queues at the Port of Dover on Friday and Saturday.
The Foreign Secretary said she told France's Foreign Minister, Catherine Colonna, "we need to see more action" after blaming the delays on a lack of staffing by French authorities.
The Foreign, Commonwealth and Development Office tweeted a statement from Ms Truss, which said: "I spoke to French Foreign Minister Catherine Colonna today about the extremely frustrating delays at the Port of Dover and the Channel tunnel terminal in Folkestone.
"I was clear the French authorities have not put enough people on the border and we need to see action from them to resolve the terrible situation which travellers, including families, are facing."
French Foreign Minister Catherine Colonna said she "welcomed the cooperation" between the UK and France and stressed the need to "improve facilities" at the port.
The French Ministry for Europe and Foreign Affairs tweeted a statement from Ms Colonna, which said: "Good talk with @trussliz about the traffic difficulties near Dover.
"We welcomed the cooperation between our competent technical services to reduce the delays. Need also to improve the facilities of the port of Dover."
.@MinColonna: Good talk with @trussliz about the traffic difficulties near Dover. We welcomed the cooperation between our competent technical services to reduce the delays. Need also to improve the facilities of the port of Dover. https://t.co/KEjJ502ul3

— France Diplomacy🇫🇷🇪🇺 (@francediplo_EN) July 23, 2022
As politicians blamed the French for the long delays, the Port of Dover's CEO blamed Brexit for checks that have caused hours-long queues on Friday and Saturday.
Friday - when the port declared a "critical incident" - saw holidaymakers get stuck in huge queues as officials in Britain and France traded accusations in a blame game.
Travellers were warned again on Saturday to brace for queues, told to allow at least five hours to get their ferry to the continent.
One family was stuck in traffic for nearly 11 hours on Saturday as they tried to make their crossing.
Angie Emrys-Jones and four family members, including three children, were only able to board the Eurotunnel at 4.15pm on Saturday - having joined the queue at 5.30am.
"There were rows and rows of standstill traffic as far as we could see since we arrived," the 46-year-old from Cornwall said.
"No police marshalling, (we are) exhausted and hot.
"Rumours going around the cars were rife... 'The whole system is down and each car was having to be checked in by hand' (or) 'they've stopped all trains for the day'.
"Three kids and a dog all fed right up today," Ms Emrys-Jones added.
The town's MP took aim at the French for the problems. But when Port CEO Doug Bannister was asked by LBC's Ben Kentish if the delays were triggered by Brexit requiring extra checks, he said: "That is absolutely true… we knew what the checks would be like, we've been operating this way since we left the European Union."
He added that because there are more people coming through post-Covid the checks are taking longer than they have usually done post-Brexit, which has seen them operate under pandemic restrictions.
He did not know how long exactly it was taking for people to get to their ferries.
But Mr Bannister told LBC: "Today was always going to be the busier of the two days. So that's why we've been focused our attention on making certain that we had an appropriate level of resourcing at the start of the day so that we can hopefully get on top of it, clear the backlog and get everybody who wants to travel today on their way."
Read more: Holidaymakers' fury at Dover's 'critical incident' as six-hour queues blamed on French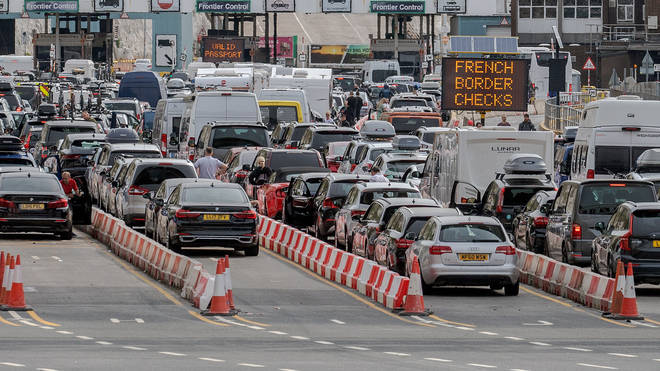 UK officials blamed understaffing on French authorities' part for delays, while a French MP for Calais blamed Brexit.
Mr Bannister said he did not know the cause but was pleased that a full complement of French immigration staff had arrived in the morning, with four more on their way.
"I don't know what the exact timings are, earlier this morning it was taking us about 35 minutes to clear one of the lanes of traffic, so that's roughly about what it would do now," he said.
"Now all the lanes are feeding into their border authority booths so it should be that, but I think right now it's taking a bit longer than that."
However, he warned all travellers should check with their ferry operators and keep up to date with developments on line.
Natalie Elphicke, the MP for Dover, said: "I do think the French should apologise to the residents of Dover who found themselves in gridlock and those tourists who were caught in these miles of traffic."
But Calais MP Pierre-Henri Dumont said: "This is an aftermath of Brexit. We have to run more checks than before."
Saturday is the first weekend of the summer holidays for most of England and Wales, where the majority of schools have broken up for the summer.
It is anticipated millions of journeys will be made over the weekend across Britain, including some to the port for a European break.
On Saturday morning, LBC's Fraser Knight reported the town of Dover was enjoying free moving traffic, in contrast to the gridlock locals had to endure on Friday during the port backlogs.
But a snaking queue of cars at passport control was merely inching forward. Cars were being stopped on the A2, which winds around the White Cliffs, leading to the port's entrance in order to stop check-in kiosks getting overwhelmed.
Motorists already waiting in the queue are facing another wait of about two hours to clear border checks in the port.
After taking as long as two hours to travel just the last three miles here, one woman cheered through her open window as police let them come through.
But almost immediately, they hit another long queue in the port itself up to the border check point.