Energy crisis: Govt adviser warns there is 'no quick fix' as gas prices spiral
7 October 2021, 06:24 | Updated: 8 October 2021, 01:15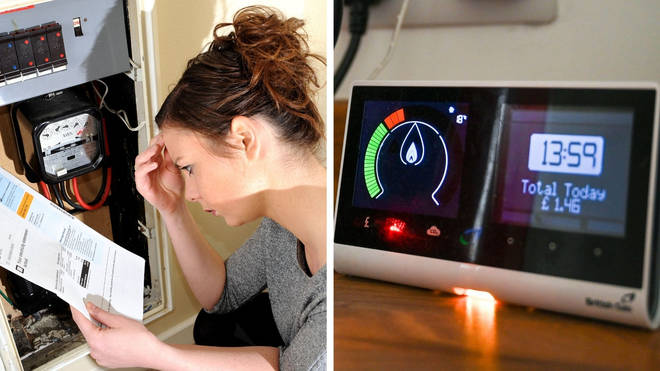 A Government adviser has warned that there is "no quick fix" to the energy crisis as gas prices continue to spiral.
It comes as the cost of energy bills is likely to rise by 30 per cent next year - with warnings electricity supplies will be "very tight" this winter.
Parliamentary Energy Adviser Dom Goggins told LBC's Iain Dale that the issue was likely to go on until spring.
"We have some specific issues in Britain and we approach the winter now with households facing huge increases, alongside rising inflation and add to that a cut in Universal Credit, and you've got a significant problem for an awful lot of households.
"There are some solutions to this, but there's no quick fix to it," he said.
Read more: Green energy tycoon: We've lacked a coherent energy policy probably for 20 years
Mr Goggins went on to say: "There is no simple solution to this, and the energy price cap is an interesting one as it's simultaneously why the smaller companies are going bust and why the business secretary expects more of them to go bust.
"But it is also the only line of defence that consumers have got to insulate us against the significant spikes in price.
"The problem is that doesn't fix the market. So, short-term I think the Government needs to provide significant, meaningful support to the poorest households to get through this crisis that's going to go on through this winter and probably into the spring.
"They need to make sure that the price crisis we are going through now doesn't become a supply crisis, because then we have got significant problems in the wider economy if that happens.
"Longer-term we have got to deal with the source of the problem. And for me, that fundamentally is about weaning ourselves and our whole economy off fossil fuels because volatility in the fossil fuel market, including gas, is the source of this problem."
Analysts predicted that the energy price cap will rise to around £1,600 from the summer - up from the current cap of more than £1,200.
The National Grid electricity system operator said in a report on Thursday that the UK faces tight electricity supplies because of rising demand and capacity constraints but declared the lights should not go out.
Energy and business minister Kwasi Kwarteng, said he thinks it is "going to be a difficult time".
"We may well see companies going out of the market," he told the Energy UK conference.
"The most vulnerable must be protected, and they must continue to be protected, from exorbitant price spikes."
Read more: 'Desperate choices' for Brits as monthly energy bills could soar by £30
The Energy Intensive Users' Group says National Grid's Winter Outlook Report and the warning of a greater risk of blackouts only emphasises the need for the Government and Ofgem to implement emergency measures this winter.
The EIUG said "urgent action" is still required from the Government and Ofgem.
It said that today's report "does not provide any comfort or certainty" for UK Energy Intensive Industries that this winter's energy supplies will be both affordable and available.
Dr Richard Leese, chair of EIUG, said the report makes it clear that "margins will be very tight this winter".
"The issue is not just whether the supply of gas and electricity will be available but also one of price," he said.
"Energy intensive industries could simply be priced out of the market. This danger is massively heightened given this winter's global energy outlook plus competition from Europe and other parts of the world for gas, including LNG."
Martin Lewis, the founder of Money Saving Expert, has said some customers will be better off not switching supplier.
The Institute for Fiscal Studies also says council tax may need to rise by up to 5 percent a year for the next 3 years - to keep services running and pay for social care reforms.
Research agency Cornwall Insight has predicted further volatile gas prices and the potential collapse of even more suppliers could push the energy price cap to about £1,660 in summer.
The forecast is approximately 30% higher than the record £1,277 price cap set for winter 2021-22, which commenced at the start of October.
Craig Lowrey, senior consultant at the firm, said: "With wholesale gas and electricity prices continuing to reach new records, successive supplier exits during September 2021 and a new level for the default tariff cap (£1,277 for a typical dual fuel direct debit customer) for Winter 2021-22, the GB energy market remains on edge for fresh volatility and further consolidation."
Energy regulator Ofgem reviews the price cap once every six months, and changes it based on the cost that suppliers have to pay for their energy, cost of policies and operating costs, among other things.
The regulator said in a statement: "The energy price cap covers around 15 million households and will ensure that consumers don't pay more than is absolutely necessary this winter.
"However if global gas prices remain high, then when we update the price cap unfortunately the level would increase.
"Any customer worried about paying their energy bill should contact their supplier to access the range of support available."