King's Speech at a glance: Smoking ban, crime crackdown and new football regulator
7 November 2023, 10:12 | Updated: 7 November 2023, 12:10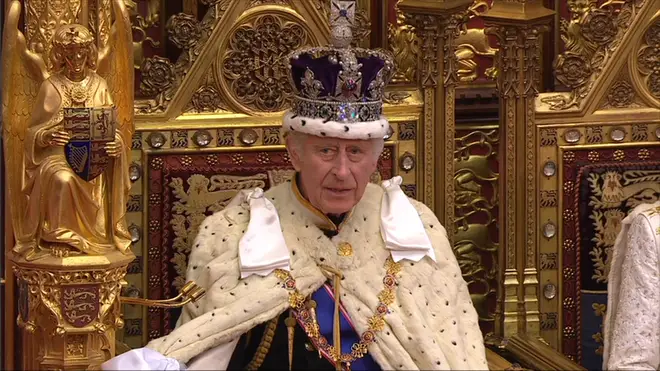 King Charles has delivered his first speech at the State Opening of Parliament where he revealed the government's legislative agenda for the year ahead.
King Charles outlined the laws to be introduced in his first speech since his coronation.
He delivered the speech from 11:30am in the House of Lords at the State Opening of Parliament.
The speech is written by the government for the King to read out. It formally states the legislative plans of the government to the public and parliamentarians.
At a glance:
Smoking ban: Plans to raise the legal age for purchasing cigarettes in England by one year every year. Eventually, it will be illegal for anyone to buy a cigarette.
Crackdown on crime: The most serious crimes, such as rape, will have tougher sentences. Criminals will also be forced to attend court while they are being sentenced.
New police powers: The government is planning to allow police officers to retrieve stolen goods, like smartphones, without a warrant. If they have reasonable proof that stolen goods are inside a property, like a tracking app, officers will be able to raid a property.
Football regulator: The government is planning to set up an independent body to govern the top five English football leagues. The move to create an 'Ofwat for football' has cross-party support.
Leasehold reform: Leaseholds to be phased out in England and Wales. All new houses will have to be sold as freehold properties.
Self-driving cars: Driverless cars and buses have been given the green light by the government. The government says introducing this technology to British roads will create jobs and boost the economy.
Read more: Retailers warn of 'potential pressures' from enforcing smoking ban
Read more: 'Sexual and sadistic' murderers to be jailed for rest of their lives, Rishi Sunak vows, as PM pledges crime crackdown
It will be the first time Rishi Sunak will have his legislative plans delivered in a King's Speech.
It's also likely to be the last, as the prime minister has to call a general election in 2025.
Boris Johnson was the last prime minister who oversaw a state opening, as Liz Truss' turn was too short for her to showcase her policies in this way.