Portugal wildfires: Areas at risk following third dangerous heatwave
8 August 2023, 11:05 | Updated: 8 August 2023, 11:52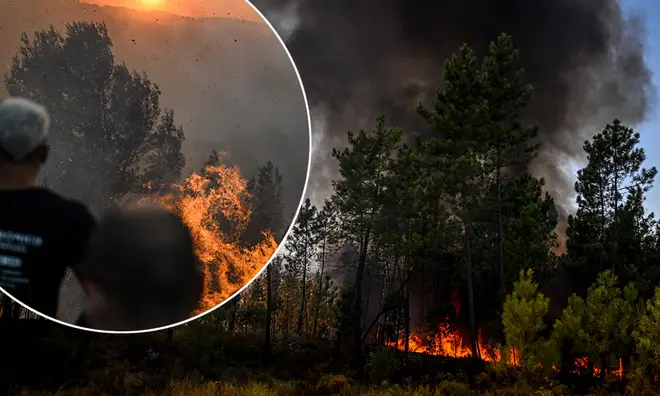 Portugal's Algarve are tackling wildfires following the third dangerous heatwave of the year - but where is the blaze?
Extreme heatwaves have been targeting Europe this summer from Greece, to Italy, and now Portugal is currently battling flames in the Algarve area - a popular holiday destination.
Starting on Saturday 5th August, and during the third dangerous heatwave to arrive in Portugal, around 800 firefighters have been tackling the flames that has already destroyed around 6,700 hectares of land.
Nine firefighters were injured tackling the wildfire, which started as weather temperatures soared towards 40C on the Iberian peninsula. Santarém in Portugal recorded 46.4C on Monday, the hottest temperature of the year so far.
Read more: Brits who were forced to flee Rhodes due to wildfires will be offered free holiday next year, Greek PM confirms
Read more: Exact date 33C heatwave will hit UK after weekend of wet and windy weather
So far, 19 villages, four tourist accommodations and a camping site have been evacuated out of precaution as the country remains on red alert for extreme heath. Authorities have put 120 areas in Portugal on maximum alert for further wildfires.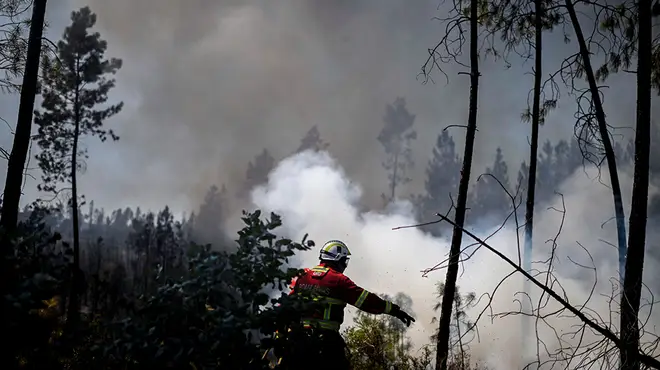 Where are the wildfires in Portugal?
Around 1,400 people were evacuated from the area of Odemira as this is where wildfires are at their worst.
This area is just North of Portugal's Faro district, which is home to the popular summer holiday destination of Algarve.
The fire is said to be spreading southwards towards the Algarve as the high temperatures continue and strong winds aid its travel.
Odemira's mayor, Helder Guerreiro, called the situation "critical, difficult and complex" as they struggle to get the flames under control.
A total of 120 areas across Portugal have been put on maximum alert for wildfires. This includes:
Viseu, Cinfães, São Cristóvão De Nogueira
Viseu, Moimenta da Beira, Peva E Segões
Porto, Amarante, Mancelos
Odemira, São Teotónio
Aveiro, Sever do Vouga, Talhadas
Faro, Aljezur, Bordeira - Bordeira (Fóia)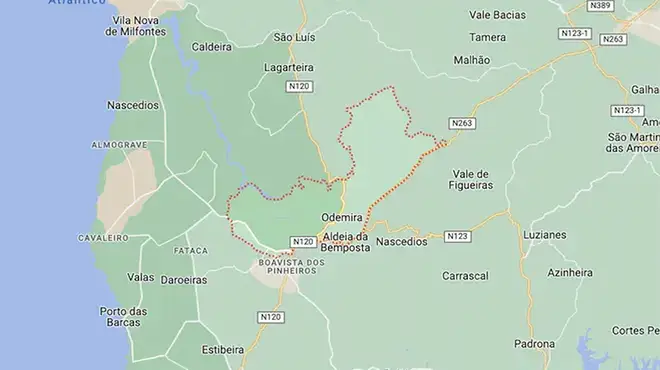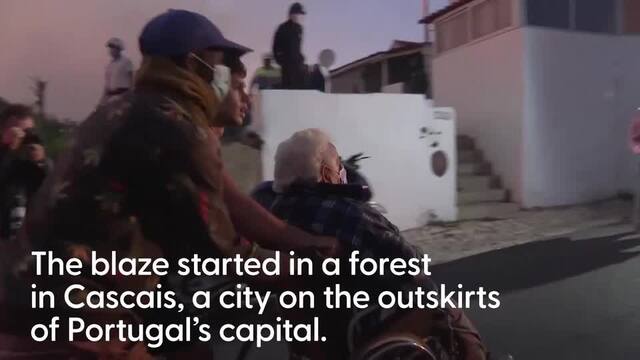 More than 70 people evacuated as wildfire spreads near Lisbon
How common are wildfires in Portugal?
Every year, Portugal has a wildfire season between June and September, however, in recent years, they have begun to see very high temperatures as early as April and as late as October. This shows how climate change is affecting their wild fire period.
Typically, they are quite common for this time of year, however, the continuous extreme temperatures are making them harder to tackle and control.
What is the weather forecast for Portugal?
Just looking at the Algarve for the next five days, temperatures seem to be taking a dip as they range from 26C to 33C.
However, there is no chance of rain and the wind speed remains on average at 20mph.