Where is the heatwave in Europe and when will it end?
20 July 2023, 11:59 | Updated: 21 July 2023, 15:17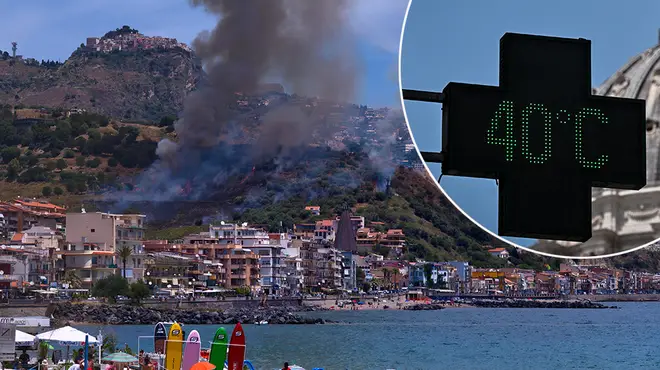 Europe is currently seeing staggering heatwave temperatures causing wildfires and sever health warnings - so when does it end? Here's the latest news.
Southern Europe this week is likely to hit record temperatures as they continue to increase past mid 40s during their staggering heatwave.
The high pressure in the weather system, named Charon, has caused highs of 45 degrees plus in many parts of Europe with there being no end in sight for struggling communities.
The staggering heat and sun has so far caused wildfires, serious health issues and droughts across many popular holiday hotspots, causing serious disruption and concerns for summer holidays.
Read More: Brits finally set to bask in sunshine but will have to wait until the last week of the summer holidays
With the current extreme weather situation showing no signs of arriving in the UK, here's a look at all the countries currently affected by the European heatwave and when it will likely end.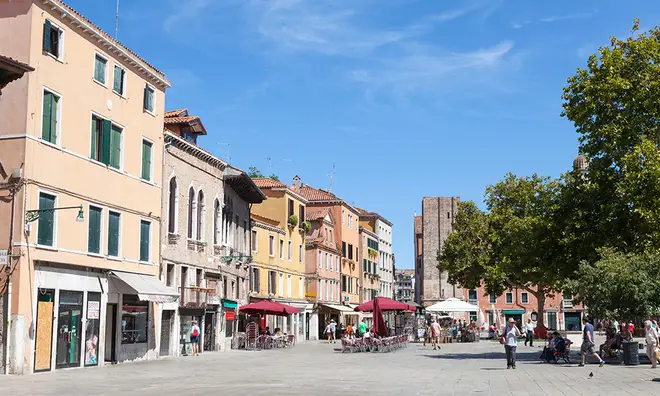 Where is the heatwave in Europe? And what is the forecast?
In mid-July, the searing heat and high pressure system came up from Algeria and has forced extreme heat conditions on many parts of Europe. They are:
Spain
A popular choice of holiday for many families this summer, the Spanish met office has warned of on-going extreme heat.
Warnings have been put in place for the far west of Catalonia, North of Mallorca, Costa Blanca and the Costa del Sol.
Outlooks have forecast temperatures of around 42C for this week with them to take a slight dip to around 36-38 degrees by the end of the week.
France
Not as hot as Spain, nine heat alerts were issued on July 19th to Herault, Gard, Vaucluse, Var, Alpes-de-Haute-Provence, Bouches-du-Rhone, Alpes-Maritimes and on the island of Corsica. Temperatures are likely to peak at 40degrees.
By the end of the week temperatures should begin to drop again.
Italy
Currently beneath the centre of Charon, Italy is taking the brunt of the extreme temperatures from the European heatwave.
Almost all of Italy's major cities, Rome, Florence, Venice and Verona are on major heat alerts deeming the heat as unsafe for the entire population.
Later this week, the heatwave is forecast to weaken slightly, bringing thunderstorms and flash floods. However, by the weekend the mercury is predicted to soar again.
Greece
Western and northern parts of Greece are those struggling the most right now. Athens has witnessed highs of 41C.
The Greek Islands, including Corfu, Santorini and Rhodes are more manageable with peaks of around 35 degrees.
Turkey
Not affected by the European heatwave too much, Izmir is the hottest place in the country with highs of 37C.
Cyprus
Temperatures remain normal for this time of year, however, Limassol and Nicosia are likely to hit 35 degrees plus this week.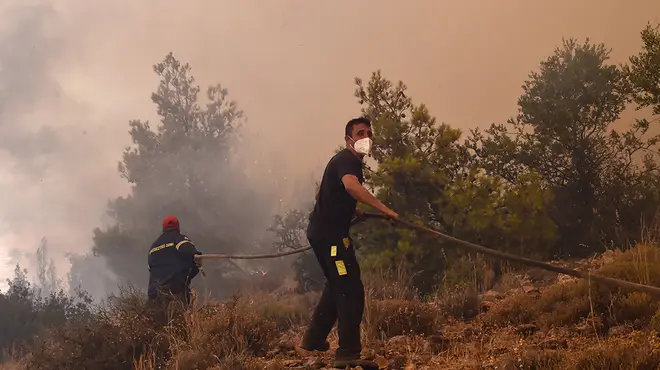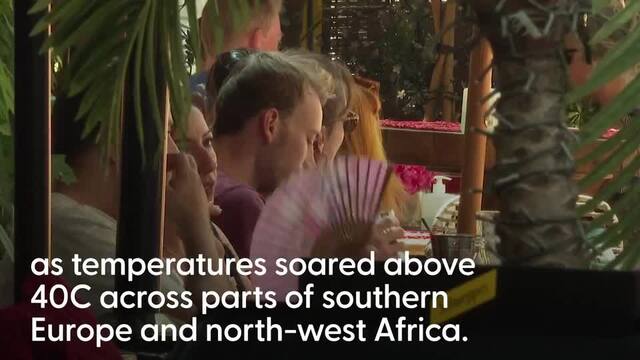 Heavy wind and rain expected in UK in wake of lethal European heatwave
When will the heatwave in Europe end?
Unfortunately, there's not an end in sight for the extreme weather conditions. Charon is expected to weaken by the end of this week, bringing other severe conditions such as flash flooding.
The heatwave is then expected to return thanks to another high pressure surge from Algeria meaning temperatures could remain this high into August.