Extinction Rebellion chief spotted 'buying imported food and driving diesel car' ahead of fresh protests
20 April 2023, 23:26 | Updated: 21 April 2023, 16:09
The leader of Extinction Rebellion has been seen buying food imported from abroad and driving it off in her diesel car, ahead of four days of protests by the disruptive environmental activists.
Gail Bradbrook was spotted by a woman buying food that had travelled thousands of air miles from Chile, Vietnam, Spain, Cyprus and Italy.
Ms Bradbrook, whose disruptive group calls for people to cut consumer activity and minimise their carbon emissions, was branded a "towering hypocrite" for her shopping.
She loaded the food into a diesel car, which she has previously claimed she needs because electric cars are too expensive and she needs to drive her son to sports games.
The woman who saw her told the Sun: "Buying fruit flown halfway round the world in non-recyclable packaging then driving home in a ­diesel motor — what a towering hypocrite.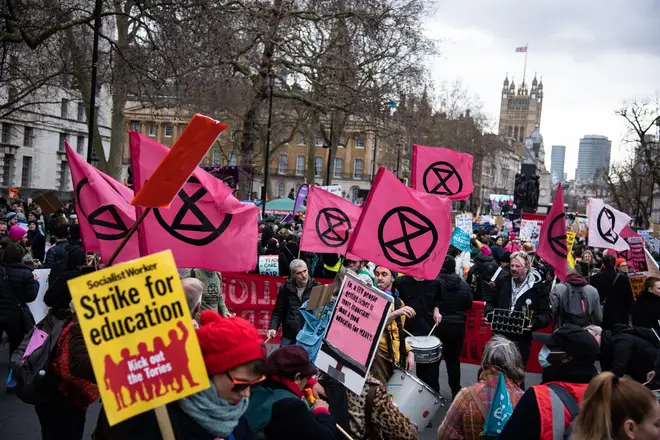 Read More: Two activists who shut down Dartford Bridge for 17 hours in eco-protest jailed for more than five years
"But at least she wasn't held up on her way home by idiots who glued themselves to the road."
Tory MP Chris Loder told The Sun: "The contents of this woman's shopping trolley speaks volumes about the hypocrisy of people who think nothing of causing chaos.
"It would be hilarious if it wasn't so predictable.
"Extinction Rebellion's leaders clearly live by the mantra, 'Do as I say, not as I do'."
An Extinction Rebellion spokeswoman said: "We're getting on with the real work of building a mass movement that creates a better society, putting people and nature before corporate profit and division."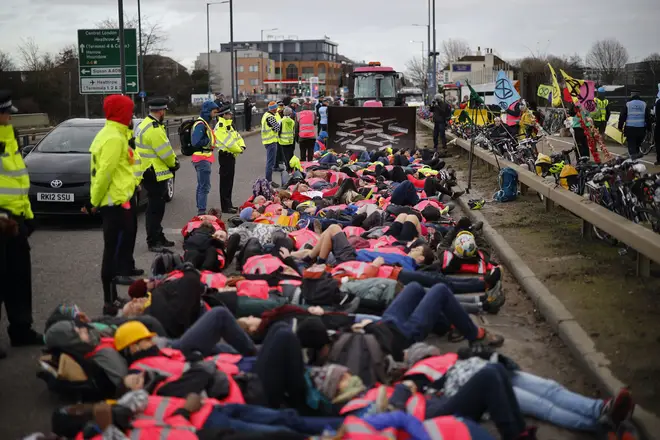 It comes as XR and dozens of other environmental groups are planning to flood central London as the Marathon takes place in the capital, and has warned that it will "have no choice" but to call on those attending to "step up action" unless the government responds to two demands by 5pm on Monday, April 24.
Its demands are that ministers axe all licenses, funding and approval for new oil and gas projects, and the government forms "emergency citizens assemblies" to fight the environmental crisis.
The group has previously said it is shifting away from tactics such as protesters gluing themselves to public places, and smashing windows, in 2023.
In a January 1 statement entitled "We quit", it spelled out a new year resolution to "prioritise attendance over arrest and relationships over roadblocks", and said that "constantly evolving tactics is a necessary approach".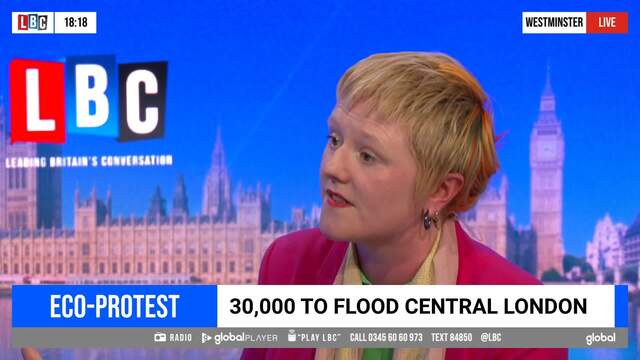 Co-founder of Extinction Rebellion Clare Farrell rebukes language used by the government
"In a time when speaking out and taking action are criminalised, building collective power, strengthening in number and thriving through bridge-building is a radical act," the group said at the time.
Extinction Rebellion and Just Stop Oil have promised not to disrupt the London Marathon on Sunday, with XR saying they would help the race run "smoothly" despite protest action on the same day.
It comes amid a wave of protests from other climate and animal welfare groups that have gained national attention.
Last weekend, activists from the group Animal Rising - and offshoot of Extinction Rebellion - tried to halt the Aintree race at the weekend but their efforts were thwarted by police, security and fans of the race.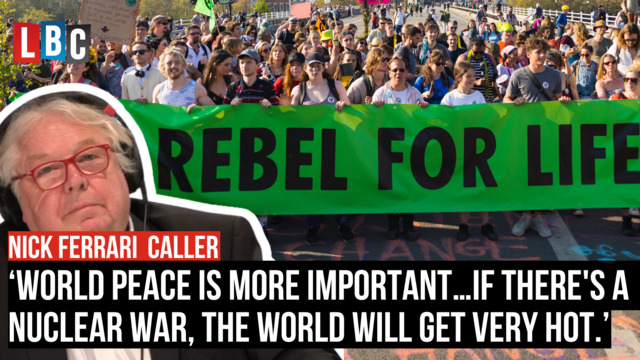 'Full force of the law' should be bought against Extinction Rebellion says caller
The race was delayed by 15 minutes and furious trainers blamed the chaos on the death of a horse. Nearly 120 people were arrested and bailed.
Read more: XR co-founder denies headline-grabbing stunts by groups like Just Stop Oil pushed them into resuming direct action
Read more: Eco protesters threat to flood capital with 30,000 activists during London Marathon weekend dubbed 'the big one'
Then on Monday, a Just Stop Oil protester climbed onto a snooker table during the World Championship and threw an orange substance over himself to jeers from onlookers.
Security moved into to grab him off the table, while at the same time a female protester wearing a similar shirt leapt from the crowd and tried to get on a separate match.
However, staff managed to grab her and stop her from getting on the table.Two people were arrested.