Far-right extremist jailed for five years after calling for people to 'violently destroy Jewish and black people' on website
16 November 2023, 16:36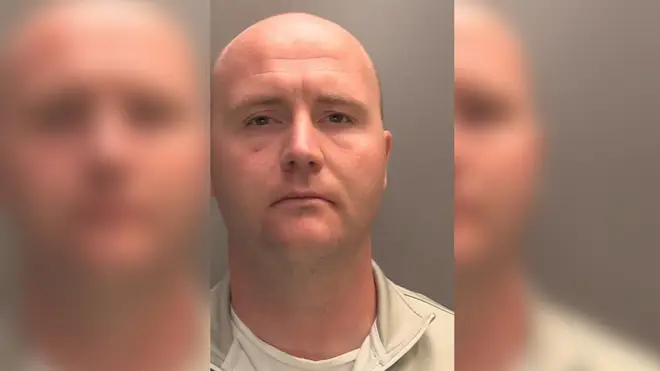 A far-right extremist from Liverpool has been jailed for five years for inciting racial hatred.
James Costello, 38, called himself 'The Reverend' and was the editor of a far-right website.
He was arrested after being found in possession of racially inflammatory material including stickers that had been posted in and around Liverpool in 2021 as part of a campaign directing people to a website calling for the establishment of a white master race.
The stickers were spotted on lampposts across Merseyside advertising a website called Creativitymovement.net.
The content was full of racist material which showed Costello was a leading figure in the "Creativity Movement" which are a white supremacist racist movement who pay homage to the Nazi 3rd Reich.
Investigations unearthed recordings which were racially offensive and aimed to recruit people to join the "violent destruction and subjugation of people of colour, black people and Jewish people".
As part of the case the Crown Prosecution used evidence to show Costello's connection with other convicted terrorists, including National Action member Jack Renshaw, who was jailed for life in 2019 for planning to murder Labour MP Rosie Cooper.
Read more: Gracie Spinks was fatally stabbed in the neck by ex-colleague she reported for stalking
Read more: Sixth body found by police investigating blaze at house in Hounslow that claimed the lives of three children
Nick Price, head of the CPS Special Crime and Counter Terrorism Division, said: "James Costello styled himself as a 'Reverend' as part of his ambition to try and stir up racial hatred wherever possible.
"The messages he posted were intended to sow disharmony and be a violent call to arms against black and Jewish people."
Detective Chief Inspector Andy Milligan of Merseyside Police, said: "I would like to thank members of the public for reporting this racist website to us so that we could launch a criminal investigation. 
"I would also like to thank the CPS Special Crime and Counter Terrorism Division for working with us on this investigation so we could achieve this result.
"Our detectives worked hard to identify and seize the material whilst also identifying Costello as the main contributor to the site.
"The racist and offensive material uncovered by our officers was deplorable and could have caused serious tensions, anguish and violence in our community.
"I hope this result show that online hate will not be tolerated and online offenders are not anonymous. 
"Merseyside Police take all such reports seriously and we will continue to work hard to unmask and prosecute online offenders. 
"This hate material will destroyed by our officers and anyone who creates it will be prosecuted and jailed for their crimes."
Costello, who is from Old Rough Lane in Kirkby, has been sentenced to five years in prison.