Firefighters 'armed with dog treats' rescue husky stranded on window ledge in Tottenham
19 October 2023, 14:43 | Updated: 19 October 2023, 14:45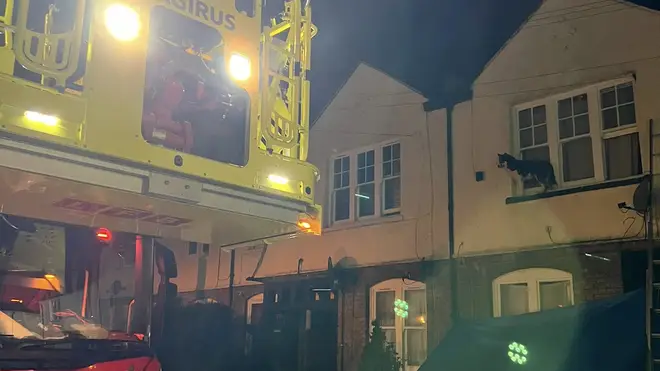 Firefighters "armed with some dog treats" have rescued a husky after it got stuck on a window ledge in Tottenham.
Coco the pup was discovered by worried neighbours standing on a first-floor ledge after climbing out of a window on Siward Road in Tottenham, the London Fire Brigade (LFB) said.
They were called to the scene at 10.20pm on Friday and then the RSPCA were called for back-up.
But there were concerns the "whimpering" husky - which was home alone at the time - would fall off the small ledge before extra help could arrive.
Leading firefighter Nick Michael stepped up, "armed with some dog treats", and used a 32-metre turntable ladder to get Coco to safety.
Read more: Just Stop Oil bid to block first migrants from returning to Bibby Stockholm barge
Read more: Scottish town told to evacuate as Storm Babet batters UK and Met Office issues red 'danger to life' warning
Firefighter Dan Poullais said: "When we arrived at the house, we initially requested the support of the RSPCA and a Metropolitan Police dog handler but we could see the dog was whimpering and we were worried it was going to fall because the ledge was so narrow and it couldn't turn around to get back inside.
"Rather than using one of our standard ladders, we thought the safest option would be to get our 32 metre turntable ladder to the scene so that we could bring the dog safely inside the ladder's cage.
"Leading Firefighter Nick Michael, who loves dogs, went up the ladder to complete the rescue armed with some dog treats that had been given by neighbours. He managed to get a collar and lead onto the dog and safely brought it down to the ground, where it began to calm down.
"Neighbours said they think the window was only slightly ajar and that the husky had managed to push the sash window up itself before climbing out. We were glad to help and the dog was safely returned its owner when they returned home." 
A London Fire Brigade spokesperson added: "Firefighters love animals and we are ready, willing and able to assist distressed or injured animals – the last thing we want is for people to put themselves at risk rescuing an animal themselves – but we do encourage people to call the RSPCA in the first instance and we will assist if our specialist equipment is required, as in this case."