Horror in rush hour as three-have-a-go-heroes stabbed stopping phone thieves on bikes in Bishopsgate
6 October 2022, 11:03 | Updated: 6 October 2022, 13:55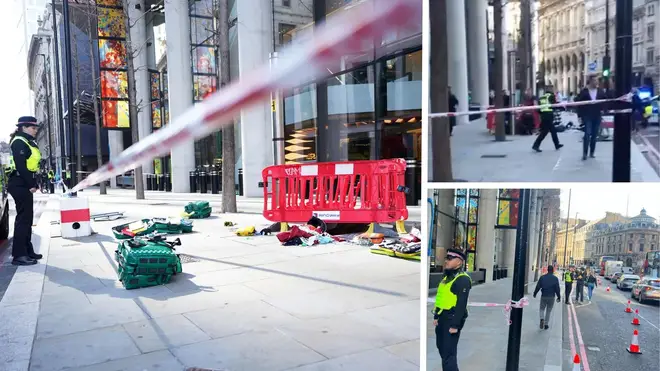 Three people have been stabbed and one person pushed to the floor in a 'vicious' attempted robbery in the middle of London's financial district this morning as horrified commuters watched on.
One eye-witness has described the incident as 'terrifying' and 'vicious'.
Police are not treating the attack as terror-related and instead are investigating a suspected robbery.
It is understood the four victims were hurt after stepping in to stop a gang of thieves on bikes trying to steal a mobile phone.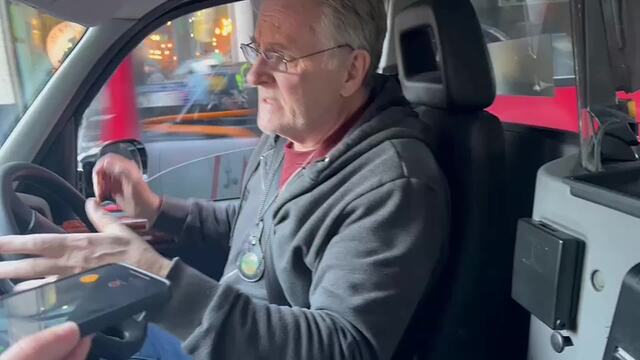 Bishopsgate witness reveals what he saw during incident
In an update, the City of London police said: "We received reports of three stabbings & a person pushed to the floor on Bishopsgate at 9.46am & officers arrived at the scene at 9.51am.
"Three victims were taken by LAS to a nearby hospital to be treated. This is an ongoing situation, but is not being treated as terror-related."
The cordon stretches down the road outside the 22 Bishopsgate sky scraper, which is the tallest building in the City of London. Inside the offices includes insurance firm companies and law firms.
Speaking to LBC, driver David described how the incident unfolded: "Everyone got out of their motors and got involved.
"Everybody helped, even an old girl in her 60s was kicking and pushing and shoving.
"It was terrifying, it was a melee, a real vicious melee."
A London Ambulance Service spokespersons said: "We were called at 9:52am today to reports of a stabbing in Bishopsgate.
"We sent a number of resources - 3 ambulance crews, 2 adv paramedics, 2 incident response officers and our Tactical Response Unit. Our crews treated 4 patients. 3 were taken to hospital and 1 discharged."
We are aware of an incident this morning on #Bishopsgate. Our officers are at the scene and @Ldn_Ambulance are in attendance. A cordon is currently in place.

— City of London Police (@CityPolice) October 6, 2022
Syeed, who owns BK news on Bishopsgate, said he came out of his shop when he heard 'boys' running past his shop and shouting 'oi, oi, oi'.
He told LBC that the attack is 'very scary' and comes just a week after he was battered by a coke bottle in his own shop.
He explained: "[Similar] happened to me last Saturday, I was in the shop and few teenagers tried to nick the drinks and I stopped them and they hit me on the head with a bottle. These kids were around 14.
"It was with a bottle of coke, luckily it was just plastic. I called the police and they came out an hour later and gave me a special alarm button.
"It's very scary. How can we do business in the centre of London, here in the financial hub. We are scared now. In this already difficult situation, a financial problem, [high] rent, now we have to survive in this."
If you are at the scene or if you witnessed the incident, email crime@lbc.co.uk
This is a breaking news story, more as we have it.