Bodies of four teenagers found after going missing during camping trip in north Wales
21 November 2023, 13:12 | Updated: 21 November 2023, 21:18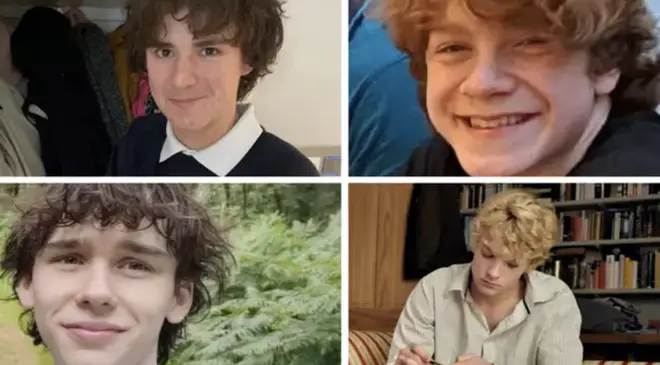 The bodies of four teenagers who went missing during a camping trip in north Wales have been found, police have confirmed.
Jevon Hirst, Harvey Owen, Wilf Henderson and Hugo Morris, aged 16 or 17, were travelling in the Harlech and Porthmadog areas of north Wales over the weekend.
The boys, described as inexperienced campers, were spending time in Snowdownia.
Read more: Police searching for group of teenagers missing in North Wales find car as air ambulance 'spotted at nearby village'
Their Ford Fiesta left the road on the A4085 near Garreg, Gwynedd in north-west Wales. The boys' bodies were found inside the car.
Search for four missing boys: What we know so far
Police have found four bodies in the search for missing boys in north Wales
Officers believe the deaths of sixth form students Jevon Hirst, Harvey Owen, Wilf Henderson and Hugo Morris were a 'tragic accident'
They were last seen in the Porthmadog area of Gwynedd and were due home on Monday
Police found the car partially submerged in water
Thank you for following our live blog
Thank you for following LBC's live coverage of this incident.
It has now ended.
Check LBC for more updates.
Tributes pour in after missing bodies found
Tributes have come in from the boys' families and friends after the tragic news emerged.
Wilf's girlfriend Maddi said on Instagram: "I love you so much baby,' Wilf's girlfriend Maddi said in a tribute on Instagram today. 'I'm going to miss you forever.
She told of how her boyfriend was the "sweetest and most loving boy I've ever known". She added: "I hope you know how much I love you gorgeous."
Maddi's mother Lisa added: "Wilf was such a lovely kind lad and treated Maddi in a way only a mother could hope her daughter b treated," she said.
Lisa said: "We will all miss u dearly Wilf. thank u 4 bringing so much love and happiness in2 Maddi's life and I promise to look after her 4 u."
You can read more here.
Local church to hold prayers for four boys
Trinity Churches Shrewsbury has said it will offer local residents "time and space to pray" in the The Trinity Centre, which is on Church Road, Meole Brace.

Residents can visit from 9am.
"Our thoughts and prayers are with their families, friends, and the wider community at such a sad time," a statement said on Facebook.
'Devastating news': Welsh first minister offers condolences
Mark Drakeford, the first minister of Wales, has offered his condolences to the loved ones of the four boys.
Mr Drakeford said on Twitter: "Devastating news.
"My thoughts are with their family and friends during this incredibly difficult time as they deal with the unimaginable."
Ages of the four victims released
The ages of the four boys have been released.
One of the boys was 16, two were 17 and the fourth was 18 years old.
Local politicians sends condolences
Local MP Liz Saville Roberts and local Senedd member Mabon ap Gwynfor said in a joint statement: "This news is truly heartbreaking and foremost as parents ourselves our thoughts go out to the families and friends of the four young men whose lives have been lost in this tragic accident.
"We would like to pay tribute to the emergency services and local mountain rescue teams involved in the search operation and to members of the public for their assistance in helping to locate the vehicle.
"No words can sufficiently reflect the sorrow that this news brings to our whole community."
Investigations into nature of incident 'ongoing'
Police investigations into the circumstances of the incident are ongoing," superintendent Owain Llewellyn has said.
"I would like to take this opportunity to publicly thank the emergency services and members of the voluntary search agencies and members of the public who supported us with this search," he said.
"And finally, I would ask the families of these boys are afforded privacy at this desperate time."
Car was found 'partially submerged in water'
Police found the boys' car partially submerged in water, after a member of public alerted them to it.
Police don't know why the boys' car left the road
Officers have said that investigations are ongoing to establish the circumstances in which the car would have left the road.
Deaths appear to be 'tragic accident'
Superintendent Owain Llewellyn said: "At present, this appears to have been a tragic accident, and our thoughts are with the family and friends of the four young men at this very difficult time.
"This has been an extensive search involving a number of different agencies and volunteers, and this is sadly not the outcome that any of us would have wanted.
"We would ask that the family be afforded the appropriate privacy and respect."