Full list of schools with 'crumbling concrete' mapped - as nineteen sites forced to delay start of term
6 September 2023, 11:54 | Updated: 7 September 2023, 10:58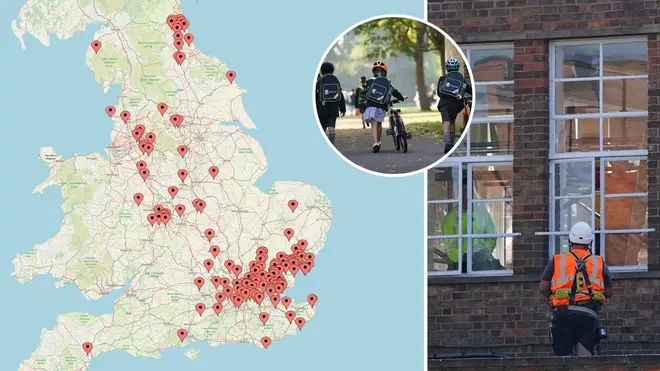 The government has published a list of schools identified with collapse-prone concrete after days of mounting pressure.
Ministers faced calls on the issue after announcing 104 schools in England would have to close or partially close due to concerns about reinforced autoclaved aerated concrete (RAAC).
The closures were made in addition to 52 schools that already had measures put in place due to the presence of RAAC.
It comes after the government repeatedly refused to publish a full list of the schools affected last week, despite facing calls to "come clean".
The Chancellor Jeremy Hunt said over the weekend he did not want to "speculate" about the number of schools that may be impacted.
Published by the Department for Education just moments before the return to Prime Minister's Questions, the list names 19 schools that had to delay the start to their school terms and four that were forced to return to remote learning due to the RAAC.
Full list of schools identified with RAAC below
It also names 147 schools across England affected by the collapse-prone concrete.
Read More: Sunak accused of 'cowboy' approach to concrete crisis at ill-tempered PMQs as full list of affected schools released
Read more: 'Parents can feel safe': Schools minister defends government's handling of concrete crisis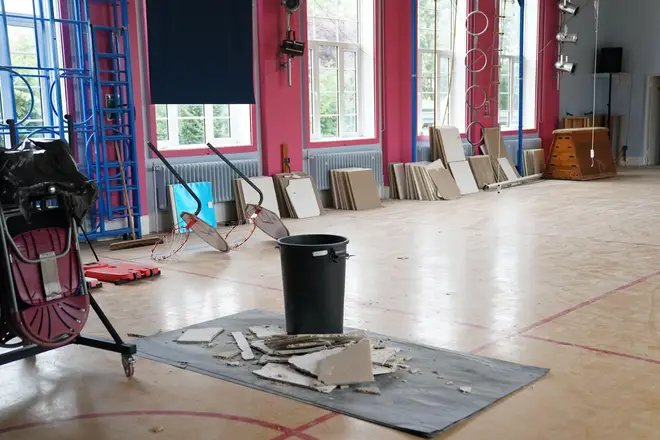 Education Secretary Gillian Keegan returned to the Commons on Monday to address the issue, where she promised to publish a full list by the end of the week.
"After this, we will provide updated information as new cases of RAAC are confirmed and existing cases resolved," she said.
The unsafe concrete left headteachers in a last-minute scramble over the weekend to make their schools safe ahead of the new term this week.
The government has faced continued calls to speed up inspections to identify the concrete in schools after it admitted on Sunday it could be months before the full extent of the crisis is known.
Labour accused ministers of "shrugging their shoulders" in response to the concrete crisis, as it said its MPs had repeated warnings about the outdated concrete.
Ms Keegan faced backlash on Tuesday after she hit out at school leaders by telling them to "get off their backsides" and complete the forms to identify whether their institutions contain the concrete.
Speaking on Monday, in footage released by ITV News filmed as the camera repositioned for extra shots, Ms Keegan - still wearing her microphone - claimed the Government had gone "over and above" to ease concerns over the reinforced autoclaved aerated concrete (RAAC).
"Does anyone ever say, you know what, you've done a f****** good job because everyone else has sat on their arse and done nothing?" she said.
"No signs of that, no?"
Speaking about the incident later on Sky News, she said: "I wasn't talking about me, actually. I was talking about the department.
"The job I was talking about started in March 2022 so way before I was in."
The government says it has sent out questionnaires asking schools if they believed they had RAAC in their buildings and carried out surveys to check.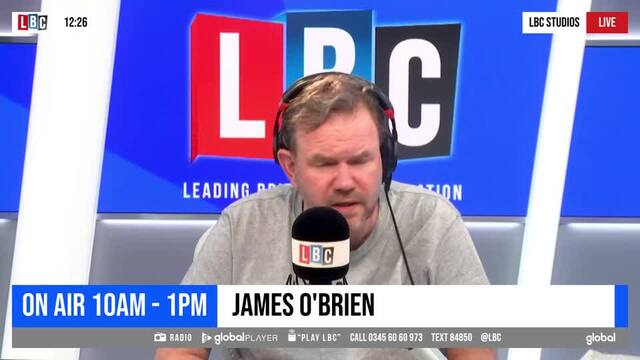 James O'Brien and Lewis Goodall react to Raac questions at PMQs
RAAC was used in the latter half of the 20th century but it was suspected of not being useful beyond a lifespan of about 30 years. Comparisons have been made with the inside of an Aero chocolate bar.
It became a serious issue after a roof at a primary school in Gravesend, Kent, collapsed on a weekend after signs of structural stress the day before. School building owners were then asked to check about RAAC in their sites.
It is thought hundreds more schools may be identified with the concrete after building surveys.
The list of schools, published on the Government website, is:
Abbey Lane Primary School
All Saints C of E Primary School
Altrincham College
Anglo European School
Ark Boulton Academy
Arthur Bugler Primary School
Aston Manor Academy
Barnes Farm Junior School
Batley Girls High School
Baynards Primary School
Beehive Lane Community Primary School
Bentfield Primary School and Nursery
Birchington Church of England Primary School
Bishop Douglass School Finchley
Bispham Endowed Church of England Primary School
Brandhall Primary School
Broomfield Primary School
Buckhurst Hill Community Primary School
Canon Slade School
Carmel College
Cherry Tree Academy
Chipping Ongar Primary School
Clacton County High School
Claydon High School
Cleeve Park School
Cockermouth School
Corpus Christi Catholic Primary School
Cranbourne
Danetree Primary School
Denbigh School
Donnington Wood Infant School and Nursery Centre
East Bergholt High School
East Tilbury Primary School
Elmstead Primary School
Eversley Primary School
Ferryhill School
Godinton Primary School
Great Leighs Primary School
Great Tey Church of England Voluntary Controlled Primary School
Hadleigh High School
Harlowbury Primary School
Harwich and Dovercourt High School
Hatfield Heath Primary School
Hatfield Peverel St Andrew's Junior School
Henham and Ugley Primary and Nursery School
Hillhouse CofE Primary School
Hockley Primary School
Holcombe Grammar School
Holy Trinity Catholic Voluntary Academy
Holy Trinity CofE Primary School, Eight Ash Green and Aldham
Hornsey School for Girls
Hounsdown School
Jerounds Primary Academy
Joyce Frankland Academy, Newport
Katherine Semar Infant School
Katherine Semar Junior School
Katherines Primary Academy and Nursery
King Ethelbert School
Kingsdown School
Lambourne Primary School
Langney Primary Academy
Lubbins Park Primary Academy
Markyate Village School and Nursery
Mayflower Primary School
Mersea Island School
Mistley Norman Church of England Primary School
Myatt Garden Primary School
Northampton International Academy
Our Lady's Catholic High School
Outwoods Primary School
Palmarsh Primary School
Park View School
Parks Primary School
Petroc
Pippins School
Prince Albert Junior and Infant School
Redhill School
Roding Valley High School
Royal College Manchester (Seashell Trust)
Sale Grammar School
Sandbach School
Scalby School
Seven Mills Primary School
Shawfield Primary School
Sir Thomas Boughey Academy
Springfield Primary School
St Andrew's CofE Primary School, Over Hulton
St Anne's Catholic Primary School, Harlow Green
St Bartholomew's Catholic Primary School, Swanley
St Bede's Catholic School and Byron Sixth Form College
St Benet's Catholic Primary School, Ouston
St Clere's School
St Columba's Catholic Primary School, Wallsend
St Elizabeth's Catholic Voluntary Academy
St Francis Catholic Primary School, South Ascot
St Francis' Catholic Primary School
St Gregory's Catholic Science College
St Helena School
St Ignatius College
St James' Catholic Primary School, Hebburn
St James' Church of England Voluntary Aided Primary School
St John Bosco Catholic Primary School, Town End Farm, Sunderland
St John Catholic Primary School
St John Vianney Catholic Primary School, West Denton
St John Vianney RC Primary School
St Joseph's Catholic Primary School
St Lawrence Church of England Primary School, Rowhedge
St Leonard's Catholic School, Durham
St Mary and St John Junior and Infant School
St Michael's Catholic School
St Paul's Catholic Primary School, Thames Ditton
St Teresa's Catholic Primary School
St Thomas More Catholic Comprehensive School
St Thomas More Catholic School, Blaydon
St William of York Catholic Primary School
Stanway Fiveways Primary School
Sunny Bank Primary School
Tendring Technology College
The Appleton School
The Billericay School
The Bromfords School
The Coopers' Company and Coborn School
The Ellen Wilkinson School for Girls
The FitzWimarc School
The Gilberd School
The Holy Family Catholic School, a Voluntary Academy
The Honywood Community Science School
The London Oratory School
The Palmer Catholic Academy
The Ramsey Academy, Halstead
The Thomas Lord Audley School
Thomas Bullock Church of England Primary and Nursery Academy
Thurstable School Sports College and Sixth Form Centre
Thurston Community College
Waddesdon Church of England School
Wallingford School
Water Lane Primary Academy
Welbourne Primary School
Wells Park School
White Court School
White Hall Academy and Nursery
Widford School
Winter Gardens Academy
Wood Green Academy
Woodkirk Academy
Woodville Primary School
Wyburns Primary School