Sunak accused of 'cowboy' approach to concrete crisis at ill-tempered PMQs as full list of affected schools released
6 September 2023, 12:27 | Updated: 7 September 2023, 10:58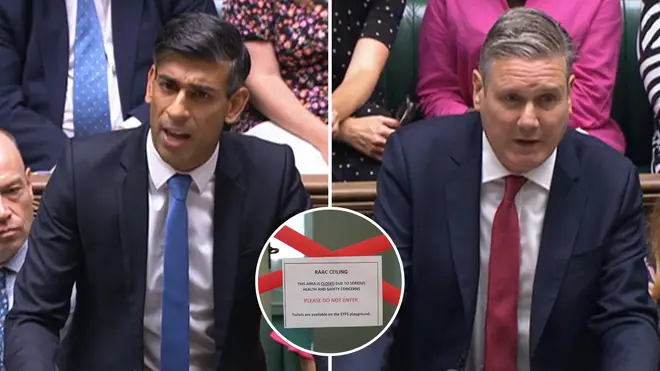 Rishi Sunak bristled at PMQs while defending his approach to the concrete crisis affecting the nation's schools.
As PMQs returned after summer recess, The prime minister was challenged by Sir Keir Starmer that Tory cuts had led to the crisis.
Mr Sunak insisted the 'vast majority' of schools would not be affected, and denied cutting budgets.
"Far from cutting budgets, the amount spent last year was the highest in a decade," said Mr Sunak.
"That spending review maintained the school rebuilding programme."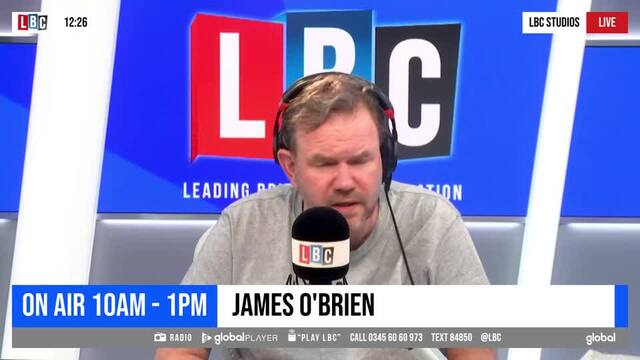 James O'Brien and Lewis Goodall react to Raac questions at PMQs
Read more: Full list of schools in England affected by unsafe concrete published by government
He insisted ministers took 'decisive' action - but sir Keir Starmer questioned how the prime minister can deny responsibility for the problem. - when leading figures including the head of the national audit office and the person who ran the department for education said Mr Sunak was "personally responsible."
To jeers, Mr Sunak replied: "The professional advice from the technical experts on RAAC has evolved over time."
"The government has decisively and swiftly acted in the face of that advice," Mr Sunak added.
The exchange came after the government published a list of schools in England with risky RAAC concrete.
According to the list, 19 schools have delayed the start of term, with four using fully-remote learning. The government told schools to take action in late August, after three incidents involving RAAC.
Sir Keir Starmer told MPs 'the cowboys are running the country' and said the crisis was 'an inevitable result of cutting corners' and the sort of thing you 'expect from cowboy builders'.
Labour leader Sir Keir Starmer said: "The roof of Singlewell Primary School in Gravesend collapsed in May 2018. Thankfully it happened at the weekend and no children were injured. The concrete ceiling was deemed dangerous and liable to collapse, and everyone knew the problem existed in other schools.
"Yet the Prime Minister decided to halve the budget for school maintenance just a couple of years later. Does he agree with his Education Secretary (Gillian Keegan) that he should be thanked for doing a good job?"
Mr Sunak said: "I know how concerned parents, children and teachers are, and I want to start by assuring them that the Government is doing everything it can to fix this quickly and minimise the disruption to children's education.
"We make no apology for acting decisively in the face of new information... Of the 22,000 schools in England the vast, vast majority won't be affected. In fact, in two-thirds of inspections of suspected schools, Raac is not actually present."
He said the 1% of schools affected will have their own caseworker, adding: "In the majority of cases children will attend school as normal and the mitigations take typically just days or weeks to complete.
"We will do everything we can to help parents support teachers and get children back to normal school life as quickly as possible."
The list of schools, published on the Government website, is:
Myatt Garden Primary School
Seven Mills Primary School
The Ellen Wilkinson School for Girls
St Ignatius College
Welbourne Primary School
St John Vianney RC Primary School
Hornsey School for Girls
Brandhall Primary School
St William of York Catholic Primary School
St Andrew's CofE Primary School, Over Hulton
All Saints C of E Primary School
Abbey Lane Primary School
Pippins School
Stanway Fiveways Primary School
Baynards Primary School
Great Leighs Primary School
Henham and Ugley Primary and Nursery School
Bentfield Primary School and Nursery
White Court School
Beehive Lane Community Primary School
Eversley Primary School
Holy Trinity CofE Primary School, Eight Ash Green and Aldham
St Lawrence Church of England Primary School, Rowhedge
Great Tey Church of England Voluntary Controlled Primary School
Hatfield Peverel St Andrew's Junior School
Broomfield Primary School
Mersea Island School
Cranbourne
Markyate Village School and Nursery
Widford School
Palmarsh Primary School
Birchington Church of England Primary School
St James' Church of England Voluntary Aided Primary School
St Bartholomew's Catholic Primary School, Swanley
Bispham Endowed Church of England Primary School
Our Lady's Catholic High School
Mayflower Primary School
Parks Primary School
Donnington Wood Infant School and Nursery Centre
Thurston Community College
Shawfield Primary School
St Paul's Catholic Primary School, Thames Ditton
Petroc
Park View School
Springfield Primary School
Outwoods Primary School
Denbigh School
Sale Grammar School
The Appleton School
King Ethelbert School
Holcombe Grammar School
The Coopers' Company and Coborn School
Wood Green Academy
The Honywood Community Science School
The Billericay School
Aston Manor Academy
Hadleigh High School
The Palmer Catholic Academy
The London Oratory School
Tendring Technology College
East Bergholt High School
Hounsdown School
Thurstable School Sports College and Sixth Form Centre
Corpus Christi Catholic Primary School
Waddesdon Church of England School
Wallingford School
Woodkirk Academy
Batley Girls High School
St Clere's School
Sandbach School
Carmel College
Anglo European School
St Thomas More Catholic School, Blaydon
The Gilberd School
The Thomas Lord Audley School
St Helena School
East Tilbury Primary School
Clacton County High School
White Hall Academy and Nursery
Altrincham College
Cleeve Park School
Joyce Frankland Academy, Newport
Danetree Primary School
The Bromfords School
Royal College Manchester (Seashell Trust)
The Ramsey Academy, Halstead
Redhill School
Ark Boulton Academy
Woodville Primary School
Holy Trinity Catholic Voluntary Academy
Thomas Bullock Church of England Primary and Nursery Academy
Water Lane Primary Academy
Katherine Semar Junior School
Katherine Semar Infant School
Mistley Norman Church of England Primary School
Hatfield Heath Primary School
St Thomas More Catholic Comprehensive School
Godinton Primary School
St Francis Catholic Primary School, South Ascot
The FitzWimarc School
Winter Gardens Academy
Cherry Tree Academy
Prince Albert Junior and Infant School
Cockermouth School
Northampton International Academy
St Gregory's Catholic Science College
Bishop Douglass School Finchley
Lubbins Park Primary Academy
Scalby School
Arthur Bugler Primary School
St Leonard's Catholic School, Durham
Canon Slade School
Claydon High School
Harlowbury Primary School
Kingsdown School
Katherines Primary Academy and Nursery
Sir Thomas Boughey Academy
Harwich and Dovercourt High School
Ferryhill School
Wyburns Primary School
Jerounds Primary Academy
Roding Valley High School
Lambourne Primary School
Hillhouse CofE Primary School
Barnes Farm Junior School
St Elizabeth's Catholic Voluntary Academy
Hockley Primary School
Chipping Ongar Primary School
Langney Primary Academy
St Teresa's Catholic Primary School
St Mary and St John Junior and Infant School
St John Catholic Primary School
St Anne's Catholic Primary School, Harlow Green
St Francis' Catholic Primary School
Buckhurst Hill Community Primary School
Sunny Bank Primary School
St Benet's Catholic Primary School, Ouston
St Bede's Catholic School and Byron Sixth Form College
St Joseph's Catholic Primary School
Wells Park School
St James' Catholic Primary School, Hebburn
St John Bosco Catholic Primary School, Town End Farm, Sunderland
St Columba's Catholic Primary School, Wallsend
St John Vianney Catholic Primary School, West Denton
The Holy Family Catholic School, a Voluntary Academy
St Michael's Catholic School
Elmstead Primary Schoolhas context menu