Greta Thunberg charged after arrest at eco protest outside oil company meeting in luxury London hotel
18 October 2023, 11:56 | Updated: 17 November 2023, 11:24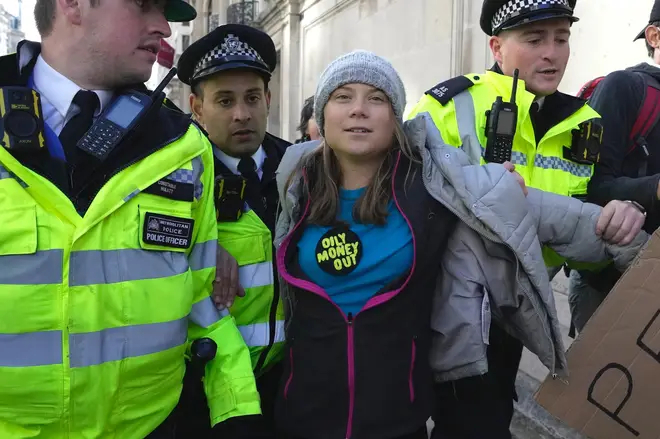 Greta Thunberg has been charged after being arrested at an eco-protest in London.
The Swedish activist is accused of breaching a Section 14 order during the demonstration against energy companies meeting at the InterContinental Hotel in Park Lane on Tuesday.
She was dragged off by officers and put into a van as a total of 27 protesters were detained.
Thunberg, who spoke at the demonstration, has been bailed ahead of a court date set for November 15.
The Metropolitan Police said officers imposed conditions on demonstrators to stop the public being disrupted.
Read more: Greta Thunberg arrested and dragged into van by police after giving speech to eco protesters in London demo
"The protestors were asked to move from the road onto the pavement, which would enable them to continue with their demonstration without breaching the conditions," the force said in a statement.
Thunberg was charged with breaching the Section 14 order alongside 20 others. She gave police an address in Dorset.
Five people are due to appear in court after being charged with obstructing the highway.
A woman was arrested on suspicion of criminal damage and has been bailed pending further investigation.
Business representatives were meeting for the "Energy Intelligence Forum" which "brings together decision-makers, thought-leaders and innovators from the worlds of energy, finance, politics and business to debate, discuss and develop sustainable solutions to the world's energy challenges".
Shell, Total and Equinor were among those visiting.
Footage taken by LBC showed a protesters scaling the building as chants rang out from below.