Hairdresser murdered husband with kitchen knife while making post-Christmas dinner after he told her he 'didn't want tea'
21 September 2023, 19:03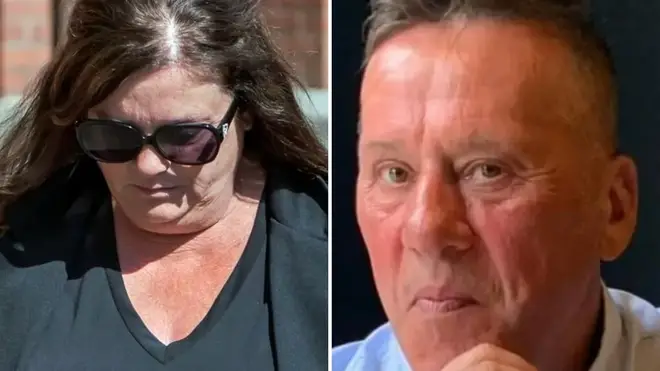 A hairdresser who claimed she accidentally stabbed her husband in the chest with a kitchen knife has been found guilty of his murder.
Teresa Hanson, 54, fatally wounded Paul Hanson in the kitchen of their home in West Cowick, East Yorkshire, three days after Christmas last year.
On Thursday, Hanson sobbed in the dock at Hull Crown Court as a jury foreman said she was guilty of murder after jurors had deliberated for less than three hours.
This was the second time Hanson had gone on trial. A different jury failed to reach a verdict earlier this year.
Judge John Thackray KC told Hanson she will be sentenced on October 3 and remanded her in custody.
The defendant continued to sob as the judge said to her: "There's only one sentence, which is life imprisonment.
"I have to calculate the minimum term which I will do having heard submissions from prosecution and defence counsel."
Read more: James Bulger's mother says her son's killer Jon Venables 'will undoubtedly offend again' ahead of parole hearing
The former hairdresser told 999 call operators she had accidentally stabbed her husband of 34 years during an argument while she was cooking.
Hanson denied murder and said during both her trials that she had simply pushed Mr Hanson away while holding a knife because he was shouting in her face, telling her to "throw his f****** tea in the bin".
She claimed she turned towards him and pushed him away with both hands, while holding a knife in her right hand.
Hanson told Hull Crown Court she had no idea the knife had gone into Mr Hanson until she heard the dog barking and followed a trail of blood to find her husband, 54, collapsed on the floor.
But Alistair MacDonald KC told the jury that it was "theoretically possible for someone to fall or run onto a knife blade and thereby cause a serious injury but such injuries are extremely rare."
Mr MacDonald said it was also difficult to understand how this happened in the way Hanson described when she is 155cm tall and the knife entered her husband's body 129cm above the ground.
The prosecutor said the pathologist who examined the body concluded that it was "highly unlikely that Mr Hanson simply walked on to a weakly grasped knife blade so as to cause a fatal stab wound of the type found in this case".
Mr MacDonald said Hanson told the police that her husband could be bad-tempered when he had had a drink but she was clear that she did not stab her husband because he had been abusive to her.
"Her case was quite clearly put on the basis that this was a terrible accident," he said.