Mass testing rolled out at secondary schools for worst-hit areas of London, Kent and Essex
11 December 2020, 11:31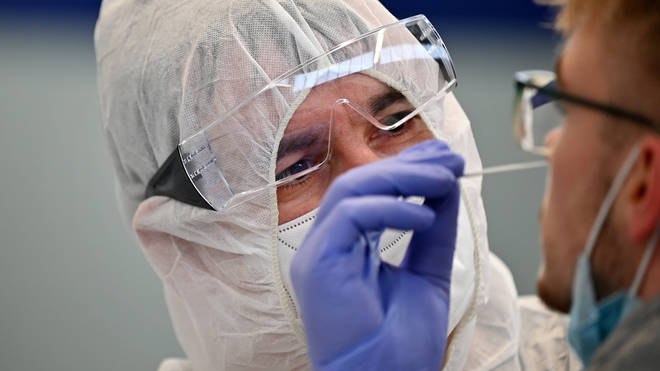 Hundreds of thousands of coronavirus tests will be offered to secondary school children in North East London, Essex and Kent in a targeted effort to drive down rapidly rising cases.
It comes as cases continue to rise in London, Essex and Kent, with the fastest rates in those aged between 11 and 18 years old.
From Friday all staff, students and their families in certain schools and colleges will be urged to get tested even if they have no symptoms, the DHSC announced.
Speaking about the new scheme, Health Secretary Matt Hancock said: "We want to keep schools and colleges open, because it is right both for education and public health, but in the face of rapidly rising cases we must act to target rising rates in secondary school pupils.
"From our successes in Liverpool and Leicester we know surge testing is safe, and helps us quickly assess where the virus is spreading most and take action to stop it in its tracks.
"I urge every student, parent and teacher in these areas to step forward for testing - irrespective of whether they have symptoms.
"While COVID-19 may be lower risk to children and young people, it still poses a significant risk to their families and communities. By taking these vital steps, we can get on top of cases and help bring transmission of this virus under control now."
Education Secretary Gavin Williamson said also praised the scheme, saying: "This additional testing capacity underlines this government's commitment to ensuring that education is a national priority, because that is in the best interests of students' progress, development and wellbeing.
"I would encourage everyone eligible to access the testing and I'd like to thank staff for continuing to ensure that schools and colleges have protective measures in place to reduce the risk of transmission."
The latest figures from Public Health England revealed London currently has the highest coronavirus rate in England.
The capital is expected to be moved into Tier 3 restrictions if cases do not fall.
Conservative MP Nickie Aiken told LBC earlier on Thursday that London residents have to "do their bit" and stick to Covid rules to prevent the capital from moving up a Tier.
Asked at the press conference about London's cases, Mr Hancock said he "didn't want to pre-empt" any decision that might be made about moving London and parts of the south-east of England into Tier 3.
The health secretary said that a formal review and decision would take place on Wednesday 16 December.
Read more: London 'has highest Covid rate in England' as concern grows over Tier 3 risk
Chief Medical Officer Chris Whitty added that rising rates of infection in the South East were "concerning" and that questions would have to be asked about whether more measures were needed.
"Of course we're concerned and anyone living in those areas is going to be concerned," he said.
"Throughout this, there's a very difficult balance where if we don't do a sufficient number of things the rates start to go up."
Prof Whitty added that rates were falling "really quite consistently" in areas such as the Midlands where stricter regulations had been adhered to.
Read more: Quarantine reintroduced for Canary Islands ahead of 'test to release' scheme
National Medical Director of NHS England Professor Stephen Powis added: "In London, we are seeing a worrying rise in infections.
"We are seeing pressure in the NHS, particularly in the east of the city, but we are not at the levels we saw in April."
He added: "So it is really important that we don't see further rises in infection rates in London and we don't see pressure rising on the NHS. But the Nightingales will be there as that insurance policy if we need them."
There are similar concerns about the number of cases amongst secondary schools in Wales, where the Welsh government have moved all secondary school and college teaching online from Monday.
On Thursday, minutes before Mr Hancock's press briefing, Welsh Education Minister Kirsty Williams said the move was made as part of a "national effort to reduce transmission of coronavirus".
While half of schools in Wales have had zero coronavirus cases since September, the Welsh government said education settings "can contribute to wider social mixing outside the school and college environment".
Wales is facing a surge in cases, with a source telling LBC the Welsh Government is planning a second firebreak lockdown from 28 December.
Listen & subscribe: Global Player | Apple Podcasts | Google Podcasts | Spotify